Raise Chickens, Raise the Bar
Has your longing for a rural past been cooped up now that you live in the city? Urban chicken coops continue to be more and more popular as cities adapt to this fast-growing trend. Even in our own backyard, laws have been adjusted to accommodate the desire to domestically raise chickens. After more than 1,000 people petitioned for the legalization of these backyard chickens in Sarasota, FL, where our corporate headquarters are located, the ban was lifted and fresh eggs can now be enjoyed by all.
Backyard Benefits
There are many reasons for this feathered friend movement. Backyard chickens allow you to eat locally and enjoy some of the freshest food around. From coop to kitchen, you can enjoy your eggs in minutes as opposed to the extended period of time that commercial eggs sit in a warehouse. And because this sustainable hobby does not require much space, a variety of households can enjoy its benefits.
One of our favorite features of urban chicken coops is the ability to involve children in the fun. Not only can your children or grandchildren have an interesting pet, they can also learn about where their food comes from and learn responsibility. Children will become accustomed to being thankful for what animals provide for them.
In addition to being unique, entertaining pets with their hilarious personalities, chickens also help to keep your garden fertilized. What's more, chickens provide a natural pest control by eating  insects. As you can see, these pets offer many benefits for your family and for your home.
Various Sizes, All Big Impact
Our Amish Wood Corn Row Urban Chicken Coop is portable and perfect for starting a new family tradition. Your new pets have plenty of space without compromising too much of the backyard. Assembly is a cinch and a fun activity for the whole family, allowing you to be on your way to eating locally in no time.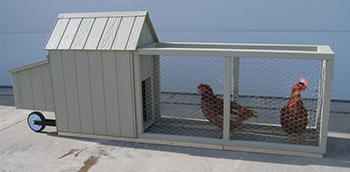 The Urban Design Medium Chicken Coop offers all of the bells and whistles and can house up to 14 chickens! Its design is clean and attractive, making for a beautiful addition to any outdoor space. Chickens sleep, lay eggs, and seek shelter in this castle of a coop. This also ships ready for you to assemble and paint to your liking.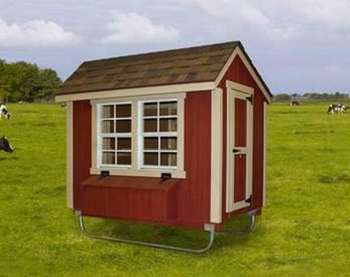 With plenty of room for up to 30 chickens, our Amish Wood Round Roof Chicken Coop is made with superior care that allows you to house your livestock in comfort. Its beautiful construction is sure to take you and your family back in time, while still maintaining all of the benefits of modern design. The assembly can be a weekend DIY project that teaches light construction skills in addition to long-term hobby farming.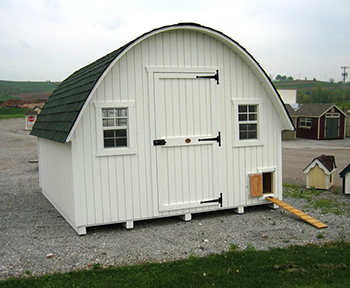 Nostalgia with a Purpose
By owning a coop of your own, you can introduce a love for the rural into your current city dwelling just as folks right here in Sarasota are doing. Relive your childhood while passing important values on to the next generation.
Find the perfect fit for your backyard by taking a look at our full range of Amish-made chicken coops.