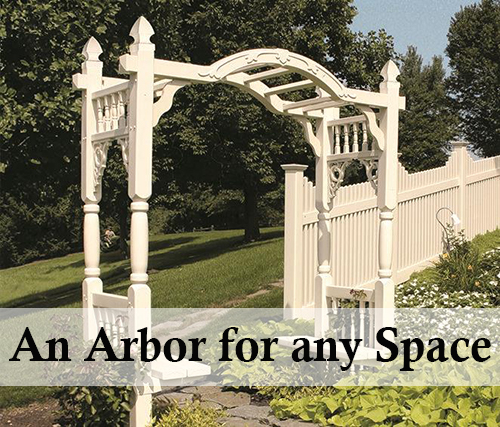 There may still be some patches of snow here or there, but summer is just around the corner. It's time to start thinking about your outdoor spaces. You can create a magical, fairytale feel for your personal oasis with an American-made arbor.  To some that may be an enchanting garden arbor with a swing to enjoy nights gazing at the stars, and for others it might be a crisp white wedding arbor overgrown with red roses connecting two families. Whether the arbor is placed in your garden, on a pathway, at a gateway to your home, or as part of the décor of a special occasion, it is sure to be the focal point of the scenery, creating a truly romantic feel for your space.
For your Garden

By placing an arbor in a small garden, you can break up the narrow space and add a structural element that enlarges the space. Beautiful with crawling foliage or surrounded by flowers, the Madison Vinyl Arch Arbor is a perfect visual entrance to your garden. Made from white vinyl to ensure durability and low maintenance, it is sure to stand up to any unwanted weather with superior strength.  This arbor won't need paint and will not rot, crack or peel, so you can be sure of long lasting beauty.
Seat with a View

Or perhaps, you're looking for a space to take in the bold, aromatic smells of your morning coffee with the freshness the early morning.  Then an American-made Lexington Outdoor Arbor with a swing or glider is the perfect match for you.  With many customization offers available, you can order the exact arbor you have in mind.  Add a deck to keep your feet a little cleaner or go without to soak up the richness of the soil.  Find a seat that will give you the perfect spot to relax on those hot summer days with your choice of a swing, a glider, or two benches and a table. Finally, finish your arbor with the stain of your choice to blend in to the natural beauty or paint it with a bold white to stand out.
Time to Celebrate

If you are planning a wedding for this summer, your preparation is probably in high gear right now. Create a unique focal point with a stunning wedding arbor accented with the floral decoration that matches your theme.  The beautiful Cambridge Wedding Archway embraces two lovers as they commit to one another and ties in the visually beautiful décor to make your day extra special. Personalize your arbor to fit any space with the different size options as well as several stain choices or a white paint.
These timeless beauties are sure to be the focal point, whether blending in or standing out.  Personalize any of our Arbors to turn your outdoor living space into your private retreat.