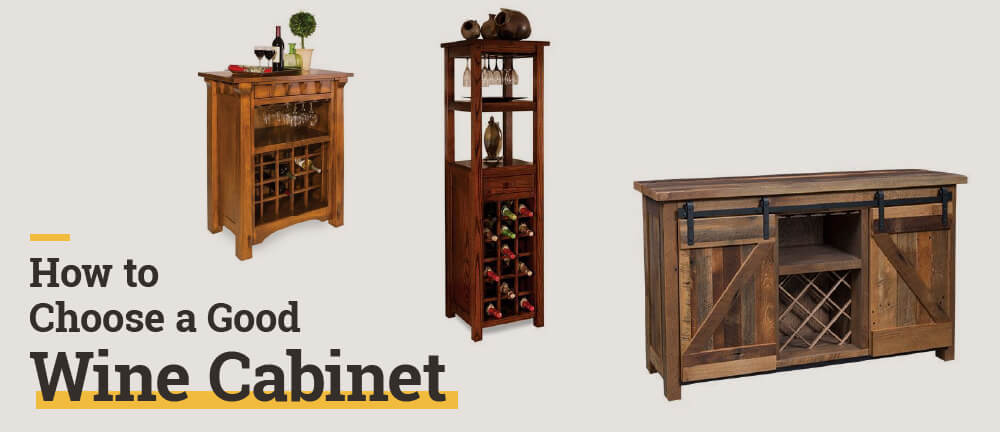 How to Choose A Good Wine Cabinet
When it's five o'clock somewhere and time to unwind, do you reach for a glass of wine from a wine rack or wine cabinet? What are the differences between them, and how do you choose a good wine cabinet?
First, let's break down some wine storage terminology. There's the wine cabinet, the wine cooler and the wine rack.
What is a wine cabinet?
There are wine cabinets that are climate controlled and wine cabinets that are not (like our Amish made ones). Those that are climate controlled allow wine to mature and some offer two or three temperatures to regulate. Keeping climate controlled wine cabinets between 55 and 60 degrees Fahrenheit is ideal for storing wine. Those that are not climate controlled store your wine at room temperature, so it's important to be careful where you place the cabinet in your home. Wine cabinets come in a variety of sizes.
What is a wine cooler?
A wine cooler is a special fridge with built in wine racks to store your wine collection. They have adjustable temperatures to chill wine to just the right temperature and reduce vibration. Vibration can disturb sediment and the natural chemical mix inside the bottle.
What is a wine rack?
Wine racks are not climate controlled. They store wine at room temperature. They offer rows of shelves to hold wine bottles and come in a variety of shapes and sizes. The number of bottles a wine rack holds varies.
Things to Look for When Choosing a Wine Cabinet
Size
How many bottles do you want to store? Remember it's not just for storing what you have. Allow for extra room if you're planning on growing your collection.
It's also important to look at what size bottles your new cabinet or rack will hold. Standard wine bottles fit 3.25 to 3.5 inch slots, larger bottles of wine or champagne may require a 3.75 inch slot.
Space and Placement
Where will you set up your wine storage? Be sure to measure your space to be sure your new wine cabinet will fit. It's a good idea to avoid setting up wine storage in direct sunlight. The kitchen normally hosts a good deal of direct sunlight and is not the best option for your wine cabinet. Temperatures in the kitchen can also vary. Wine is best stored in a cool place. It's important to look for a spot with good ventilation and a temperature balance that's not too humid or too cold.
Function and Added Features
What functions are you looking for in your wine cabinet? Would you like to store glasses, drink mix, and other assorted barware? Do you want to organize with shelves and use some for displaying fine wine decanters? Do you want or need sliding shelves or cabinet doors?
Many wine cabinets can serve as your own home bar, complete with storage, serving space and an assortment of compartments.
Style and Strength
Wine cabinets and wine racks made with solid wood (like those built in Amish country) are certain to last a long time. Wood cabinets offer a more traditional look, though some new designs are contemporary. Racks with metal can contribute to a more modern look or a rustic look.
There are a range of styles to pick from for Amish made wine cabinets and wine racks. Consider if you want something that looks more like furniture, a fridge, or a shelf.
What design appeals to you? Have in mind the style you're looking for when you start shopping and look for wine cabinets or racks made with strong materials that will last.
Cost
Keep in mind what you're looking to spend on your new wine cabinet. Prices can range from quite low for say, a table top wine holder for 6 bottles to quite high for a custom made wine cabinet in solid wood. The size you're looking for and the materials used to make the wine cabinet will contribute to the cost.
Amish Wine Cabinets and Wine Racks
While the wine cabinets we offer here at DutchCrafters are not climate controlled, they offer attractive, functional, luxury storage to keep your wine collection stored safely. Many add a variety of features, like serving space and storage for glasses and mixers and more.
How Can I Customize a Wine Cabinet?
Amish wine cabinets are popular in that they can be custom made to fit your home and personal style. Custom dimensions are possible to fit the perfect space. A variety of wood types and stain options are offered, and your wine cabinet is built to your specifications. Specific requests like options for storing drink glasses, adding wine rack lattice and placement of stemware holders are all things you can discuss with a furniture specialist who will help you with the custom process.
Once you know the size, style and features you're looking for in a wine cabinet, you are ready to shop.