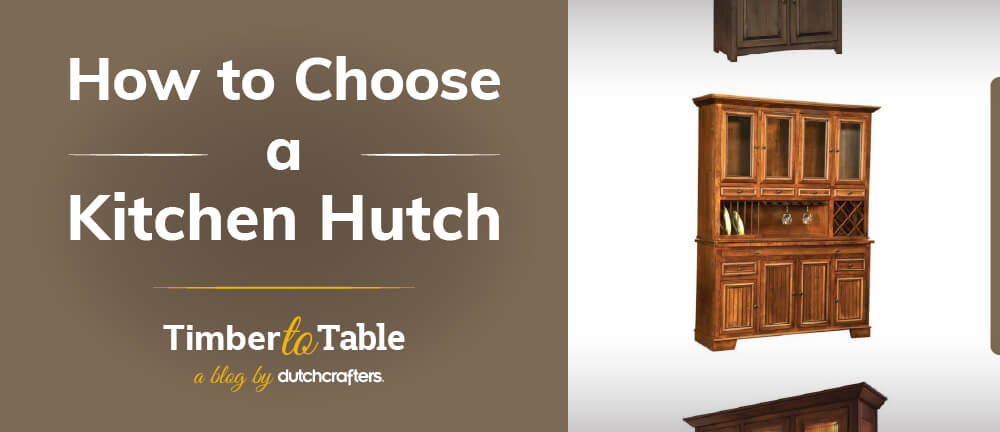 How to Choose a Kitchen Hutch
What is a kitchen hutch?
A kitchen hutch is a piece of furniture used in the kitchen that features storage and may include shelves, cabinets, drawers, a counter area or a combination of these features.
Hutches are also popular for use in the dining room. Using one in the kitchen serves a similar purpose, adding storage and contributing to the style of the room. A kitchen hutch is a great way to keep frequently used kitchen items neat, organized and easily accessible.
Today's kitchen hutch is accustomed to multi-tasking. Cabinets for the mixing bowls, drawers for serving utensils, shelves for platters and lower cabinet space for bakeware are just a few of the possibilities. The place the outgoing mail rests briefly, the shelf the Christmas garland hangs from, and the showcase for the family photo that gets updated every year is often your kitchen hutch, with its added counter space that can become a catch all for items as you pass through the kitchen.
The kitchen hutch is mighty, attractive, strong and versatile. And a hutch made by the Amish is enhanced with fine woodworking.
How do you choose the best hutch for your kitchen? Here's what to look for when you start shopping.
Take inventory of what you want to store.
Dishes, bakeware, linens, serving utensils—yes, there's room for it all. Kitchen hutches come in all shapes and sizes with a variety of storage spaces. Take inventory of what needs to go in your hutch so you can choose accordingly. What kind of drawer, cabinet and shelf combinations do you need to accommodate your items? What do you need to retrieve quickly, and what do you want to tuck away for occasional use?
Consider an open versus a closed hutch.
The main reason closed storage gets a gold star is because it prevents dust build up on the items in your hutch. On the flip side, open storage reminds you of the nice things you have, making you more likely to use them instead of forgetting that they're tucked in the bottom cabinet behind the ice bucket. Think about the items that will go in your hutch and what it will take to maintain them in open storage. How often will you be using items you plan to store? Open storage makes them easy to grab, but there will be more dusting involved. Closed storage also adds an extra layer of protection for items.
Measure for a proper fit.
One of the most important things to think about ahead of time are your kitchen hutch measurements. A substantial piece of furniture, you want to be sure there's enough room for your hutch and for you to use it comfortably. Know the ceiling height of your kitchen to be sure your hutch will fit. Measure the depth and width of the space where you plan to position your hutch. If you plan to display something on top of your hutch, be sure to account for that space. Remember if the hutch style has certain features or parts that stick out, you must account for the space they will take up. Note outlets, switches and artwork you don't want to cover with your hutch.
If you have a smaller kitchen or are limited on space, don't forget a corner kitchen hutch offers a more compact fit. Measure the corner space to be sure your selection will fit.
Select your style.
While kitchen hutches in farmhouse style and rustic country style are popular, explore your style options as you shop. There are a variety of Amish made kitchen hutches available in a wide range of styles, including contemporary, formal, French country, mission and transitional (a combination of contemporary and traditional.)
Decide on what features you need.
Are you looking for a practical, hardworking, nice-looking hutch or are you looking for more of a style piece to display collections? Will you be grabbing a coffee mug and plate from your hutch every morning, or turning on the inner light to showcase fine china? Think about what items you want to display and what you need serious storage space for. You'll want a hutch with plate grooves if you'd like to have plates on display. Features like a mirrored back and glass doors are perfect for a hutch that's showing off some collectibles. Lighting is a big one too. And finally, adjustable shelves offer the versatility you're looking for when you're ready to change up your hutch display or tuck away other items not previously stored.
Amish Kitchen Hutches
Amish made hutches are popular in Amish kitchens, a place for daily food preparation and family gatherings for meals. An Amish made hutch is solid wood with customizable options to suit your needs best.
Whatever you decide to store in your hutch and no matter what style you choose, there's a great variety of kitchen hutches to suit your style and space.