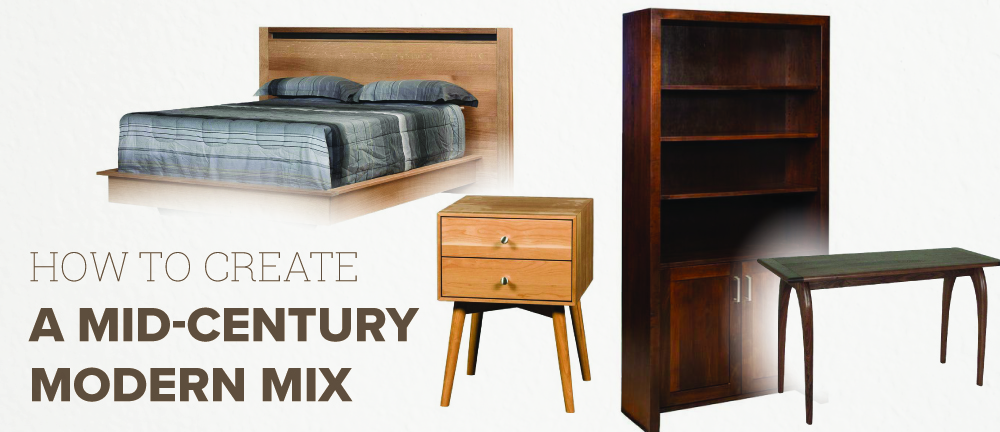 How to Create A Mid-Century Modern Mix
Love the look of mid-century modern furniture but do not wish to have it throughout your entire house?
Good news—mid-century modern furniture is mixable. Here's how.
Making the Most With Mid-Century Modern
Mid-century modern furniture, (not to be confused with contemporary style which is furniture that adapts to reflect current trends) has grown immensely popular and just keeps on going. Mid-century mod combines versatile and simple with a little spunk and brings on that retro feel that everyone's been buzzing about, with clean lined designs, natural woods, and fun patterns.
If you're combining some mid-century modern with furniture your significant other favors or you've got some modern furniture, some contemporary and some traditional pieces and you're looking to make sense of it all, you can.
Mixing in Mid-Century Modern: Some Guidelines
Mixing some mid century modern with contemporary is easy. Try to keep your functional pieces contemporary with mid-century modern supporting them.
You can always add some mid-century modern with the right coffee table at the center of things.
Create a fun contrast by combining mid century modern angles and curves with the cool lines of contemporary.
Try to feature each style in neutral colors that complement each other.
The 80/20 Rule: Select the two styles you wish to blend. Elect one of them the main style that will represent 80% of your display space. The other style will represent 20% of your display space. (Larger pieces of furniture are best choices for the dominant style).
Create the perfect blend by choosing furniture pieces that have something in common like color, size, style or finish. This will help balance the styles.
You also want to balance the visual weight of the room. End tables can be different but keep them around the same size. Make sure the two halves of the room balance each other.
Be sure to spread competing furniture styles throughout the room. You don't want a high concentration of one style all clustered in one part of the room. This is achieved by employing a buddy system.
Color can help bring things together. If you already have a contemporary sofa or sectional and you're adding a mid-century modern armchair, pick a fabric color that will match the sofa.
What if there's an odd man out? If you have a piece of furniture that you can't buddy up with anything else, you can try making it a centerpiece or focal point.
Be conscious of scale –you don't want an oversized chair next to a small loveseat.
Select a feature like shape, size or color to unify different styles.
You can get in the mix of things with mid-century modern and have some fun in the process!