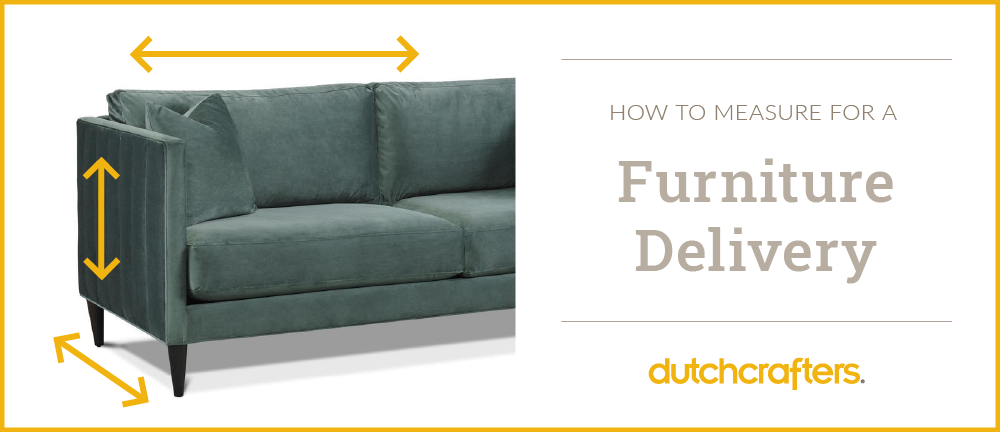 How to Measure for a Furniture Delivery
As funny as it was, to watch Ross, Chandler and Rachel trying to shove a sofa up the stairs to the sound of Ross shrieking "Pivot!" on the TV show Friends, no one really wants to be in that situation when it's time to move furniture.
So, how and what should you measure so you're best prepared for a furniture delivery?
Let's take a look.
Measure Your Space at Home
Take measurements of the room you're buying new furniture for first, to see how much space you have to work with. This will assist you in selecting the right pieces. Knowing these measurements can help you determine if there's room for a Queen bed and two nightstands in the guest room, or a desk with hutch top and credenza in the extra front room you converted into an office.
When planning furniture placements, note where electrical outlets and heating vents are so they won't interfere with the placement of your new furniture and are still easily accessible.
Know the Dimensions of the Furniture Being Delivered
Be sure to equip yourself with the new furniture's dimensions. Record them in your phone at furniture stores, jot them down from online furniture sites, bring a measuring tape to secondhand shops. Guessing or estimating the sizes of a desk or table you saw is a bad idea.
Once you have those measurements, play around with them in the space you've designated for the new pieces to make sure they fit. Make a floorplan of sorts to test out. You can do this by creating paper cut outs cut to scale representing the furniture or by taping off their dimensions on the floor. Try placing these in the areas you intend to put new furniture to see how it will fit.
Outline the Path
Take into account all the spaces your furniture will have to pass through to get to its new destination in your house. This is where things get serious to plot out a successful furniture delivery. Walk the path from front door, side door or garage door, into the house and up any stairs if they are part of the path. For an apartment building, consider the elevator in addition to the rest of the path.
Measure Along the Path
Doorways
Measure the height and width of all doorways.
Measure doorway clearance.
Consider obstacles like inner walls, columns, doorknobs or lights.
Stairways
Measure the width.
Measure space from top and bottom steps to ceiling. Even if steps lead up to an open space, you must account for any ceiling area over lower stairs.
Measure between the first stair and the nearest wall or baseboard moulding.
Note any tight turns, low ceiling areas and handrails.
Hallways
Measure the height and width of hallway and ceiling height.
Remember to account for any light fixtures or ceiling fans present in hallways.
Elevators
Measure door width and inside width and depth (how far back it goes).
*Always measure the smallest width and height of every doorway and hallway.
Diagonal Depth
While you want the height, width and depth of furniture pieces, another valuable measurement for things like sofas is diagonal depth. Diagonal depth is helpful in telling you if a piece of furniture can fit through a space at an angle.
To measure the diagonal depth of a sofa, use a straight edge to measure from the highest point of the sofa frame's back to the front of the arm. Then measure from the bottom back corner of the sofa up to the spot that meets the straight edge.
Account for Obstacles
Always consider obstacles along the path, things that jut out and invade spaces, like doorknobs, mouldings, railings, overhangs and ceiling fans.
While there's no one perfect way to plan for moving furniture into your home, measurements are a good route to take to put you in the best position on furniture delivery day.