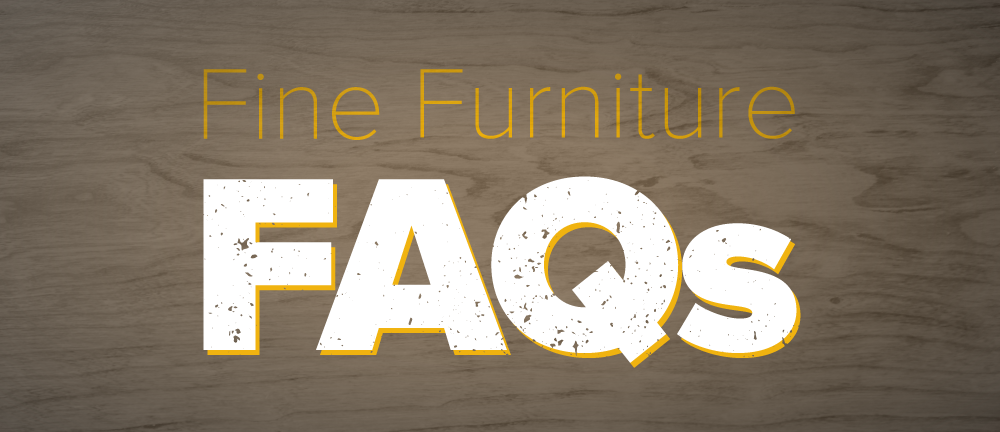 Communication is key to superior customer service. Your understanding of furniture features, materials, ordering procedures, and delivery options is important to us. Your satisfaction with your experience from beginning to end is our top priority.
We've gathered a list of frequently asked questions in order to share some of the details that go along with the purchase, design, and delivery of fine Amish furniture.
1) What are the dimensions?
Most of our Amish furniture is offered in several sizes to accommodate your needs.  On every product page, the dimensions are the first thing listed below the product pictures. Scroll down to view all the custom sizes available. If you don't see the size you need, contact us. Several of our woodworkers can custom-make the size you're looking for.
The Wellington Leg Dining Table is available in seven lengths ranging from 54" to 72".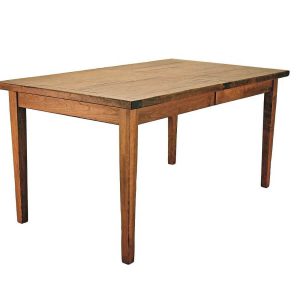 2) What's the difference between the kinds of woods?
One thing shared by all furniture made from solid wood is quality. Solid wood furniture is stronger, more durable,  and more beautiful than cheaper materials. The characteristics of the different woods vary by wood type. Wood grains make for different patterns and textures. Descriptions of wood types are available in our learning center and on our blog, Timber to Table.
With so many gorgeous woods to choose from, we want to be sure you select the wood that works best for you. Here's a list of some of the most popular choices and examples of each.
Brown Maple:  Brown maple wood comes from the heart of the maple tree. It offers a hardness and strength that ensures longevity. Its smooth wood grain makes it an ideal choice for dark stains or paints.
The Amish Mid Century Modern Bathroom Vanity is shown in brown maple wood with an Expresso stain.
Cedar:  This lightweight wood is an excellent candidate for outdoor wooden furniture as it naturally resists decay.
The Amish Cedar Wood Marlboro Swing is made from solid, tight-knot Western red cedar wood.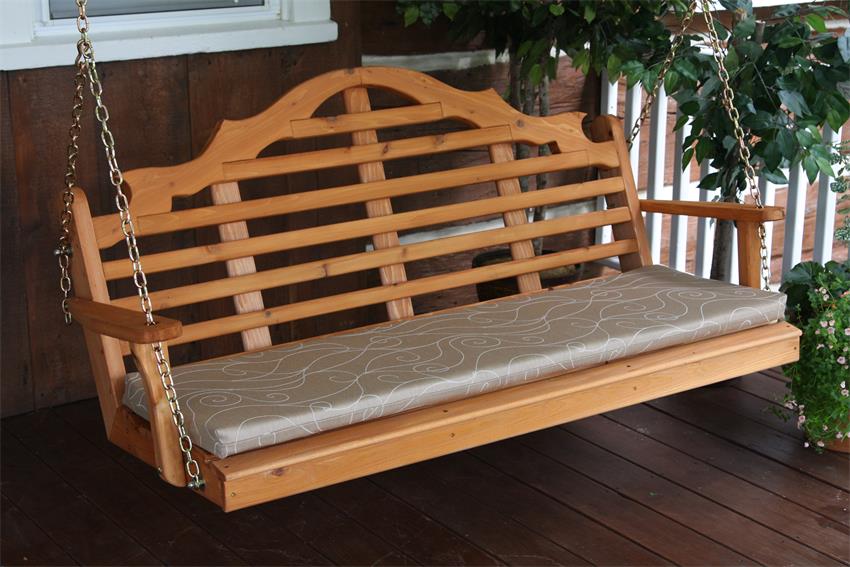 Cherry:  Cherry wood furniture is strong and durable with a fine, straight grain.  It is easy to shape, lending itself  to elegant dining furniture. When first cut, cherry wood is a light pinkish-yellow color that will darken over time.
The Amish Mason Dining Chair is shown in cherry wood with Michael's cherry stain.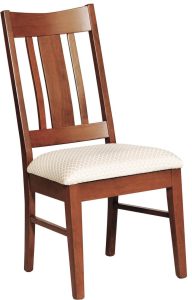 Oak:  Oak wood is naturally light in color and has  a defined grain pattern. The strength of oak makes it a great candidate for furniture that sees daily use. The heavy grain does not make it a good choice for a painted finish.
The Amish Woodville Computer Desk with Drawer Pedestal and Optional Hutch is shown in oak with Michael's cherry stain.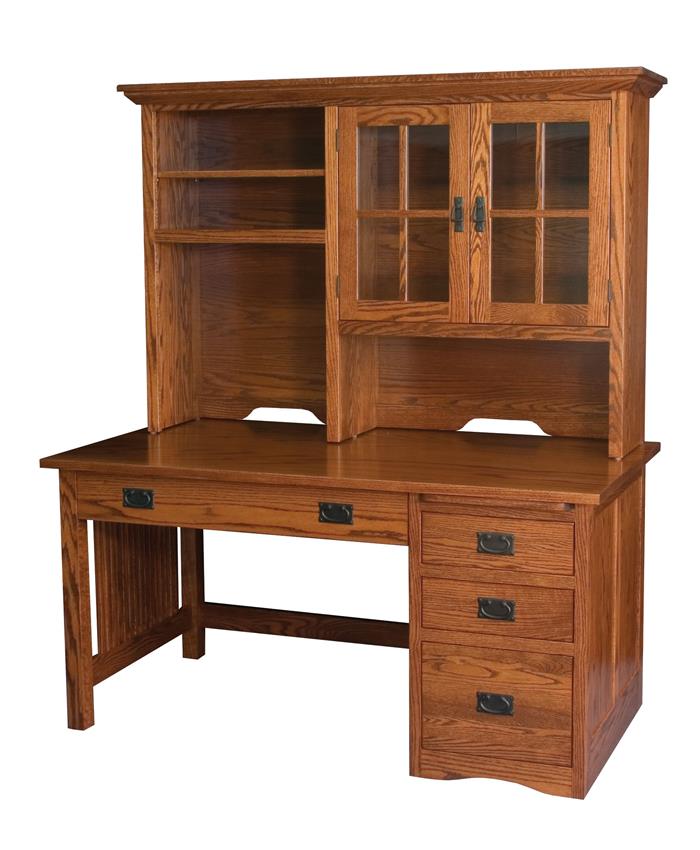 Pine: Pine wood is lightweight, soft and stable. It resists shrinking and swelling. Pine is considered a more economical premium wood, offering solid wood strength and beauty at a great price.
The Small Corner Pine Hutch makes a beautiful display of pine wood.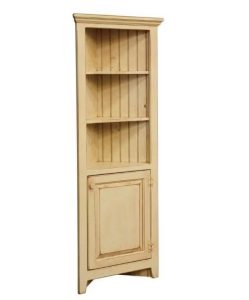 3) How do I clean my solid wood furniture, and what type of polish should I use on it?
Dust your furniture often to remove abrasive particles from the wood's surface.
To dust wood furniture, lightly moisten a soft cloth with a few drops of water, a dusting aid, or polish. a dry cloth can leave hairline scratches on the finish. Any dusting agent you select should be silicone free.
We offer Heirloom Essentials Fine Furniture Polish to help keep your solid wood furniture shiny. It comes unscented or in a variety of delicious scents.

Your wood furniture will benefit from an occasional polishing. Do not over-polish as this can cause build-up.
You can find more information about our caring for solid wood furniture on our blog and in the learning center.
4) What are the benefits of inside delivery?
Inside delivery includes "white glove" service. This means the drivers will take the furniture off the truck, bring it into your home, set it up in the appropriate room, and unpack it. The drivers will provide light assembly if needed and will clear away all packaging.  View our helpful video "The Unboxing" that reviews delivery procedures.
Before delivery be sure to measure all the spaces your furniture will pass through, and the area where it will live. Making sure it can be brought into your home with ease is important. View our "Furniture Delivery Tips and Tricks" video for how to measure your home.
5) Is this really Amish-made?
All of our custom-made solid wood furniture comes from the heart of Amish country, made by Amish or conservative Mennonite craftspeople. Over 180 vendors in Pennsylvania, Ohio, and Indiana contribute their fine woodworking skills to our massive collection. We regularly visit woodshops and continue to cultivate relationships with our woodworkers in order assess the quality and products we offer.
Watch "The DutchCrafters Story" to learn more about us, and get a peek inside some of the wood shops we work with.
6) How long does it take to make and receive my custom furniture?
Quality takes time. Each piece is assigned a lead time or build time. Build times are listed on each product page below the product photo, under the Features section. Build times can run anywhere from 6-16 weeks. Most fall within 6 to 12 weeks. Delivery can take 2 to 3 weeks. We assure you, your custom furniture is worth the wait.
The Amish Oleta Dining Chair has a build time of 6 to 8 weeks.
7) Can I order samples to help me decide on the finish for my furniture?
Yes. We're happy to provide you with stain samples to aid in your decision making. We will send up to four finish samples for a $25 fee that will be refunded as long as the samples are returned to us within 30 days. The samples are shipped with a postage-paid return envelope, making the process hassle-free.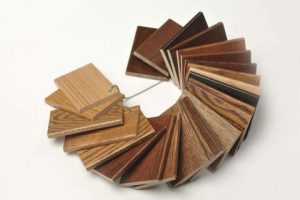 8) Do you have a store I can visit?
Yes. The DutchCrafters furniture store is located in Sarasota, Florida. Our showroom features a variety of styles. It's more than a store, it's truly an experience. With 10,000+ products available online, the store features a sampling of what's possible with our custom furniture.
9) Is my solid wood furniture sensitive to changes in temperature?
Yes. Wood expands and contracts as the amount of moisture in the air changes. It's important to keep an even humidity level in your home to help preserve your fine furniture.  It is recommended to use a humidifier in the winter and an air conditioner in the summer to keep the relative humidity at 35 to 45 percent. In addition:
Avoid placing furniture directly in front of radiators, heat runs or fireplaces.
Do not expose hardwood furniture to continuous direct sunlight.
Store table leaves as close to dining tables as possible, so that the leaves adjust to the same relative humidity as the table.
Check out our blog post How to Care for Solid Wood Furniture for more information.
10) Can I speak to someone if I have questions?
Yes. We are here to help make the experience of purchasing solid wood furniture easy and enjoyable. Our dedicated team of furniture specialists are happy to answer any questions you may have. We can be reached at 941-867-2233.