How to Mix Wood Types and Finishes
Gone are the days when all the solid wood furniture in a room had to match each other and the floor. Mixing wood types and finishes livens up a room and adds interest.
Whether you've inherited some beautiful solid wood furniture or you're building your home furniture collection piece by piece, here are some tips on how to mix wood furniture.
Identify the Undertones
While the finish of each piece in a room doesn't need to match, the undertones of the wood should complement each other.
Warm undertones have a yellow, orange, or red sheen.
The Solid Wood JB Walsh Dining Chair has warm undertones.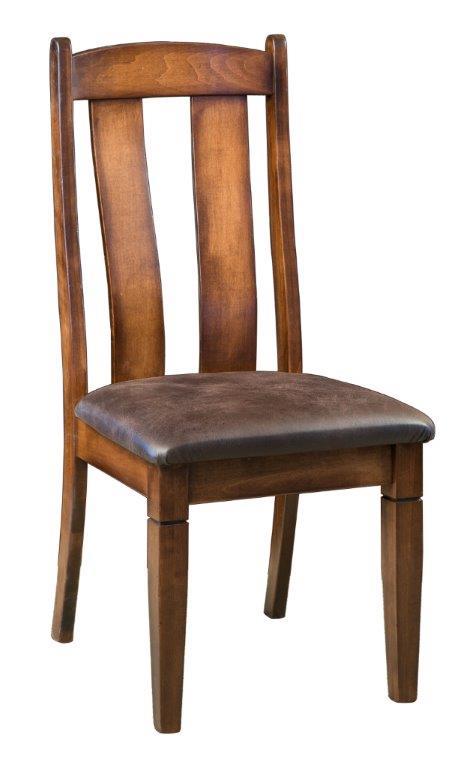 Cool undertones have a grayish cast.
The Amish Fiona Dining Chair has cool undertones.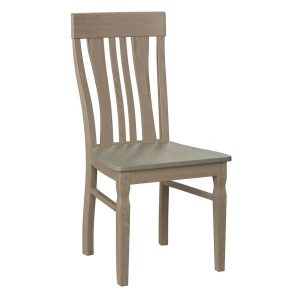 Neutral undertones are versatile. Beige in color, they can be mixed with warm, cool, or other neutral undertones.
The Quick Ship Lodge Dining Chair has neutral undertones.

Keep it Simple
Again, while furniture finishes don't need to match, try not to incorporate more than two to three in a room. Following this tip will make it easier to mix finished furniture. Just be sure to distribute finished pieces evenly. Too many dark or light finishes on one side of a room could make it look unbalanced.
The gray-toned finish on the base and dark wood top give the Lexington Hardwood Kitchen Island a beautifully balanced look.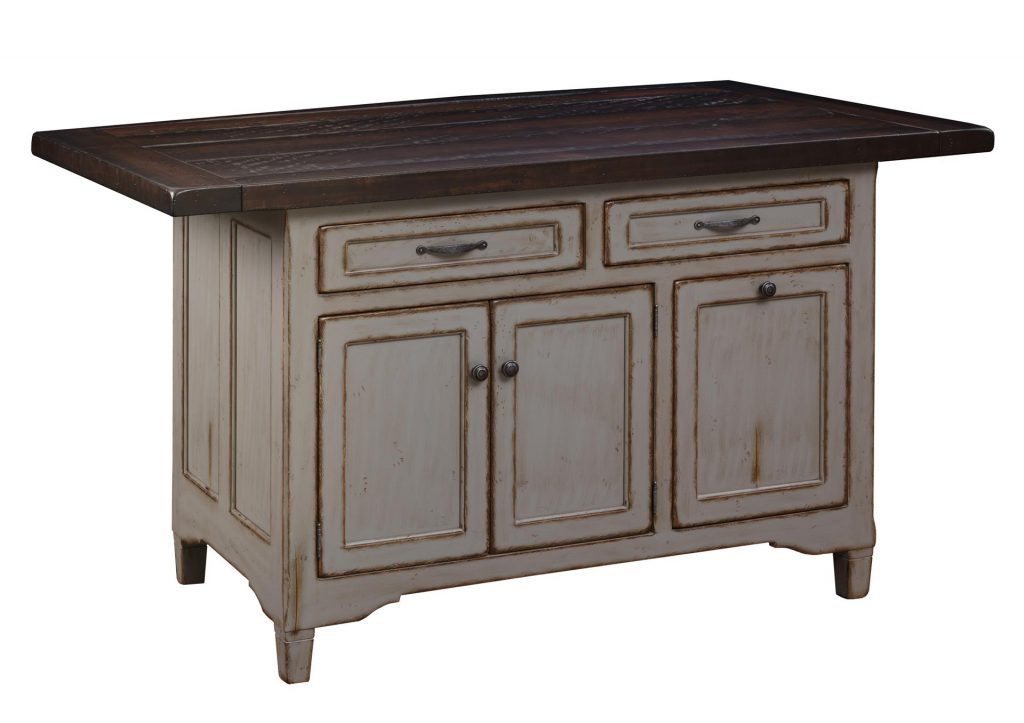 Grain Advice
Wood grain refers to the pattern found in the wood. In general, woods with large grains create a more casual look while woods with fine grains are considered more formal. It is OK to mix grains, but try to keep them as similar as possible if you are trying to create a certain "mood" in a room.
The Amish Sunrise Raised Panel Storage Bench displays the prominent grain of oak for a more casual look.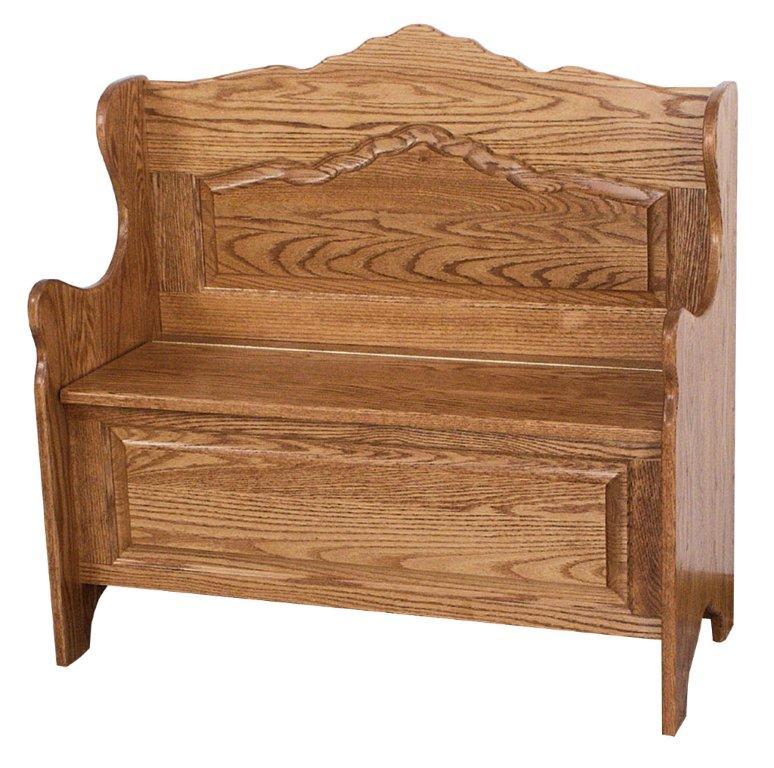 Cherry wood, like shown on the Amish Louis Philippe Euro Sleigh Bed, has a fine straight grain, contributing to a formal look.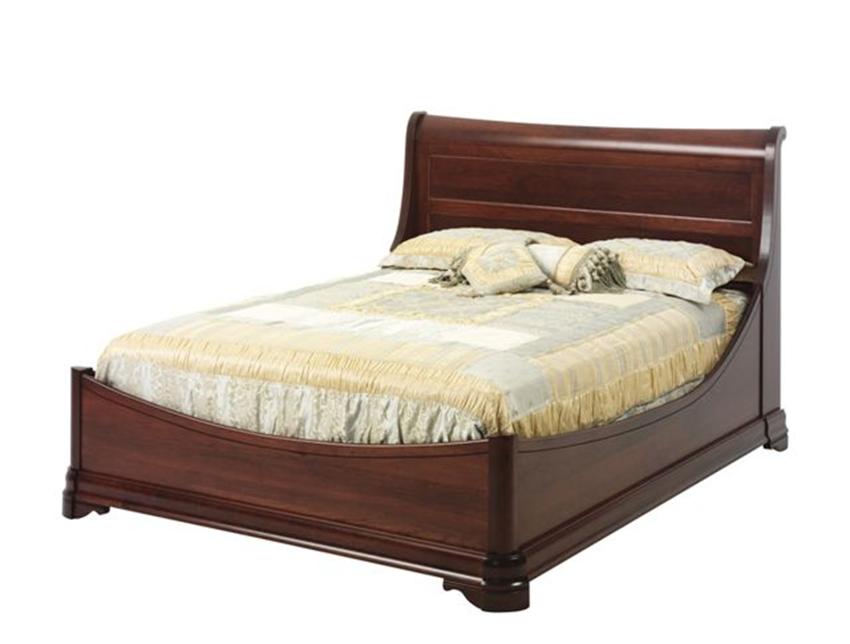 The Beauty of a Buffer
Buffers like a neutral colored rug can create a smooth transition between a wood floor and a contrasting table or chairs. It can also soften the look and add warmth, texture, and color between the two woods.
A chevron-patterned rug pulls together the contrasting finishes of the Ancient Mission Kitchen Island, Classic Stationary Bar Stools, and Webb Saddle Bar Stools in the Amish Ancient Mission Kitchen Island Set, part of our popular Shop the Look section.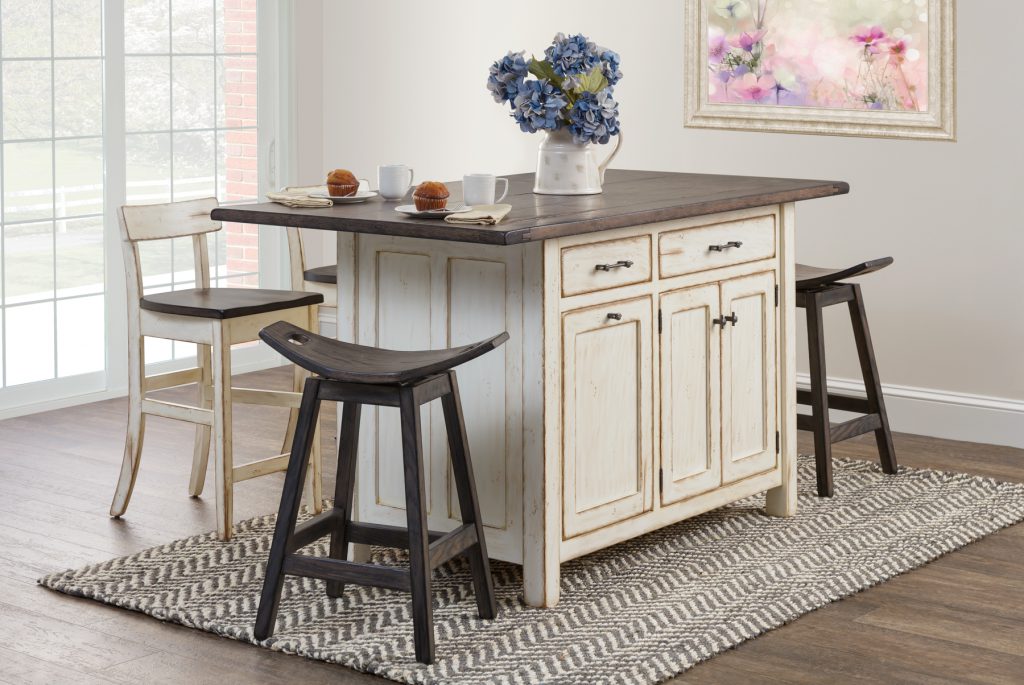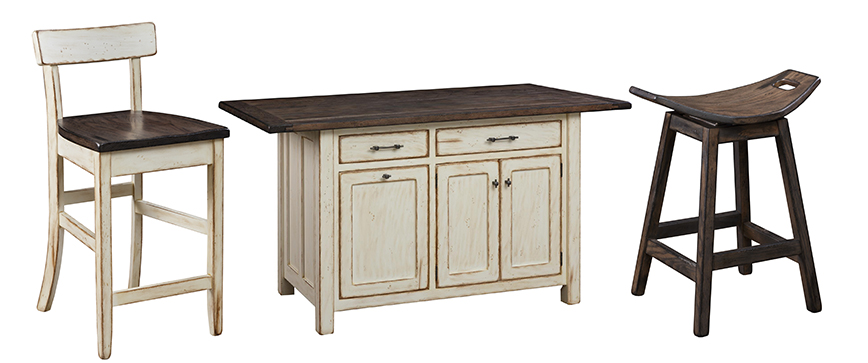 Creating Contrast while Keeping it Simple
Creating contrast is sure to draw attention. But, if you're not sure where to start, remember the following:
Furniture and flooring create an attractive contrast. Pair light colored furniture with a dark floor and vice versa for an easy contrasting look.
Select one dark wood furniture item as a focal point among lighter wood pieces or make an anchor piece stand out by surrounding it with contrasting wood or colors.
It's been said that variety is the spice of life. Spice up your home with custom furniture available in a wide variety of wood types and finishes.