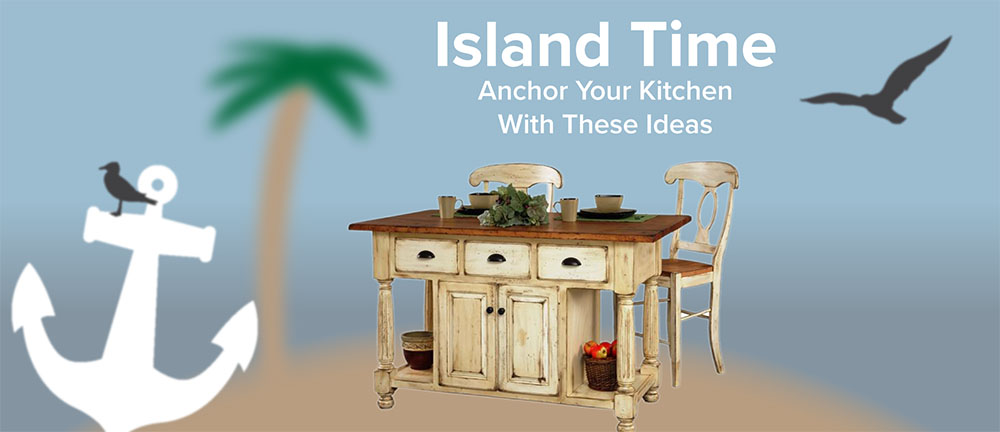 Island Time: Anchor Your Kitchen with These Ideas
Whether it's in the morning for breakfast, a lunchtime break, or gathering together to prepare dinner, your kitchen is the heart of the home.
And kitchen islands are the heart of the kitchen. They serve many different purposes to accommodate the various needs you have throughout the day. A breakfast nook is transformed into a baking station and later serves as a place for a casual dinner party. Easily improve the efficiency of your kitchen by adding a functional island.
When deciding on the perfect kitchen island, consider what is missing from your space. Could you use more storage? Are you looking to increase counter space? Kitchen islands are the perfect opportunity to fill in the gaps. Get the most out of yours with our ideas below.
Capitalize on Counter Space
Counter space can be hard to come by in a busy kitchen. By adding a kitchen island, you will be able to declutter your space, leaving room to prepare meals together. Everyone can be engaged in various activities in order to make a meal come together. Once the food is ready, gather around your kitchen island and relax.
The Amish Turned Leg Kitchen Island not only adds counter space but also plenty of storage.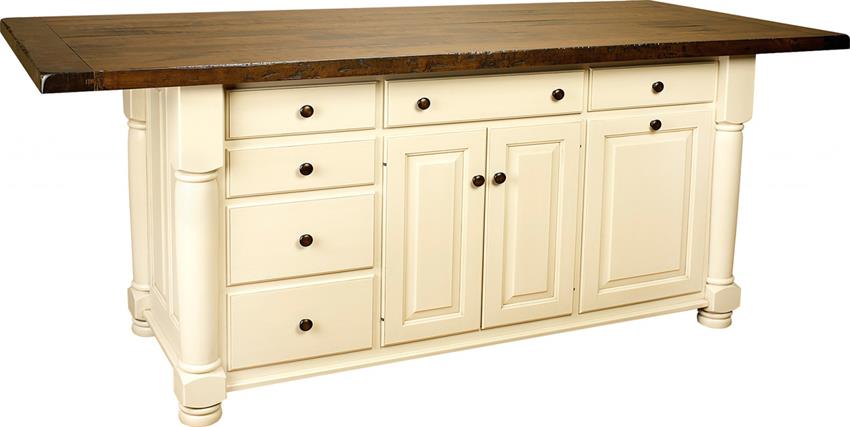 Get Smart with Storage
Most kitchens could use additional storage. Whether your cabinets are bursting at the seams or you would just like to be able to organize things more easily, extra storage is always a plus.
Add storage as well as a pop of color with our Amish Turned Leg Kitchen Island with Three Cabinets and Two Drawers. Shown here in a vibrant red, this kitchen island is sure to bring function and attention to your space.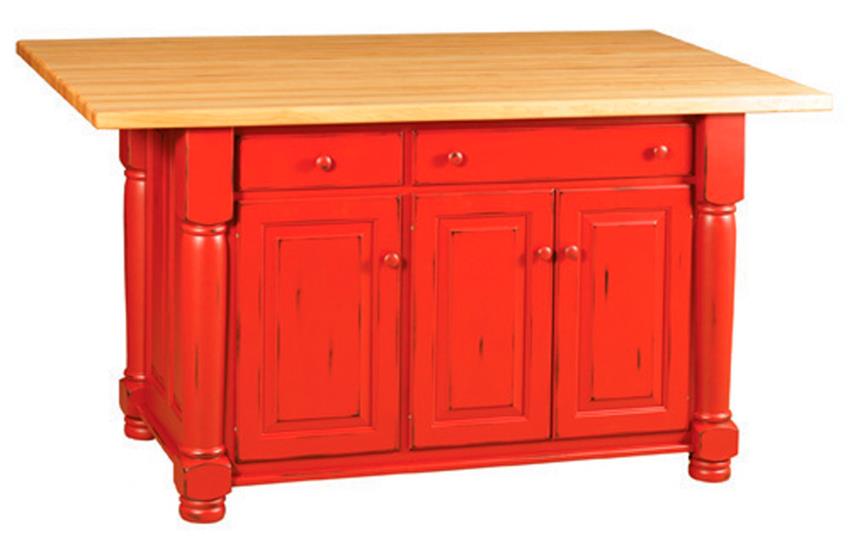 Multi-Level & Multi-Functional
Add interest to the kitchen by opting for a multi-level island. You'll be maximizing space and utility with a piece that can be used for multiple purposes. The lower level serves as a traditional island for activities like food prep and cocktail crafting, while the higher surface can act as a bar or entertaining area.
A great balance of country and sophistication, our Amish Rustic Hickory Bar Kitchen Island will allow you prepare meals and entertain without having to relocate. Oh, and the pullout wine storage isn't bad either!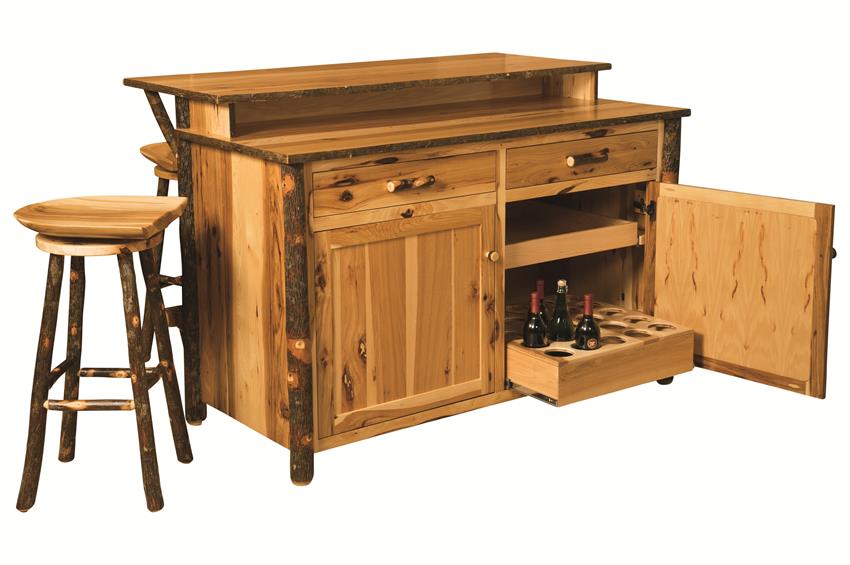 Give Appliances a Home
For the everyday chef, having a cooking hub will allow meal preparation to run much more smoothly. Why not create a central space where everything you need is within reach? Having a kitchen island that accommodates your most-used appliances and ingredients is a surefire way to make amazing, stress-free meals.
The Amish Traditional Raised Panel Island with Two Drawers and Three Doors features a mixer lift, 3-tier pullout shelf, as well as slide out waste baskets for the ultimate in kitchen island convenience.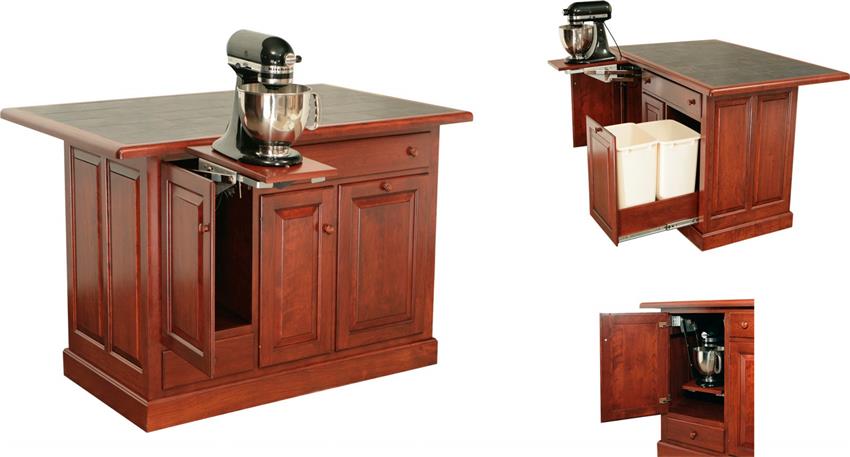 Create Social Seating
Since the kitchen has become one of the most popular places in the home, you'll want to offer seating in order to increase functionality. Kitchen island seating is great for when the guests have arrived but you're not quite done with the meal. Invite them to have a seat while you finish up.
Featured in our Sarasota showroom, the French Country Kitchen Island is an inviting addition to the kitchen.
Put Your Space to Work
A kitchen island may take up a good amount of space in your kitchen. You'll want to make sure that it fulfills many duties. Choose an island that not only offers extra counter space and storage, but also a pullout table for informal dining.
Our Amish Carrboro Mission Kitchen Island with Extending Table has it all. Memorable meals are a cinch when everything you need is all in one location.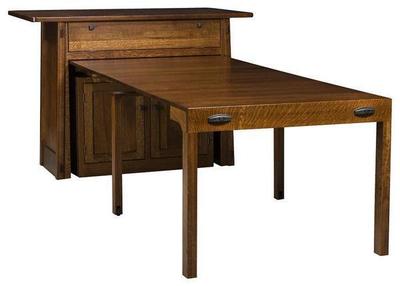 Make the most of the most popular space in the house by investing in a custom kitchen island.