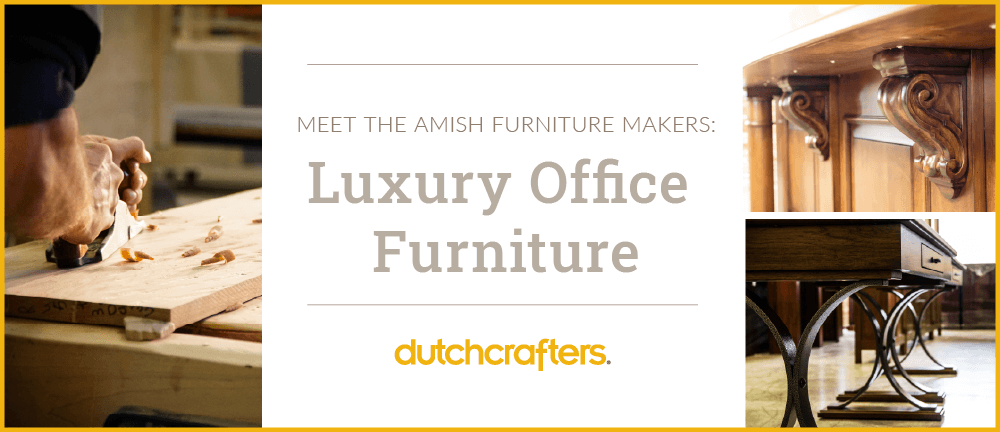 Meet the Amish Furniture Makers: Luxury Office Furniture Collection
This blog post was updated on January 27, 2022.
Falling in love with James and his five sons, the Amish furniture makers who handcraft our Luxury Office Furniture collection, is just as easy as falling in love with the impeccable, solid wood desks they've been building since 2002. Warm and fatherly, James leads us around his cobbled shop, through room after appended room of buzzing and sanding, eager to share his work and future plans with us.
"Yep," he says, leaning on a leather inlay and nodding down at the desk, "this one is my favorite."
James picked the Amish Paris Executive Desk, an impressive desk, to be sure. The buttery leather sections on the surface complement strong, finely carved raised panels on the face of the desk, which play well against the curling brackets above. The desk's deep wood tones feel polished and professional, perhaps especially amid the clatter and dust of the workshop. Crouching down, the woodshop owner traces the joinery and knocks the solid wood base as he explains his plans for the future:
"My boys will take the place over in another 20 years or so, so I have to make sure they're getting in early. That they start early, so they can learn how to do this right. It's not a trick, you know? You have to learn about it."
He should know. Like many Amish men, James began his career at the ripe old age of 15 – carving, gluing, and nailing together hardwood cabinets for another local wood shop. When he decided to start a family, he left the cabinet maker.
Far from a disinterest in woodcraft, the move was part of a careful plan to build a generational business; James saw an opportunity to take the skill he had learned and loved for almost two decades and pass it on to the people he cherishes most in the world, his sons.
"I wanted a family business, right here on the farm, where we could all stick together. That's just what I wanted, you know? And now I've got it, and my boys love it."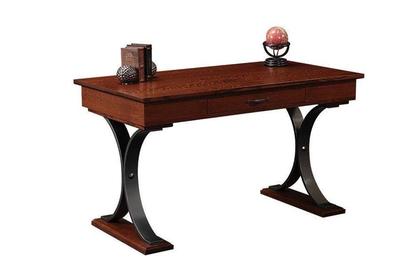 The Amish Dickens Writing Desk
Beyond his evident pride in his boys' craftsmanship, James is dedicated to growing the business he started from scratch. His work with DutchCrafters as the Luxury Office Furniture Collection is prodding that growth, and helping him add more woodshop space and staff as the years pass. He now employs seven local Amish furniture makers to assist his and his sons' work.
The help gives him time to work on a new venture – original design. James scours industry magazines and exhibitions for new office furniture ideas, which he brings into the shop for custom pieces, at first. The sumptuous furniture in his own personal office areas are stunning examples of some of these ideas, which he later brings to us: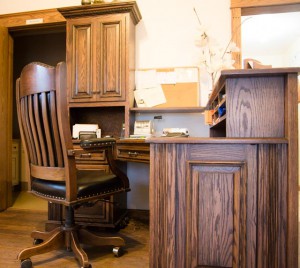 This variation on our Lincoln Corner Desk is James' idea of a prototype.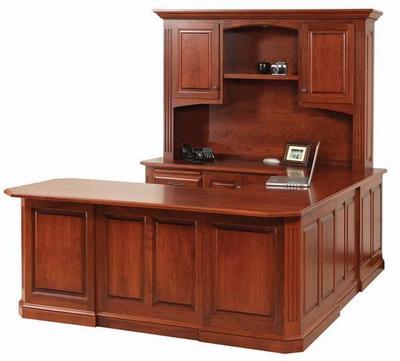 The Amish Buckingham U-Shaped Desk with Optional Hutch Top
Even with the growth, James assures us that quality materials are still a major key to his success. Despite the availability and relatively cheap cost wood from far-flung places, he relies on regional, responsibly managed forests to provide him with the raw woods for his masterpieces:
"I know that this is the good stuff, not the junk wood they try to sell to the new guys. I know what a good oak and a good cherry and a good brown maple act like, I know how to work with them. That's the kind of wood that I work with."
You'll never see particle board in James' shop in Ohio. There is only healthy, solid wood sourced in America that's carefully chosen to become heirloom furniture.
James' shop is also one that offers custom pieces beyond what you might see offered on our site. Builders of the Luxury Furniture Collection welcome custom requests and ideas, like altered dimensions and unique features. You can modify and rearrange what you see, and be part of the design process.
Each piece of wood furniture is built slowly, with intention, since creating heirloom furniture cannot be hurried. You'll find hallmarks of fine woodworking in this collection, from mortise and tenon joinery to tongue and groove techniques to hand rubbed finishing.
See all of James' handcrafted pieces in our Luxury Furniture Collection.
Read more of our Amish furniture makers' stories.
See the outtakes: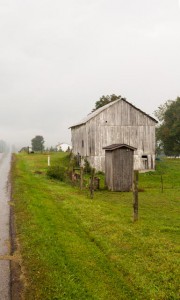 The road to the woodshop.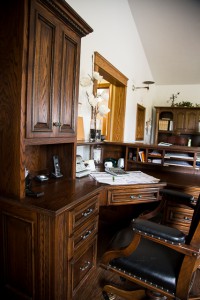 Another look at the custom Lincoln corner desk.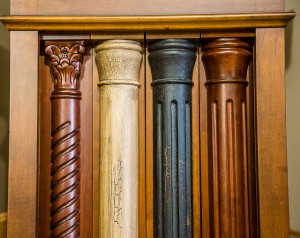 Decorative options.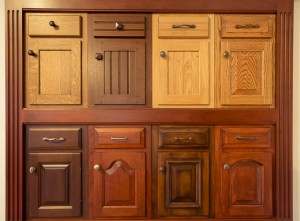 A sampling of hardware and finish options.
From the Jefferson Series, with rich attention to detail and two tone finish.