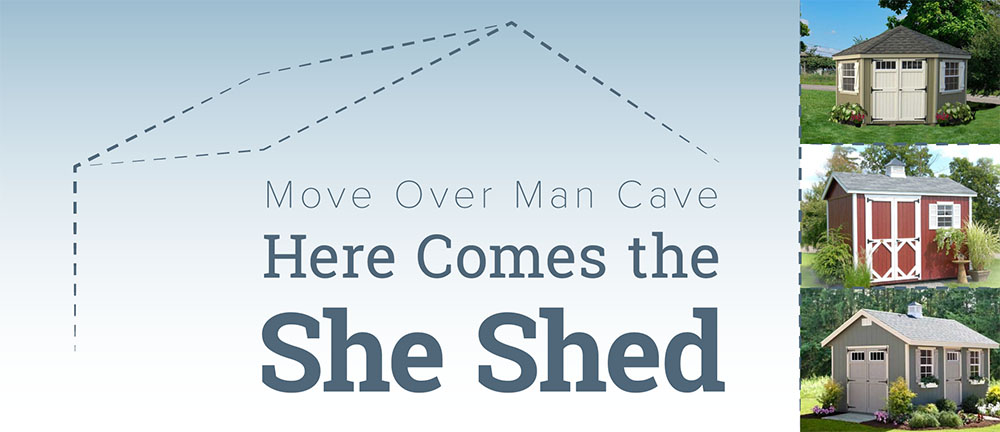 Move Over Man Cave, Here Comes the She Shed
Move over man cave! The she shed, sometimes referred to as "shedquarters," is taking center stage with its ability to create a backyard escape. Take your staycation to the next level with our ideas for these gorgeous getaways. We've rounded up our top picks to create a she shed to suit your hobbies and style.
The Reading Retreat
One of our favorite ways to stake your claim in the backyard is to turn your shed into a reading nook. You'll need plenty of natural lighting to pour over the pages of your favorite novel. We recommend installing additional lighting for those nights when you're in the mood to read past the sunset.
Choose the bookshelf in your she shed wisely. It will need to fit in a more compact space while also providing ample room for all of your favorite reads. Plenty of plush furniture and pillows are also a must. Add a nice end table to provide a spot for your favorite drink and any other knick-knacks you'd like to keep around. Consider topping it all with a sheer canopy to create even more whimsy for your reading pleasure.
Our Amish Wood Colonial Five-Corner Shed provides a cozy spot to enjoy all of your favorite books. You are sure to feel nice and tucked away in this personal paradise.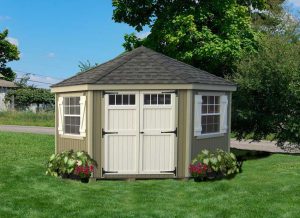 Crafting on Cloud Nine
Make your she shed into a spacious studio to help you keep your arts and crafts organized. We're always inspired by the latest Pinterest how-to's and would love a dedicated space to hone artistic abilities.
Arts and crafts-focused she sheds need plenty of organizational tools. A cork board will help you stay on top of your projects, while plenty of shelving will keep your tools at arms' reach. Shelves are also great to house labeled bins that contain all of your supplies in a neat and tidy way.
Protect your shed's wood flooring from any kind of craft-related spills with an attractive, easy-to-clean mat.
Available in 17 different sizes, our Amish Wood Classic Workshop Shed Kit is sure to offer more than enough space for you to get creative.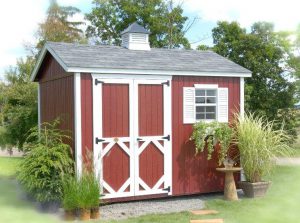 The Zen Den
One of our favorite spins on the she shed is a yoga and meditation center. This she shed is your relaxing haven. Cover your floors in comfy cushions and yoga mats, allowing plenty of space to stretch out.
Outfit your zen den with dreamy curtains and calming statues, along with a relaxing fountain to really get you in the zone. The addition of some energy crystals will have you in backyard bliss.
Retreat in our Riverside Amish Outdoor Shed Kit for hours of refreshing relaxation.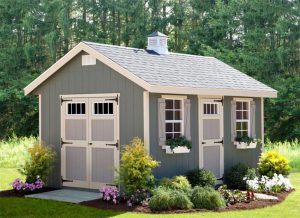 Your Garden Getaway
Greenhouse retreats are one of the most popular ways to transform a shed into a she shed. Window boxes are a great place to start and add charming appeal to any she shed. Continue the beauty with the addition of an ivy roof. We love the idea of creating living walls from upcycled pallets. Lean them on the exterior walls of your she shed for an inviting look.
Be sure to have a hose handy for easy access to water for all of your growing needs. Inside, make use of shelves and hooks to keep pots and gardening tools organized. Antique or unusable gardening tools as décor for your garden she shed are a unique addition.
Attach a pergola to your she shed with a nice seating area to take in the beauty after tending to your garden.
The Amish Wood Colonial Pinehurst Shed is an ideal place to create the garden of your dreams.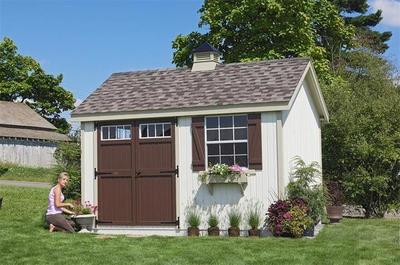 Outstanding Outdoor Office
What better way to be productive than in the beauty of nature? Fresh air provides a great atmosphere for getting work done with a focused mind. A new, refreshing space is sure to get you back in that hardworking mindset.
Consider working with an electrician to install plenty of outlets for lighting and all of your gadgets. Add a lock to your she shed to ensure that all of your important files will be protected.
A comfortable office chair is one of the most important parts of your office she shed since you'll want to spend hours without distraction. Choose an antique table or desk for a classic look. Lamps and curtains are essential for controlling lighting throughout the day.
Ideal for a she shed office, our Amish Made Homestead Shed Kit has large doors that will allow you to take in the breeze while you work, or offer privacy when you need to focus.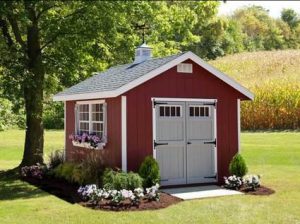 Enhance your hobbies with a personalized retreat that is designed to inspire you. She sheds of all types encourage creativity and relaxation and that's our favorite part! What does your ideal shedquarters look like?
Be sure to check out our large range of Amish Sheds to find the one that best suits your lifestyle.