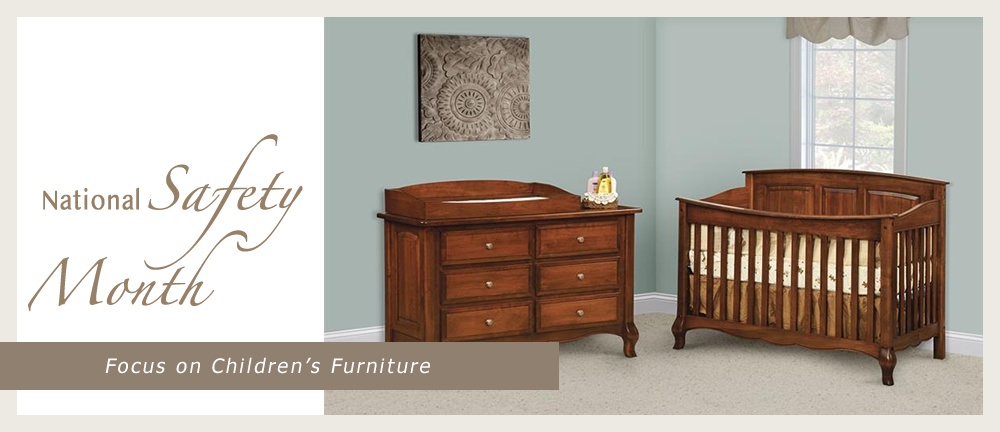 National Safety Month: Focus on Children's Furniture
Amidst the delight of choosing colors, décor and furniture for a new child's room comes the task of ensuring their safety. June is National Safety Month, a time to focus on ways to prevent unnecessary injuries that prompts us to share ways to set up a beautiful, functional, reliable and above all else—safe—bedroom with Amish kids furniture!
Cribs and Mattresses
What to Look For:
Guidelines recommended by the U.S. Consumer Product Safety Commission (CSPC)
Wood crib slats should be no more than 2 3/8 inches apart, with none missing, loose, or cracked.
Crib slats and mattress supports should be strong and sturdy.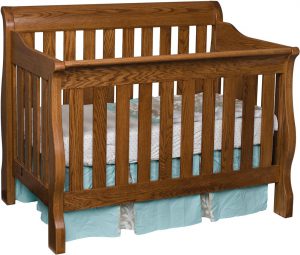 Corner posts should not extend above the top of the crib by more than 1/16 of an inch.
Wood should be free of splinters, cracks or splits.
Any paint used should be lead free no signs of peeling or cracking.
The mattress should fit snugly in the frame; make sure there are no gaps larger than two fingers between sides of the crib and the mattress.
Hardware should be secured firmly with no sharp or rough areas and with no loose, missing or broken parts.
Follow assembly instructions carefully; don't hesitate to call the manufacturer for assistance (please contact our customer service department if you have any questions about assembling our Amish cribs).
Bare is best—don't place pillows, thick bedding or plush toys in the crib; the American Academy of Pediatrics (AAP) also advises against using bumper pads.
Do not use cribs older than 10 years or broken or modified cribs—buying new is best. Earlier models may have gaps, loose components or broken slats.
Do not place a crib next to a window—blinds, cords, screens and window treatments are hazards.
Do not, by any means, use a drop side crib—they are proven to be dangerous and were banned by the CSPC in 2011.
Stick to non-toxic paint with low or no VOCs (Volatile Organic Compounds). Any crib with peeling or cracked paint, even it it's safe, should be refinished.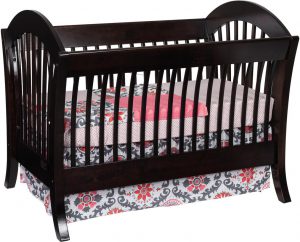 Part of the Kid's Comfort Collection, the Amish Manhattan Convertible Crib undergoes rigid testing and fully meets federal standards.
Tables & Toy Chests
Tables should have no exposed hardware.
Avoid sharp edges and look for round shapes for table edges and legs.
Check that stability-legs are attached securely.
Toy chests should have spring load supports for lids to keep them from slamming closed.
Toy chests should not include a locking mechanism.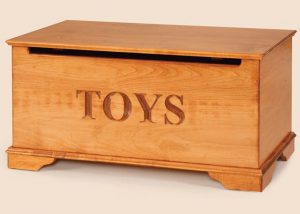 The Amish Maple Wood Toy Chest features rounded corners, pinch free front panels and spring loaded lid support.
Additional Tips for Furniture Selection
Choose kids' furniture that is size appropriate.
Choose furniture made of strong materials that can keep up with active kids.
Look for smooth, rounded edges to avoid sharp corners that can cause injury.
Features like mortise and tenon joints and dovetailed drawers promise both strength and endurance.
Watch out for finish materials that might be harmful.
Don't add extra padding to the playpen.
Put plug protectors in electrical outlets.
Keep changing tables safe by storing lotions, powders and gels in a drawer or on a shelf out of baby's reach.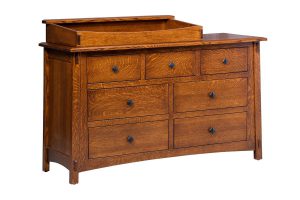 Choose light artwork to hang on walls. Avoid mirrors or heavy picture frames that could fall and cause injury. Soft wall hangings have no hard edges.
Select water based paint.
Avoid pressed wood, particle board or plywood that may contain formaldehyde; wood-like veneer and plywood can contain adhesive and other chemicals.
Safety Features of DutchCrafters Solid Wood Kids' Furniture
Cribs undergo rigid testing and fully meet federal standards.
Cribs are sturdy and durable, made with mortise and tenon joints, steel inserts and connector bolts and dovetail wood drawer boxes with full extension slides.
We use water based stains.
Products have a child-safe varnish. Ask about our completely organic option that's non-toxic, 100% VOC free.
Most products are all solid wood materials; any with plywood included are formaldehyde compliant.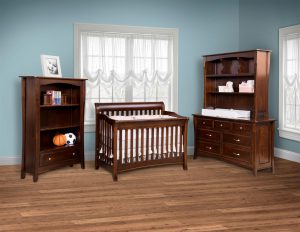 Rely on our Amish Kids' furniture for a nursery or playroom full of beautiful, functional and, above all, safe furniture. Please contact one of our Furniture Specialists with any questions and they will be happy to assist you.