Perfect Pairs: Fine Furniture Combinations
Just as a good book and a glass of wine, cozy slippers and a warm robe, or a cold glass of milk and your favorite cookies go together, fine Amish furniture combinations can quickly become some of your favorite combinations. We've highlighted some exciting duos from our collection of solid wood furniture with some features that speak to why they work together so well.
Dining Room Table with Bench Seating
For dinners, parties, meetings, and more, a dining table and bench seat make a perfect pair. A popular choice for gathering friends and family at the table, a solid wood dining bench offers many benefits along with sensational style.
Pairing the Amish Williston Leg Table with the Amish Williston Dining Bench allows for a few extra guests to sit at the table. This transitional style furniture combines the comfort of traditional design with the clean lines and smooth forms of contemporary style furniture.

The Amish Extended Carlisle Shaker Table with the Amish Maramec Bench will save space in the kitchen or dining room as the solid wood bench tucks neatly underneath the table when not in use.

 Kitchen Islands and Bar Stool Seating
Are you getting the most use out of your gorgeous kitchen island? Host casual dinners at your island with the right bar stool seating.
The Amish Mission Kitchen Island paired with the Amish Clifton Mission Backless Bar Stool is perfect for meals, snacks, homework, and more.

The Amish Arts and Crafts Kitchen Island with Open Shelf pairs well with the Amish Modesto Mission Bar Stool. This mission style furniture adds counter and storage space as well as a built-in dining area.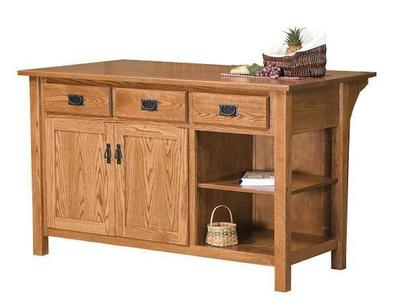 Amish Arts and Crafts Kitchen Island with Open Shelf
Living Room Sofa and Lift-Top Coffee Table
No home office or desk space? Create your own work space in your apartment or small home with a lift-top coffee table that serves as an adjustable desk paired with a comfortable sofa.
The Amish McCoy Sofa and the Classic Mission Rectangular Coffee Table with Lift Top go well together. Set up and store your laptop inside the mission style coffee table.

The Amish Eden Sofa paired with the Amish Urban Coffee Table with Optional Lift Top create an office space right in your living room.

Love Seat and TV Stand
Get together for your favorite movie or TV program on a cozy Amish-made loveseat.
The Amish Paradise Mission Reclining Loveseat pairs beautifully with the Amish McCoy Mission Corner TV Cabinet that fits neatly in a corner, saving you space.

The Amish Rustic Hickory Lodge Loveseat and Amish 60" Rustic Hickory Log TV Console fits a rustic furniture collection perfectly, and the TV Console offers storage for your favorite movie and music selections.

The right pair for a relaxing bedroom scene? A solid wood bed and stylish armoire.
The Amish Marshfield Bed paired with the Amish Marshfield Armoire blend beautifully to form a bedroom furniture collection. The Marshfield Armoire features full length mirrored doors.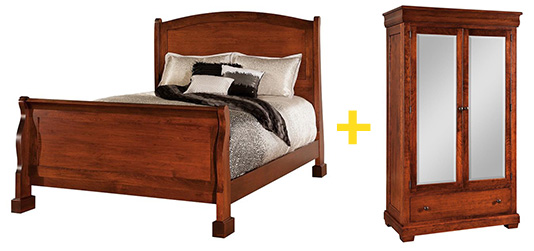 Amish Marshfield Bed | Amish Marshfield Armoire
Find your favorite solid wood Amish furniture pairings full of features you need.