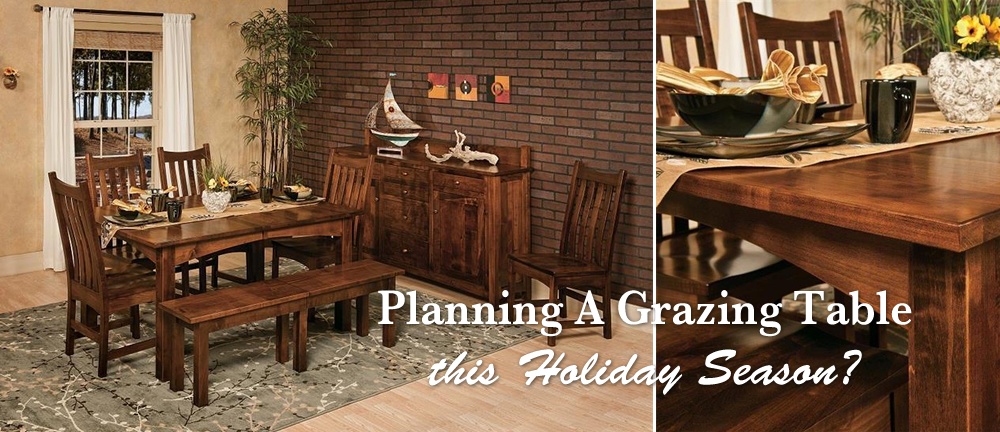 Planning a Grazing Table this Holiday Season?
The Grazing Table Craze
These days it's the grazing table that's at the center of dinner party mingling. Just as much fun as the sit-down dinner, grazing tables offer a variety of delicious delectables arranged with props. They add decoration to your party and define your signature style.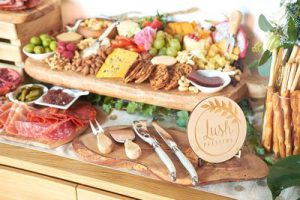 What is a Grazing Table?
Roman and medieval feasts involved spreading out the finest fare on tables for consumption, so the concept of the grazing table is not exactly new. Carried forward to present day, this tradition of enjoying the layout and presentation of favorite foods has gained popularity.
The grazing table craze embraces pre-dinner socializing. Simply put, a grazing table is a collection of foods that can include appetizers, cheeses, cold meats, breads, and snacks—all set up in an inviting manner. Presentations can range from simple to elaborate. Paired with pre-dinner drinks, grazing tables make the perfect companion for a light meal.
This grazing table by lushplatters.com invites guests to mingle.
Sweet or Savory?
Should you go sweet or savory on your grazing table? There aren't any set rules. You can combine sweet and savory or keep them separate. Just fill your table with the foods you love. Here are a few grazing table tips.
Lights, candles, and flowers are popular choices to enhance the table.
This is an opportunity to use decorative platters and dishes, wood boards, baking trays and cake stands—all excellent choices for displaying food.
Creating height is important—work from back to front, placing tallest elements at the back of the table and the lower elements in front.
Set up larger items and fill in spaces around them with smaller foods.
It's easy to add a theme to your presentation with food and props that support it.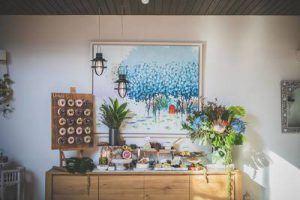 Popular Foods for Grazing Tables
Cold Meats
Cheeses including aged, hard, soft and blue. A full cheese wheel is sure to impress.
Breads and crackers
Nuts
Fresh fruits
Dried Fruits
Preserves
Cookies
Fruit dipped in chocolate
The grazing table is an easy way to serve a large group of people. It encourages guests to socialize and it's customizable in that you can select the level of frill as well as what flavor you want it to take on. Grazing tables cater to different tastes and are great conversation starters.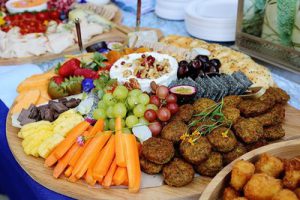 Grazing Table Tips
Start with a table, server or buffet that offers enough room and that sits on a supportive foundation.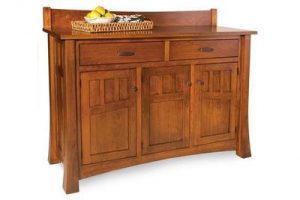 The Amish Arlington Buffet offers a modest serving area perfect for a grazing table.
Table size: you don't want a table that's too small or too large. Too small can cause crowding and too large is hard to cover with enough food and decoration.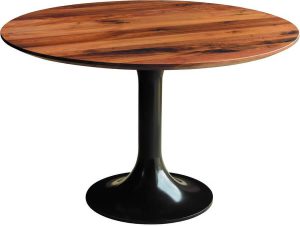 Choose colors, props and foods that complement each other.
Always include serving utensils.
Use place cards to describe unusual foods.
Try to have a good balance of meats, cheeses and fruits.
The goal is to have your table looking bounteous, beautiful and festive.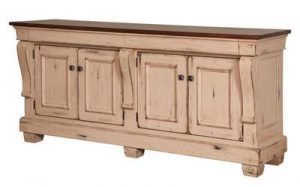 What will you serve on your grazing table? They're perfect for enjoying food, fun and friends on any occasion.