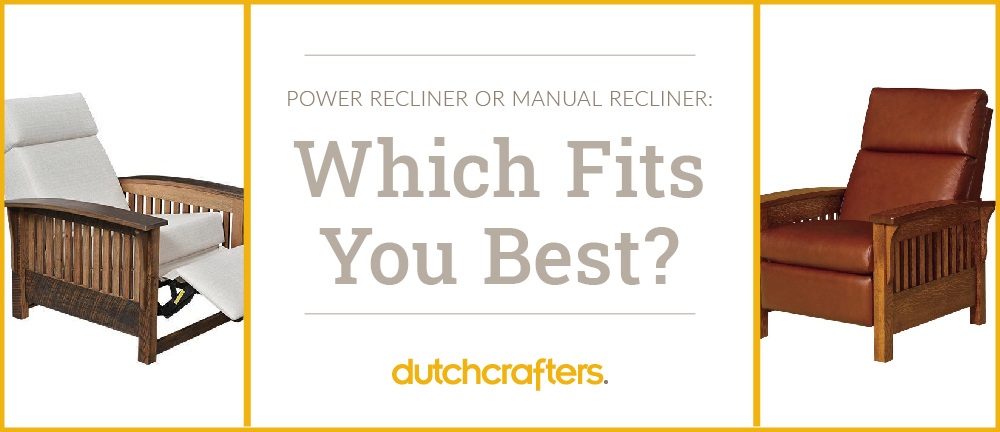 Power Recliner or Manual Recliner: Which Fits You Best?
The recliner rates consistently as the go-to chair for comfort. A staple in living room, family room or den, it has become a chair whose mere presence promises relaxation, support, and a way to put behind the pressures of the day. Recliners have come a long way, offering luxurious fabrics and features that have developed over the years. When it comes to finding the right recliner for you, do you need a power recliner or a manual recliner? Which one fits you best?
While power recliners are a luxury choice, rich with features and options, they do come with some different hardware that might not make them the best fit for all. Manual recliners are attractive and customizable too, but are better for those with more upper body strength. We're breaking down things to consider when choosing a recliner to help you determine if a manual recliner or power recliner is right for you.
Power Recliner Story
The main difference between a power recliner and a manual recliner is that a power recliner has a power source to automatically recline for you and a manual recliner does not. There's no pushing or pressing back to open a power recliner and wait for the footrest to pop out. Some offer a lift option that benefits those with lower mobility, helping ease them into a recline and assist them to a standing position.
There's no other luxury quite like gently reclining at the push of a button. Some power recliners plug right into an electric outlet, and some, like many of our Amish made power recliners, run on a battery pack. Power recliners that do plug in require a power source and this may limit where you can place your recliner in your home. For power recliners that are powered on battery packs, the need for an outlet is eliminated.
Manual Recliner Story
Manual recliners are also built to offer a comfy, cozy spot to recline and relax. With no motor to power them, they do require users to manually open them. This usually consists of pushing against the armrests while pushing against the back of the chair, until the back reclines and the footrest pops up and open. There are manual recliner models that open with the help of a lever handle or pull handle on the side. These require upper body strength to push or pull the chair open. A lever handle requires more strength than a pull handle. A lever handle triggers the headrest down and the footrest up. With a pull handle, the footrest pops out and then you manually push the back up and down, then close it with your feet.
Manual recliners offer you the freedom to place them anywhere in the house since you don't need a power source to plug them in.
Power Recliner Benefits
Comfy chair option
Opens automatically at the push of a button
Smooth, continuous movement
Offers the most versatility with a number of different positions to recline
Battery powered recliners eliminate tripping cord hazard
Power Recliner Challenges
Power cord models need a power source
Cords can present a tripping hazard
Power models cost more
Heavy and not easy to move
Manual Recliner Benefits
Comfy chair option
Can be placed anywhere in the house since it doesn't need a power source
Costs less than power recliners
Lighter than power recliners, easier to move
Manual Recliner Challenges
Requires more effort to open and close
Opening and closing of chair can be jerky instead of smooth
Don't normally have extra features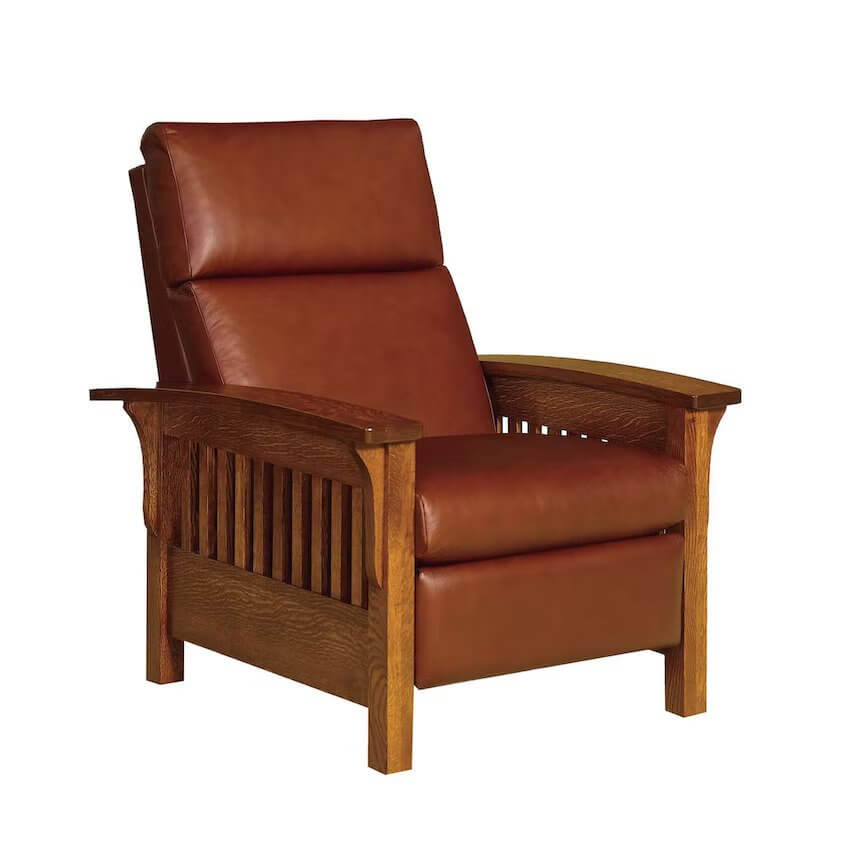 Questions to ask When Shopping for a Recliner
When it comes down to choosing between a power recliner or a manual one, you can ask yourself the following:
Do I have the strength to open and close my recliner or would a power option be best?
Do I have enough space for my recliner to open fully?
What's my budget for a new recliner?
If my power recliner has a cord, where do I have an outlet nearby?
Ways to Customize an Amish Recliner
Amish made recliners are customized just for you in an Amish woodshop. One of the most popular customizations for them is to add the motorized mechanism that opens and closes your recliner at the touch of a button. There are various wood types, stain colors, and upholstery options, along with additions like throw pillows and padded arms. There are both manual and power recliner options you can customize. While the models we offer are not lift style to assist one to a standing position, it's easier than ever to create the power recliner that's just right for you. Several Amish made models are available as either manual or power, with the option to add the power mechanism. Customers ask if it's worth it to add the power option to our recliners, and our advice is, if you think you'll need or want it at some point, it's better (and less expensive) to add it when the chair is made versus adding it later on. The power mechanism is assembled at the woodshop, then placed in the recliner before the upholstery is added.
We are also asked what happens with a power recliner when the power goes out. Many of our Amish made power recliners have a transformer with a nine volt battery to control the chair during a power outage for a short period of time.
With perfectly angled arms, solid wood and fine craftsmanship, you can rely on an Amish made recliner to last. Whether manual or power, recliners are built to help you relax, whether its reading the latest novel, taking a nap, or enjoying some television. Having a manual or power recline is up to you.