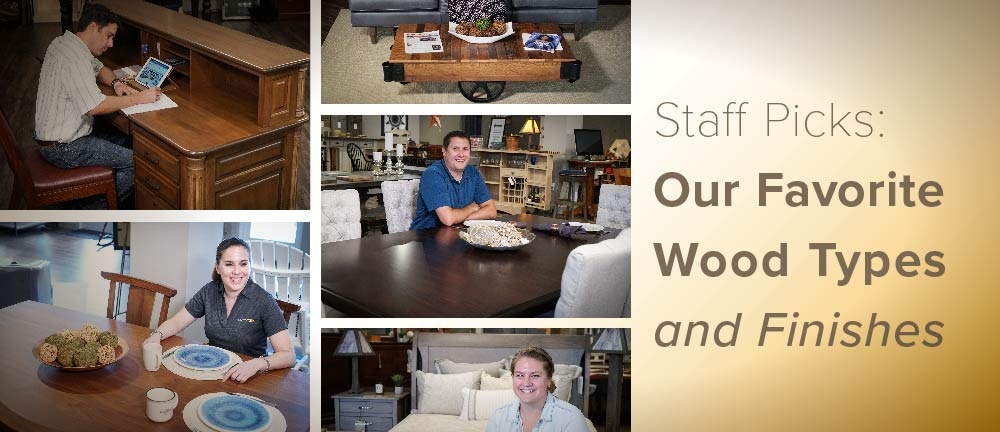 Staff Picks: Our Favorite Wood Types and Finishes
Wood type and finish contribute directly to the look of and style of custom furniture. Wood type determines the strength, durability and look of the piece. The finish offers protection and enhances the appearance of the wood.
Members of our team selected their favorite wood types and stains to offer an up-close look at how these two custom options can complement each other.
_______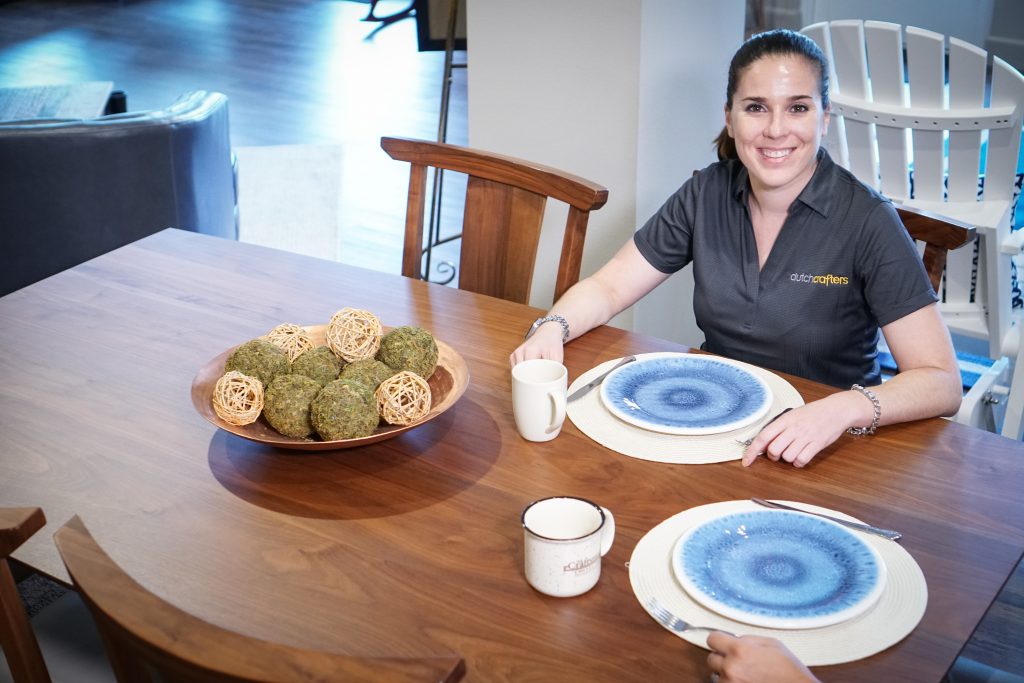 "What I like most about this table is the linseed oil on the walnut wood. It brings out the natural characteristics of the walnut."
Who: Kari-Jo Koshes, assistant manager and shipping & logistics coordinator
What: Amish Grand River Dining Table
Wood Type: Walnut | Finish: Natural Walnut Stain & Boiled Linseed Oil
__
Wow with Walnut
A stable wood that can handle intricate carving.
Highly durable.
A premium wood, it tends to be more expensive than other hardwoods.
Often used to build more formal furniture.
Dark wood with a fine, straight grain.
A favorite for dark-colored furniture.
Natural color varies from a pale yellow-brown to dark brown.
Maintains its dark tones in any stain finish.
The Finish: The natural walnut stain lets the rich tones of the walnut take center stage. The linseed oil sinks into the wood and adds a subtle sheen as it nourishes the wood. Linseed oil creates a slightly more textured finish, that you can feel when you run your fingers over it. It is recommended that the linseed oil be reapplied every one to two months.
_____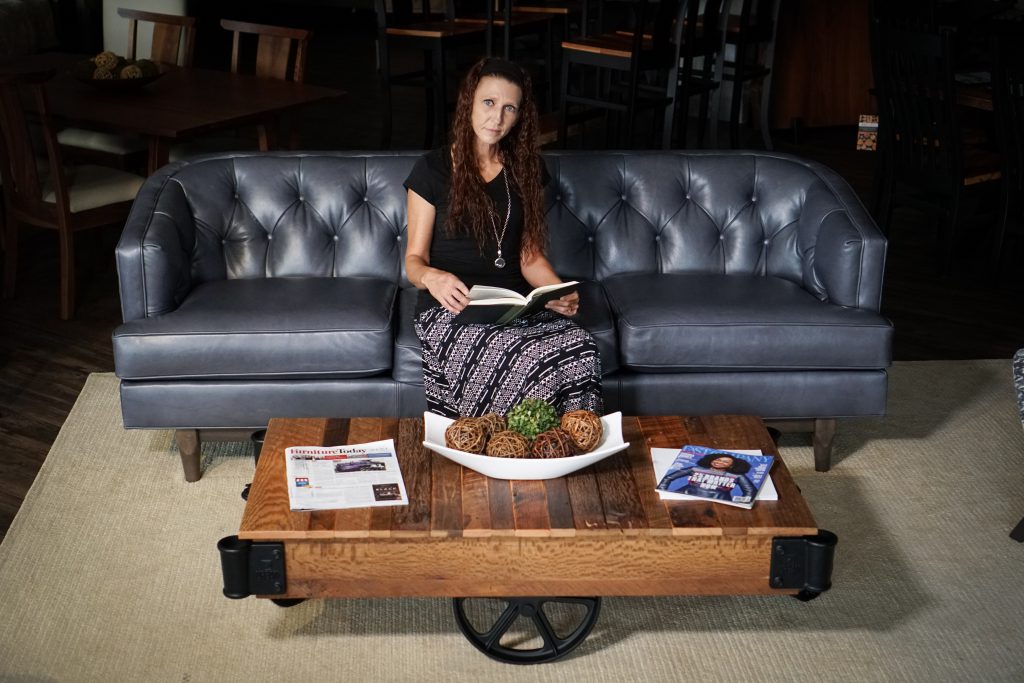 "I love that reclaimed wood has a history. It is a recycled wood that was once a large barn, church, or other structure. I like the nail holes, knots, and saw marks because it has more character than brand new lumber."
Who: Jennifer Ferdico, customer service specialist
What: Urban Factory Cart Coffee Table, a DutchCrafters exclusive
Wood: Reclaimed Oak | Finish: Clear Flat Finish
__
Reclaimed Appeal
Wood salvaged from century-old barns or pallets.
Eco-friendly as the wood is repurposed rather than sent to a landfill.
Undergoes a drying and cleaning process to remove dirt and insects.
Wood rich with character, featuring natural nail holes, worm holes, hairline cracks, knot holes, sun spots
Unique, no two pieces of reclaimed wood are the same.
Often oak or pine wood.
The Finish: Typically, reclaimed wood is finished with a clear stain to allow its charming character to be fully observed. Watch our exclusive Urban Factory Cart Coffee Table stand out in the video below.
_____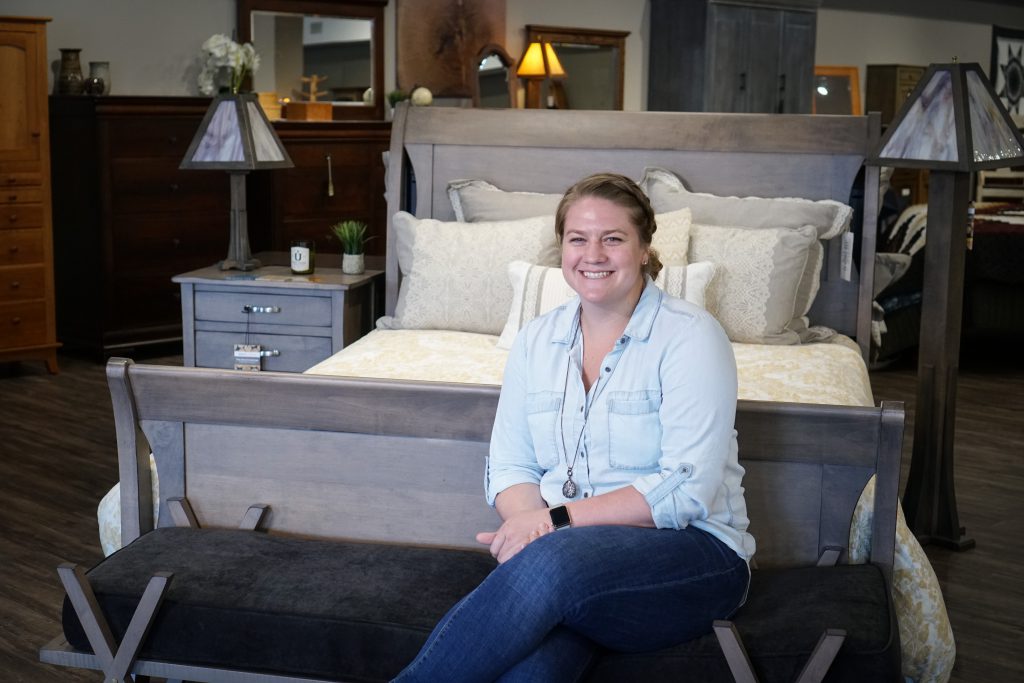 "I've always been a fan of the modern, sleek grey tones that are popular right now but this Sanibel finish specifically actually pulls a little bit of brown in it as well, making it feel both modern and warm at the same time."
Who: Mary Fehr, product portfolio manager
What: Transitions Sleigh Bed by Keystone
Wood: Clear Rock Maple (a soft maple) | Finish: Sanibel Stain with Keystone Vintage Package
__
Clear Rock Maple Highlights
Similar to brown maple wood without a lot of dark streaking.
Strong and durable.
Smooth grain.
The Finish: The distressed finish on the Transitions Sleigh Bed is warm and inviting. Often used to create a time-worn, antique look, distressing involves manually creating signs of wear and age.
_____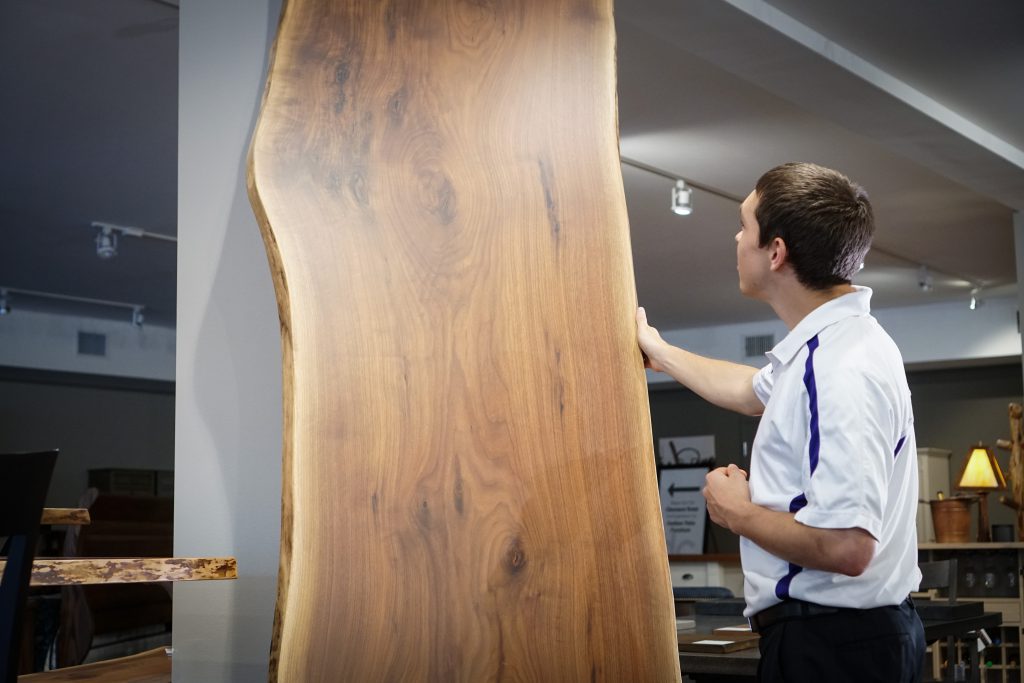 "My favorite wood type and finish is the live edge rustic walnut featured on the big plank and accent tables. The smooth wood grain and muted tones of walnut wood always make an impressive statement of elegance and quality."
Who: Jake Smucker, multimedia producer & graphic designer
What: Live Edge Plank (that can be incorporated into a tabletop, counter, island, or featured as a work of art).
Wood: Rustic Walnut with Live Edge | Finish: Boiled Linseed Oil
__
The Look of Live Edge Walnut
Displays the natural edge of the wood.
Full of the tree's colors.
Includes knots, holes, and spaces present in the tree.
Enhances both rustic and modern décor.
The Finish: The natural boiled linseed oil finish sinks into the wood, creating an organic look and texture that enhances the look of the piece.
_____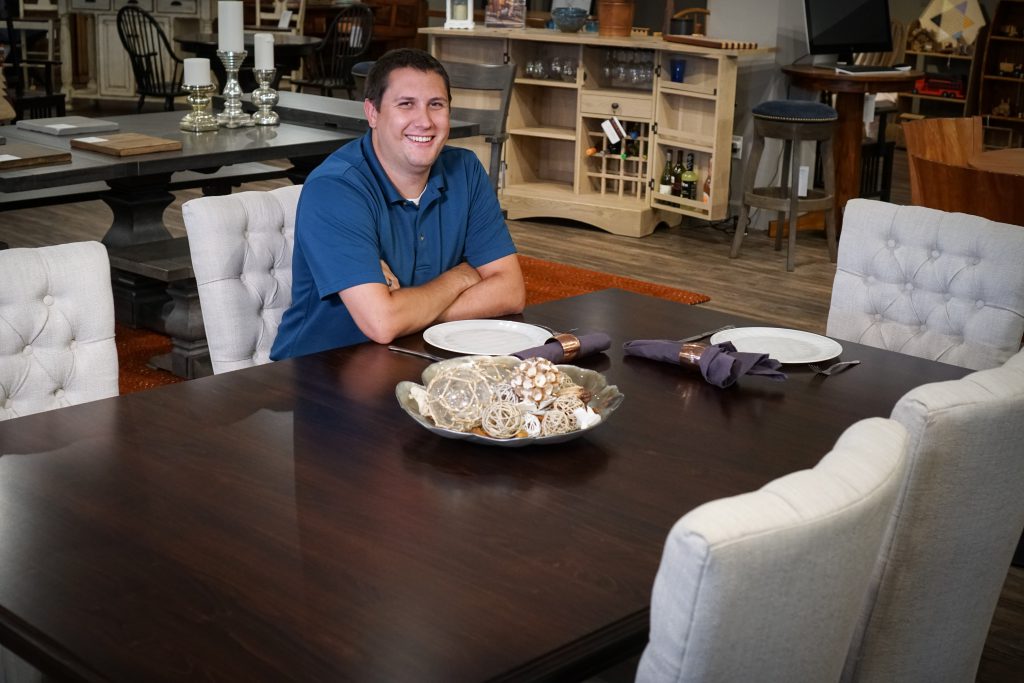 "I like the rich tobacco stain on brown maple wood because it is a dark stain that still allows for the graining and the character of the wood to come through."
Who: Ryan Schloneger, showroom furniture specialist
What: Amish Kingston Double Pedestal Table
Wood: Brown Maple | Finish: Rich Tobacco Stain
__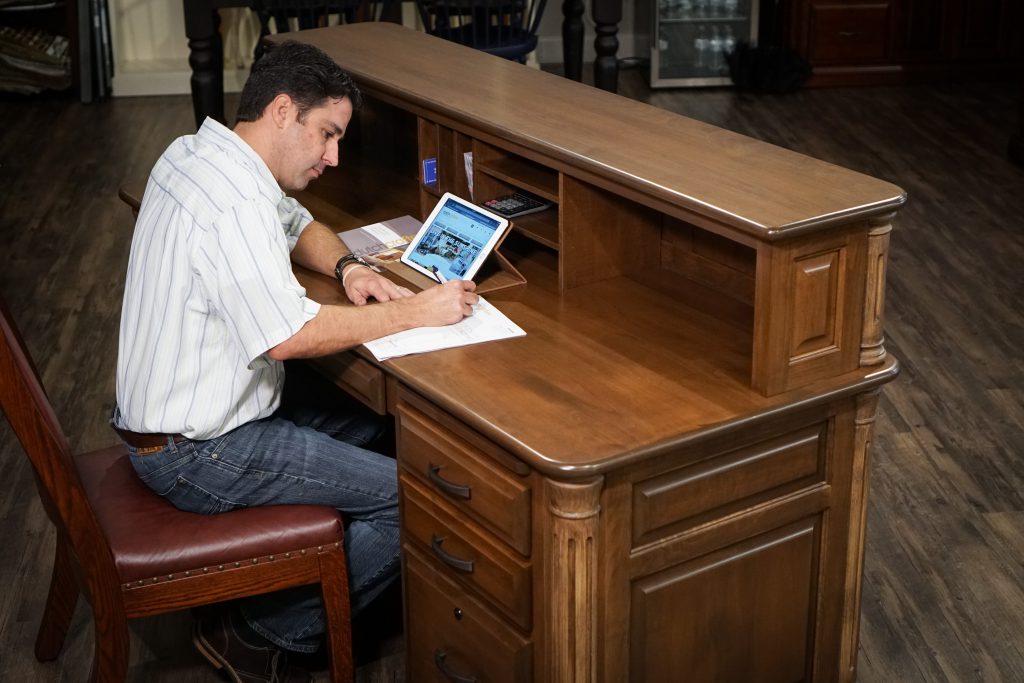 "The brown maple used in the Jefferson Reception Desk is impressive and elegant. It's a quality wood for a professional piece. The combination of the wood and stain makes that ever important first impression."
Who: Frank Quiñones, sales & service manager
What: Amish Jefferson Transitional Reception Desk
Wood: Brown Maple | Finish: Chocolate Spice Stain (a specialty stain)
__
Brown Maple Basics:
Comes from the heartwood (the wood closest to the center of the log).
Has natural streaks and variations that can vary from light to dark.
Hard and strong.
The grain is smooth and sleek, ideal for painting.
An economical choice among solid hardwoods.
The Finishes: On the Amish Kingston Double Pedestal Table, the brown maple absorbs the rich tobacco stain giving the elegant table a deep, rich coffee color. The specialty Chocolate Spice Stain on the Amish Jefferson Transitional Reception Desk provides a warm welcome and helps the stone finished fluted columns stand out.
_____
There you have it. A small sampling of what wood and stain combinations can bring to your solid wood furniture.