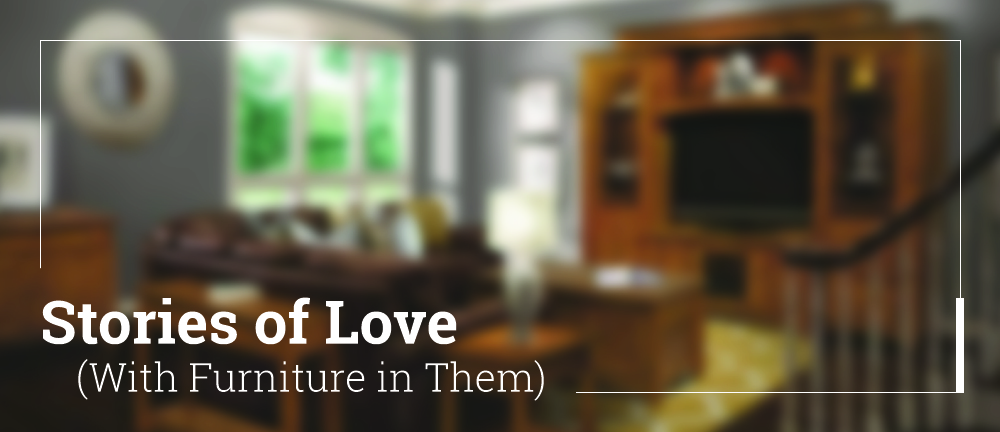 Stories of Love (With Furniture in Them)
Why do we love our furniture?
Yes, the styles can be exciting, and the purpose furniture serves is clear. But why do we fall in love with pieces over time? How and why does that happen?
Maybe you remember Nana sitting in her rocker to read to the grandkids. Or maybe you can still clearly see that delicious dinner with the whole family gathered around the table. Maybe you remember how Dad kept telling corny jokes you just had to laugh and that no one wanted to get up to do the dishes.
Maybe you remember dusting furniture (I do) and moving all the pictures and knick-knacks to make a clean swipe along the breakfront in the dining room. For some, furniture symbolizes a new beginning like a new addition to the family or a long-awaited remodel.
Whether it's the table leg that wiggled a bit, the loose handle on Mom's old trunk, or the new kitchen island you custom designed yourself, what is it that can make us fall in love with our furniture?
What is it all about?
Connection. Some of us fall in love with furniture that provides a connection to memories, to special or even mundane moments that we remember. There's meaning behind furniture that's passed down from someone we thought of fondly or perhaps cherished. Furniture can represent milestones in our lives, like a big promotion or a move to a new place. It helps us connect to comfort, belonging and contentment and therefore, we fall in love with it.
This Valentine's Day, we're sharing stories of love with furniture in them, and we found them right there in the emails you sent us. Thank you for reminding us of the power and meaning behind the furniture that lives with you each day.
Lisa W. from WI on 6/3/15
My Mom's table and chairs were delivered Sunday, June 1. The delivery man, Jake, was fantastic! He was very willing to help me schedule delivery for a day that my Mom would be out of the house (it was a surprise for her). He and his helper, Ryan, brought things in quickly and made sure to explain everything before leaving. A big thank you to both of you for being so helpful during the ordering and finishing processes! My mom was thoroughly surprised and thrilled! She said it's the nicest piece of furniture she's ever owned, and she's absolutely in love with it! Thank you for helping us make this a beautiful moment for her! From start to finish, this is the best experience I've had with an online furniture purchase….or any major online purchase for that matter! Thank you again! Lisa
Lori B from OH on 12/29/15
My parents gave me my first hope chest when I graduated high school in 1981. Unfortunately, my first husband sold several things for money and that chest was one of the items sold. I've looked for another one just like it for years and was thrilled to see it on your website! I had the engraving say the same thing the first one did. We lost my mom in 2012, and I want to put her handmade afghans and quilt in my new hope chest. Thank you, thank you….
Tedia G from WI on 1/30/16
I just wanted to take a minute to say thank you for the gorgeous furniture you made for me. My son was so surprised by the secret access to the wardrobe, and we think it will make an amazing heirloom. Thank you for helping us make our vision for that piece come to life. We have been able to send him to Narnia!
**Note: The "Narnia" wardrobe was customized to include doors that open outwards in the back of the unit. This allowed access to the open area under the customer's staircase as a small playroom for her child. This was a special request to resemble the wardrobe in the book, The Lion, the Witch and the Wardrobe.
Chris M. from CA on 8/4/16
It's a dream come true for me to have one (a Grandfather clock) in my home as my grandmother had one in her home while I was growing up….brings back happy memories…
Patricia W. from NY on 6/16/17
I have attached pictures of the wheelbarrow with the picture of my two dogs, Gizmo and Billie Bo. The artist truly captured both my dogs. Gizmo is always sniffing the flowers and Billie Bo loves his T-shirts and sweaters. Words can't express my happiness at the way my dogs were portrayed and my gratitude to the artist. Thanks to him my dogs will live forever in a way. He made a wheelbarrow into a family heirloom.
Sharon B from IN on 10/18/17
My father received the lighthouse yesterday. He secretly set it up in the backyard last night so when my mom opened the shades in the morning, she would see it. He videotaped her opening the curtains this morning to see the brand new lighthouse, and she was crying with joy. She loves it. Tonight she will get to see how the solar lighting feature works. She can't really walk outside for a closer look, but she sits at the table and looks out the window all day long.
Rhonda V from NY on 9/10 18
I cannot tell you in words how much I love my new DutchCrafters furniture pieces! I am 71 years old and have severe COPD to where I am on oxygen 24/7. It really doesn't stop me, just slows me down a tad. Three years ago, I lost my mother….she was 93 and still full of fun (and wine). She left her home to my sister, brother and myself. We kept it for a couple of years before we decided to sell. In the meantime, my husband of 35 years, a Vietnam veteran and retired professional fire fighter, lost his battle to leukemia. Five years before he passed away, we built a new one-story home. The furniture we brought in was large and overwhelmed our new living room. But he liked it so we kept it. After he passed away, seeing the couch he spent so much time on saddened me. I could not even bring myself to sit on it…it was his place. I finally came to the conclusion I needed to get new furnishings for my living room… a tough decision to make. When we sold my mother's house, the proceeds divided amongst my sister, brother and I, I had a little extra to make my wish for a new living room come true. So thank you DutchCrafters for creating such a wonderful dream come true. When my sister came to see my new living room she said. "Mom would have loved it!" I think my husband Kenneth would too.
Thank you to our DutchCrafters customers who shared their stories with us. Do you have a love story with old or new furniture in it? We'd love to hear it. Please share with us in the comments below. Happy Valentine's Day.