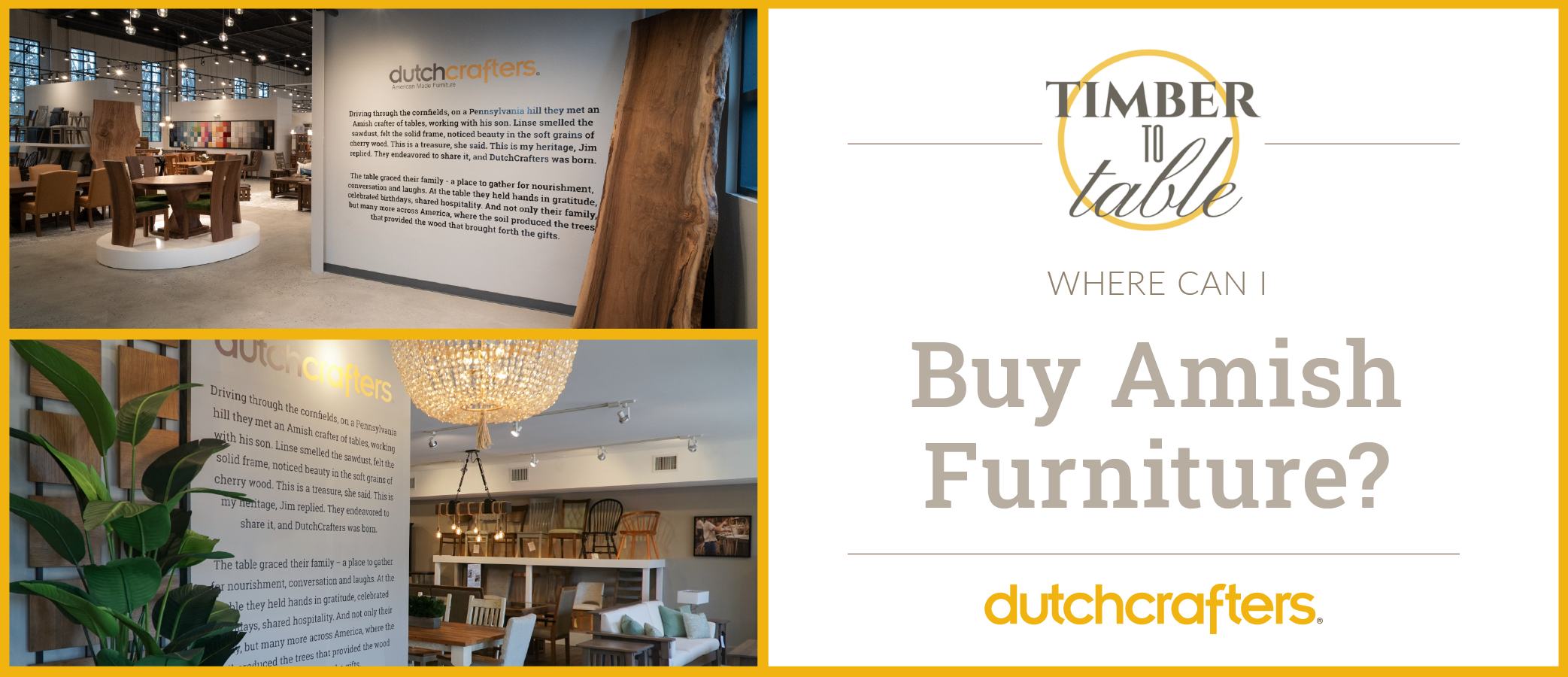 Where Can I Buy Amish Furniture?
Perhaps you've visited areas of Amish country and stopped in at shops with home baked goods, canned vegetables, quilts and other handmade items. Perhaps on a special trip to the rolling hills of Amish country you encountered some shops that featured the smell of fresh sawdust, and you happened upon some exceptional Amish made solid wood furniture.
There's a difference about Amish made wood furniture that's undeniable. Anyone who has seen it or touched it can tell. There's a slowness, an unhurried commitment in its making that results in chairs and desks and tables that possess stunning qualities that tell us they'll be talked about and they'll be around for a long time.
While it may seem like this treasured furniture is hard to find, there's a more direct line to connect you to Amish furniture and all the quality, heritage and comfort it represents.
If you're wondering, "Where can I buy Amish furniture?" you've come to the right place. DutchCrafters Amish Furniture is considered a pioneer in connecting solid wood Amish made furniture with customers across the country. First, let's look at what sets Amish furniture apart from all the other furniture you find in big box stores.
The Quality of Amish Made Furniture
The slow furniture movement embraces fine craftsmanship that takes its time, and Amish made furniture is the epitome of durable furniture built to last. This is furniture made with only the finest solid wood. It's a given that construction takes time in order to create a superior product. Amish furniture is built to offer high function, comfort and support and look outstanding while doing so. With Amish furniture, you'll find qualities present that you won't find in sub-standard or even standard furniture. Things like mortise and tenon joints are present, a hallmark of fine craftsmanship that helps ensure your furniture will be around not just for years, but for generations. We're talking furniture built so well it can be passed on…and on… and on.
Then there's the wood. Several different species are available for any given piece, and they are regionally harvested in America and selected with care and intent by Amish woodworkers. Solid wood is simply going to look better and last a lot longer than any imitation wood board or plastic bargain piece will. Just the drawers of Amish furniture are more than a storage space, they're an experience in and of themselves. We've watched drawers being made on different trips to Amish country. Each drawer box is handled and crafted carefully. Several steps are involved to build the best drawers that include those dovetail joints mentioned above. Drawers involve hands on assembly and strict review and revision. And drawers are just one aspect of case goods. The same attention to detail is given to every piece from table bases and extensions, to bed frames to desk details.
In addition to the quality materials and celebrated craftsmanship, what's the cherry on top for Amish furniture? It's the option to customize. The reason you won't find warehouses with Amish dining chairs in neat rows, wall-to-wall Amish desks and Amish bed frames stacked to the ceiling is because the Amish furniture experience differs from the normal, everyday furniture shopping experience. The furniture is not mass-produced. Instead, you get to see a model of the piece, or photos of it online. You participate in the design of your Amish made furniture by choosing the wood type, the stain, upholstery and considering a number of custom features depending on the piece you're looking at. The reason custom Amish made furniture isn't like all the rest is because once you discover it, you customize it and that's when the building begins…just for you.
So if you want to get to the source of the best wood furniture available, what do you do? Where do you go? Where can you buy Amish furniture? Two main places to shop for Amish furniture are online or in an Amish furniture showroom.
How an Amish Furniture Showroom Works
Shopping at an Amish furniture showroom differs from a traditional big box store. What you'll find inside an Amish furniture store is furniture yes, but it's a sampling of what's possible. Remember, you've got options to customize Amish furniture, so a writing desk you see in the showroom is likely available in five or more wood types and countless stain options. There might be the option to add drawers, either full extension or full extension with soft close. The bed you see is available in a number of sizes, wood types and stains. There are likely options to take out the box spring and make it a platform style bed. Perhaps you wish to add storage drawers on both sides. Maybe you want a low footboard. Since the store can't carry the same desk or bed showcasing all of the custom woods, stains and features at once, what you'll find is a bed or desk with some of them. And you'll also find experts who can help.
DutchCrafters Amish furniture showrooms exist in Sarasota, Florida, LaGrange, Indiana (outlet store) and Alpharetta, Georgia. In addition to a wonderland of wood furniture, you'll find furniture specialists equipped with the knowledge to show you all that's possible with custom wood furniture. You can go in and sit on the chairs and feel the wood. You'll find a large area devoted just to samples, where experts can help you connect with the wood type and stain that best fits your vision. You can get all your questions answered. Experts will show you a piece in the showroom and similar pieces online. DutchCrafters offers over 15,000 products online. They can direct you to the best piece that fits your space and offers the features you're looking for. They can put samples in your hands to get a good look at wood types, their grain patterns and how they appear in different stains. They can help you place your order and fill you in on what comes next. And that's how an Amish showroom works; it allows you to experience the furniture, ask questions, and discover the possibilities.
You Can Order Amish Furniture Online
You can buy Amish furniture online, yes! It's kind of funny to think that buying online offers easy access to handcrafted furniture made in an Amish woodshop, but that's the beauty of it. You can get all your questions answered, receive samples and get help from a furniture specialist to customize your furniture.
It's understandable there could be some hesitation when buying online. At DutchCrafters, we've worked since 2003 to make the online buying experience as user-friendly as possible. We have plenty of customers who have shared their positive buying experience with us.
When you buy online at DutchCrafters, the options are all laid out clearly to choose wood type, stain, upholstery and additional features. There are videos and blogs on our site that explain wood types, stains and furniture features. You can order samples (which we recommend) and have them mailed to your home so you can select the wood and stain that work best. You can enlist the help of a furniture specialist through chat, email or phone, and they can be your guide to custom wood furniture from Amish country.
Is Amish Furniture Worth the Money?
Most will attest to the quality they've observed after dipping a toe into the world of Amish made solid wood furniture. It's clear that this furniture stands out and that it is built with intention and quality that will ensure it can be passed on for generations. Amish furniture is not just one "old-fashioned" style as some still believe it to be, but comes in a variety of styles, including Mission, Shaker, rustic, mid century modern and contemporary. DutchCrafters Amish furniture is built by roughly 150 different woodshops in Indiana, Ohio and Pennsylvania that we've formed solid working relationships with since 2003. Amish furniture a solid choice for furniture you want to buy once and have forever. Its price reflects the quality it offers.
So remember, your connection to Amish furniture is available and easier than you might have originally thought. Where can you buy Amish furniture? Enjoy a unique experience shopping in an Amish furniture showroom, shop online on your own, or connect with a furniture specialist to guide you.
Visit our Customer Testimonials page to learn more and view photos of Amish furniture in customers' homes.
Have you purchased Amish furniture? Tell us about it below!