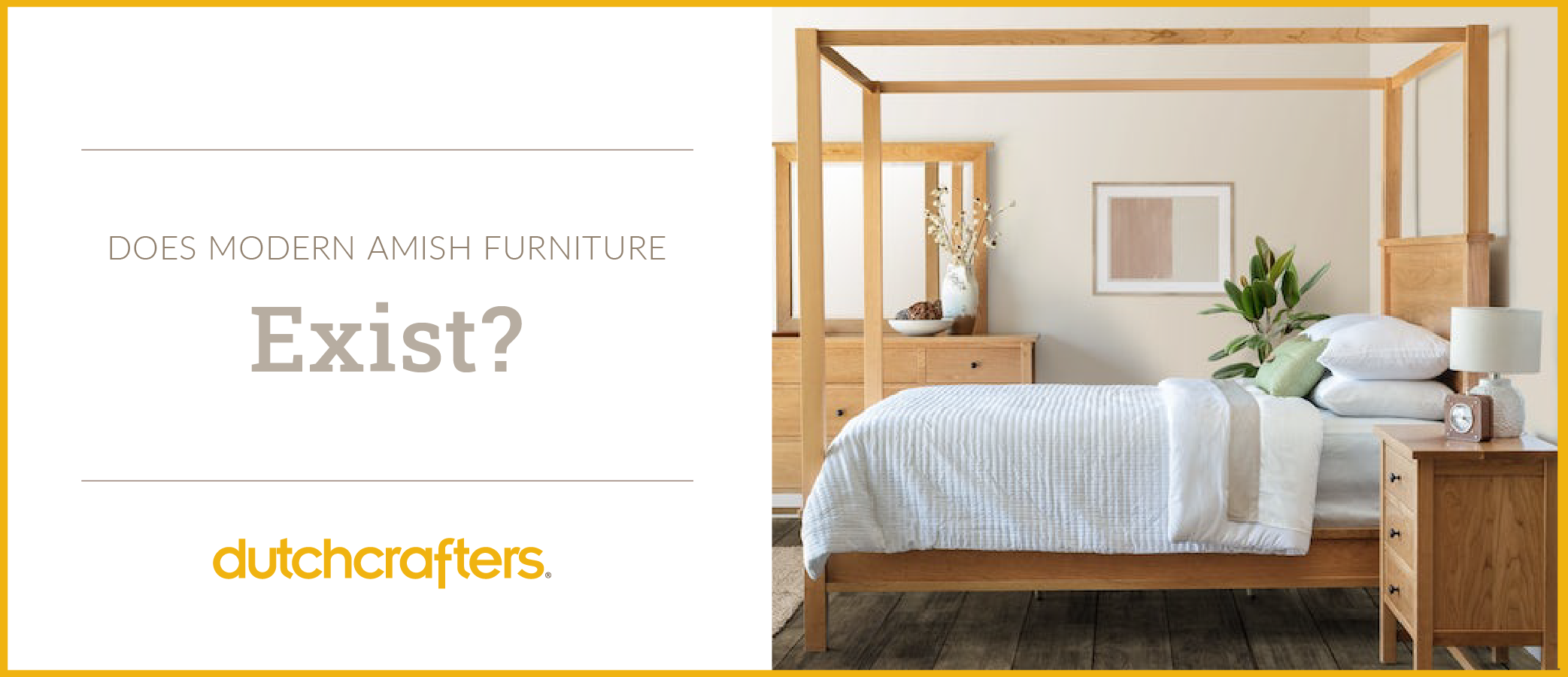 Does Modern Amish Furniture Exist?
Modern Amish furniture does exist. Just because it's made by hand with solid wood and will last from the birth of your child until they have their own children and beyond does not mean it's limited to one style. In fact, that's one misconception the vice president of DutchCrafters, Linse Miller, tries hard to dispel, frequently looking for ways to bring Amish made modern furniture center stage.
While it's true the Amish are known for their masterful crafting of Mission and Shaker style furniture, there's an index of furniture styles they build, including contemporary looks and mid-century modern ones.
Amish Furniture Styles
At DutchCrafters, we foster relationships with the many vendors who build our furniture. Frequent trips to Amish country are part of our work, and visits from Amish woodworkers to our Sarasota, LaGrange and Alpharetta stores occur regularly too. These meetings are times to share new products, learn about techniques and features, and ask questions. One thing that's clear during these exchanges is how dedicated our Amish woodworkers are to keeping up with all styles of furniture to meet customer demands. The list of furniture styles they offer is long, including Mission, Shaker, French country, industrial, traditional, Formal, rustic and live edge. Also represented on this list are contemporary and mid-century modern, two styles that surprise some who are new to Amish furniture.
What does Amish modern furniture look like?
At DutchCrafters, we work with over 150 Amish vendors throughout Ohio, Indiana and Pennsylvania. Here are just a few of them that produce contemporary and mid-century modern designs, all in solid wood.
Contemporary Classics Collection
The Amish woodworker who creates the Contemporary Classics Collection worked in sales and delivery for a national wholesale lumber company for 25 years, and this helped him get acquainted with the furniture industry. He kept an eye on what was selling well and what customers were looking for. His goal with starting his own furniture collection was to design new styles with a more modern look. He helped other Amish woodshops to update their traditional styles, and it was then that he created his own collection of wood furniture. A signature characteristic of his furniture is adding designs full of function that are not typically found in Shaker or Mission style.
The furniture in this collection brings in new contemporary looks that fit a variety of décor.
RH Yoder Chair Collection
Among the stunning solid wood chairs in the RH Yoder Chair Collection are some popular contemporary style dining chairs. Built in Shipshewana, Indiana, the Yoder brothers offer more than 55 solid wood chair designs along with custom bar stools and benches.
Star Mill Furniture Collection
When the maker of the Star Mill Furniture Collection was laid off from a prior job, his father offered him an opportunity to join him in building living room and entertainment furniture. He went into the business and continues producing Amish wood furniture in a variety of styles. Included in these is transitional style. The owner likes transitional style (a blend of traditional and contemporary) and shares he can make a transitional piece of furniture look either modern or Shaker, just by the wood, stain and hardware choices. Those elements can make the piece look entirely different.
Customizing modern Amish furniture online.
Like all the Amish furniture we offer, our Amish modern furniture is customizable. Choosing wood, stain, hardware and upholstery creates a look that's uniquely yours. Building Amish furniture isn't just a guarantee of greatness and longevity, it's also fun to personalize and create with the options offered.
Does modern Amish furniture exist? You bet it does. And you can find modern Amish furniture online. It is kind of a funny concept considering the limited use of technology by the Amish. But they are in step with all aspects when it comes to wood furniture, modern styles included.