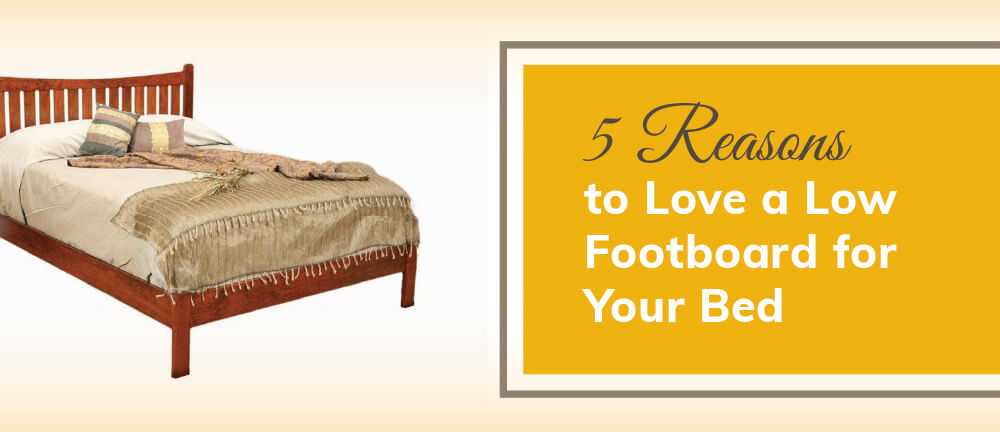 5 Reasons to Love a Low Footboard
Low footboards have a lot going for them. Ever changing is the traditional matching headboard and footboard combo that have long contributed to defining the style and function of your bed. Long ago, footboards took on the job of blocking drafts and holding bedding in place. Over time, their purpose contributed more and more to the look of the bed. As beds are built to cater to new styles and needs, the footboard has found a way to go low and look great doing so.
These days, some beds function just fine with a headboard only or continue the headboard footboard match. But a low footboard option does not detract from the strength of your bed frame, and there are a number of reasons it is a popular choice.
What's the Purpose of a Footboard?
The purpose of a footboard is to enhance the style of your bed, hold the bedding in place and add decoration.
Advantages of a Low Footboard
It's Easy to Achieve a Contemporary Look
Low footboard designs are simple and minimalistic. Some have nearly no footboard at all, but a joining of the side rails of the bed as they continue around the base. The look is no frills and clean lined. It is a look that fits well with contemporary bedrooms.
It's Easier to Add a Bedroom Bench
With a simpler, lower bed base, you can easily add a bedroom bench at the foot of your bed for added style, a space to sit, or additional storage.
It's Easier to Make Your Bed
Without the grandeur of a standard footboard in the way, your hands and arms are saved from bangs and bumps as you work to tuck in bedding. With a low footboard, making your bed first thing in the morning might actually be enjoyable.
Tall People Have More Room
Tall people won't need to worry about their feet knocking up against a low footboard or their legs being cramped by one. There's room for the feet and toes to stretch and be free.
It's Easier to Sit on the End of the Bed and to See the TV
A low footboard leaves you room to sit on any edge of your bed instead of having to sit on the sides. If you like watching television in bed, a more substantial standard footboard could block the view, whereas the low option lets you lie down and enjoy the show.
What We Like About Standard Footboards
Yes, there are reasons to like a standard footboard for your bed as well. Perhaps you like that tucked in cozy feeling with your feet resting just above the footboard.
Bedding is another issue and it's more likely to stay right in place with a standard footboard blocking the way from it sliding off in the middle of the night.
Standard footboards add to style and attract attention. If part of the purpose of your bed is to create an eye catching display, chances are you will lean toward a more decorative footboard. A standard footboard contributes to a more traditional style, with more ornate designs. If you're looking to go grand, the matching headboard and standard footboard combination are great at making a style statement.
Standard Footboard Drawbacks
Standard footboard height is 24", while lower footboards range from 14"-17". Standard footboards will make your bed look bigger, which might not be ideal in a smaller space, making your bedroom look crowded.
If you like to watch TV in bed, there's a chance a standard footboard could block your view of the television if you're not propped up on pillows.
In the end, selecting a footboard comes down to a matter of personal preference. A low footboard will not add an ornate style to your bed, and there's the possibility that the clean, minimal lines and shape it creates could cause your bedding to slip onto the floor, but you're likely to make your bed in a jiffy, achieve a contemporary look more easily, and if you're a tall person, well, you just might prefer the freedom it offers for your feet.