The Benefits Of An L Desk
What's the lure of an L desk, you might wonder? Beautiful, spacious and substantial, the L desk has a lot to offer. Does it take up too much space? Will it work for your office area? Just what are the benefits of an L desk? Let's take a look.
Plenty of room to work.
The design of an L desk offers a spacious desk area, with an extension added that creates another large work area. You can sit at the desk area and perform daily tasks while the extension helps support other tasks. What other tasks? Room for work supplies and computer equipment, creating a partner desk area to host clients or room to spread out materials and projects. There's a lot of workspace available with an L desk, and it's the ideal desk for multitasking.
There's often a question about which part of the desk is the return. The return of the desk is where the pencil drawer is located, not the keyboard. A return is an additional workspace of the desk that sits to the side of where the user sits.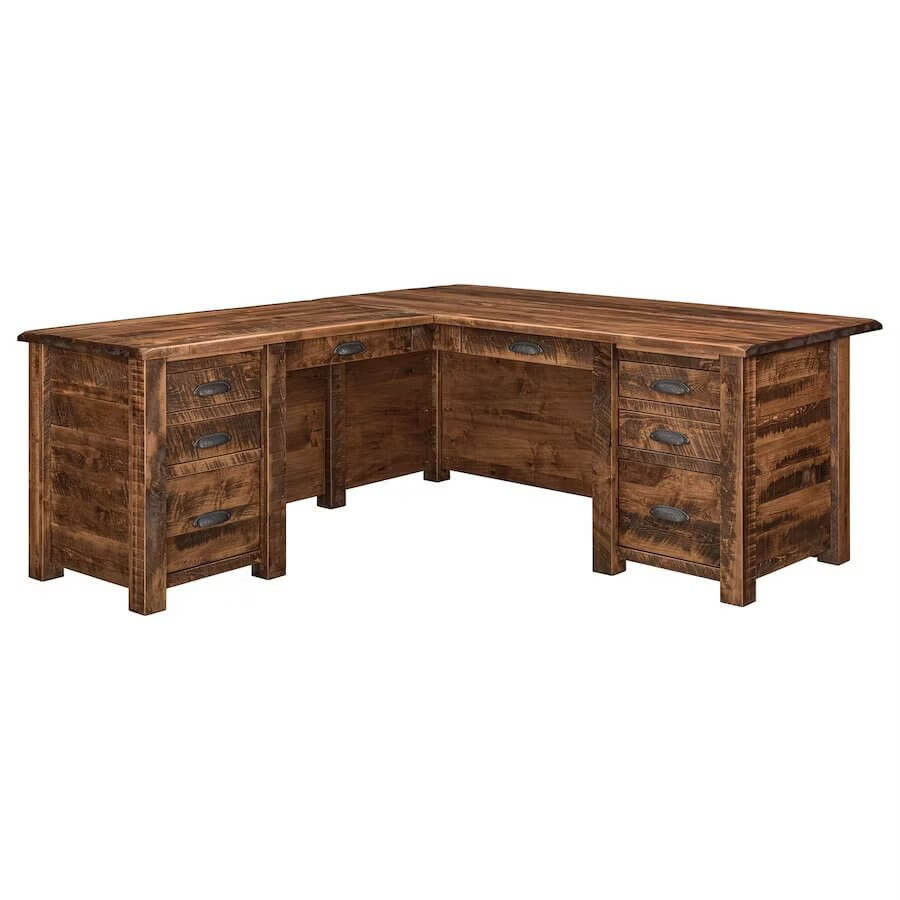 Fits a corner nicely.
While the L desk is a larger desk that offers plenty of workspace, it's not a desk that fits all spaces. It can sometimes help make use of awkward spaces. The L design aligns nicely with a corner space, and this can come in handy for an open corner that isn't being used. Some custom L desks offer options to customize the height and length of the desktop. The L desk design also allows for the fact that one desk size does not fit all. Many models offer options with the configuration of the desk. They allow you to choose where to put the return of the desk (where the pencil drawer is located), either to the right or left, depending on your space.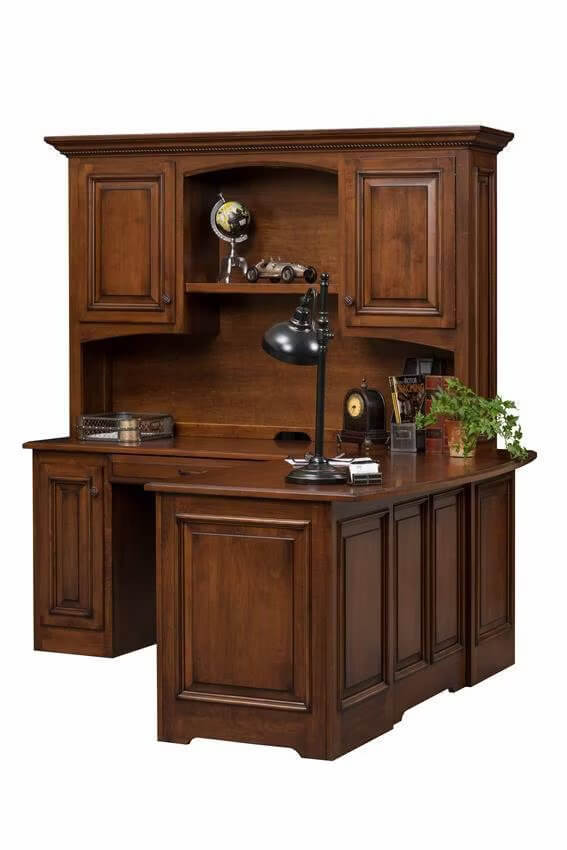 Provides lots of storage.
Not only does an L desk offer plenty of space to work, it also comes with options to offer storage for all you need. There's room for your computer, paper files, additional monitors and more. There's room for office equipment. Your printer won't be shoved on an awkward shelf somewhere. An L desk provides storage the makes it easier to organize supplies and keep your workspace looking neat and functional, with plenty of cabinets, shelves and compartments.
Many L desks offer options to add a hutch topper that comes with additional storage to house everything from office supplies to everything you need for the coffee maker.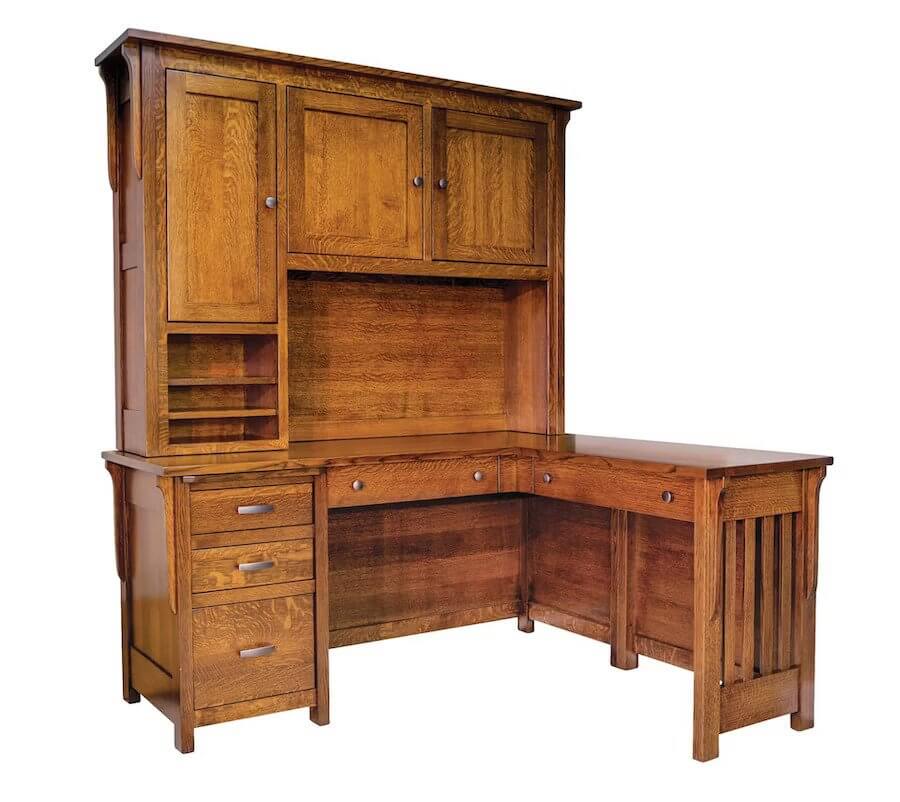 It rates high ergonomically speaking.
The L desk design means you won't have to stretch at odd angles or reach awkwardly for things. Items you need to retrieve and work with are within reach and easily accessible. It's a space built for work and working comfortably. It will offer more than the dining room table and is designed to keep things comfortably within reach, eliminating uncomfortable movements.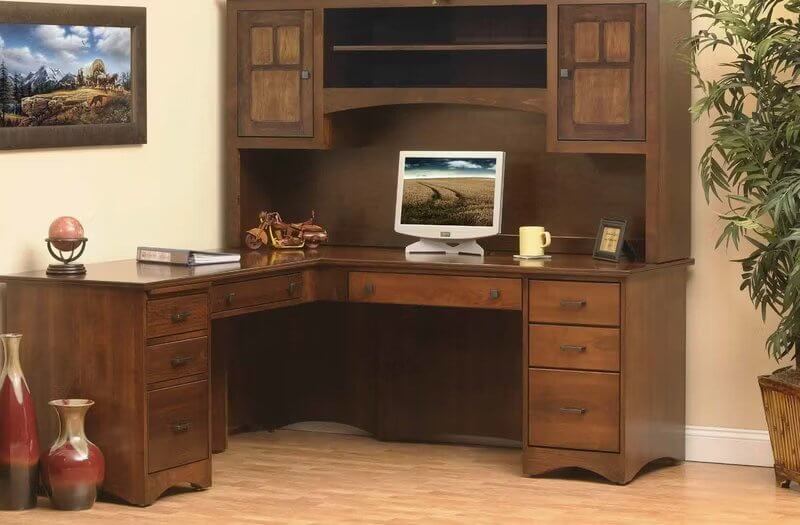 It offers an impressive look.
The L desk design is one that's sure to impress. It offers a professional look and is available in a variety of styles. This is a gorgeous desk for meetings with clients and co-workers with its organized and spacious design.
Benefits of L Desks
Plenty of room to spread out work
Fits well in a corner space
Provides additional storage
Supportive ergonomics
Impressive look
Challenges of L Desks
Larger desk that doesn't fit all spaces
Not easy to move
While the L desk is a substantial desk, its capacity to fit corner spaces actually makes it a candidate for maximizing the use of your office space. Offering workspace and storage in one, it's possible this layout could save you in the long run, preventing you from buying extra storage items and pieces to hold your printer and monitor. Are there L desks in your office? Consider all the benefits they can bring to your workspace.