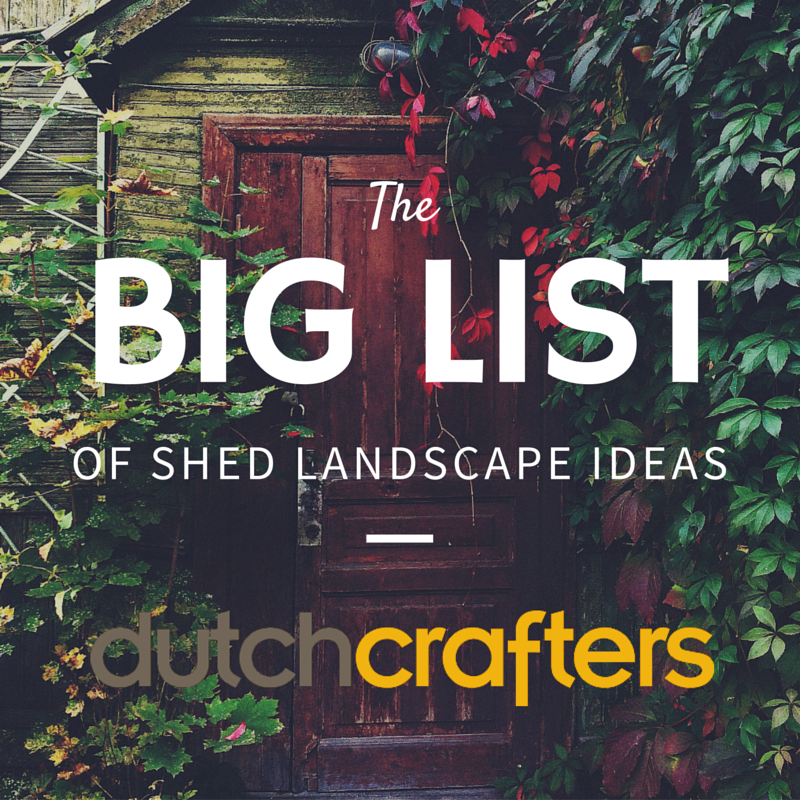 The Big List of Shed Landscape Ideas
The Big List of Shed Landscape Ideas
What do you use (or wish you could use) your outdoor storage shed for? An artist's getaway? A gardening or tool shed? A spare space for guests to catnap? Or how about a child's playhouse? Whatever its function, you'll find a wonderful way to heighten its beauty (or conceal its, ahem, more rustic nature) in this comprehensive series of suggestions to landscape a shed.
Show Off Your Shed
We'll admit, we gear a lot of our landscaping ideas toward loving your garden shed like a little extension of your home. We bet that if you gave even a woodshed this kind of attention, you could grow to love it!
A popular choice? Paver stones, like flagstones.
For a rougher look, flatten a path to the shed and line it with homegrown rocks.
Combine both of the ideas above: a paver-stone path lined with more organic, larger rocks.
Use white gravel for your pathway if you're feeling minimalist.
Ok, we could go on and on with paths alone! But we have to include the option of a beautiful brick path to your storage shed – especially for a quaint little place, like our Amish Made Homestead Shed Kit.
Add some seating to your shed landscape
Making a spot to pop a squat is a great way to enhance your shed appeal.
Check out this Loveseat Bench to resemble the red bench above!
Stone benches work wonders when interspersed with statues.
Not a bench person? Outdoor rocking chairs are as perfectly pastoral in front of your shed as your home.
What do you think of an outdoor bistro setup just in front of your shed? You could use your shed as a snack bar of sorts for a large garden party, or just a spot for cool drinks on quieter days.
If you'd like your shed to serve as a playhouse, these children's outdoor chairs add charm that goes well beyond their pint size.
Some common upgrades that don't involve full-on landscaping your shed
Hey, you'll get around to it! For now, these touches provide plenty of pretty:
Put a porch on it – large or small, it adds an element of welcome with our without porch furniture.
Or, just add a step or two – the same welcome principle applies.
Plant some windowboxes!
Fasten a cupola on top
Include transom windows on doors to the shed to enjoy more light inside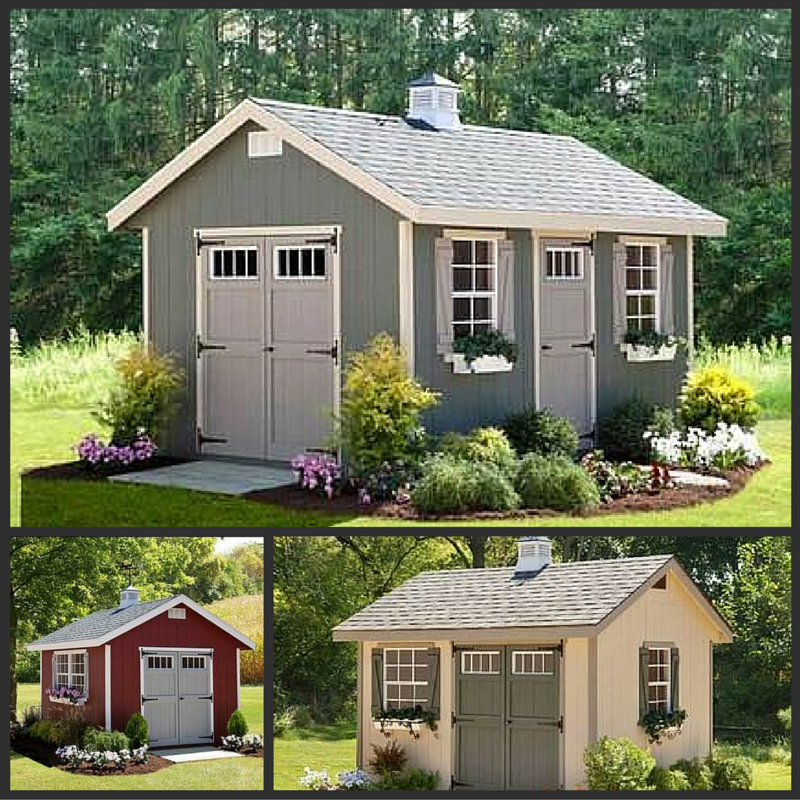 Do you STILL want your shed landscape to hide the structure?
Alright, we kinda get it. Try these ideas:
Creeping vines – bonus points if you sculpt them to go all the way over the roof!
Or plant the vines to grow on trellis setups around the shed.
Trees! Go for fast-growing trees that will hover about the same height as your shed, preferably a column sort that will readily blend in with the vines.
Or choose ornamental trees places further in front of, or directly behind the shed – let the hanging canopy camouflage the building
Last but not least, try distraction: If you've got a lot of land to work with, make the rest of it so gorgeous (water features! gazebos!) that no one bothers to glance over at that exceedingly shady spot in the corner.
While we've got you thinking about it, why not check out some of our Amish-made Shed Kits, and find the one that you can love?