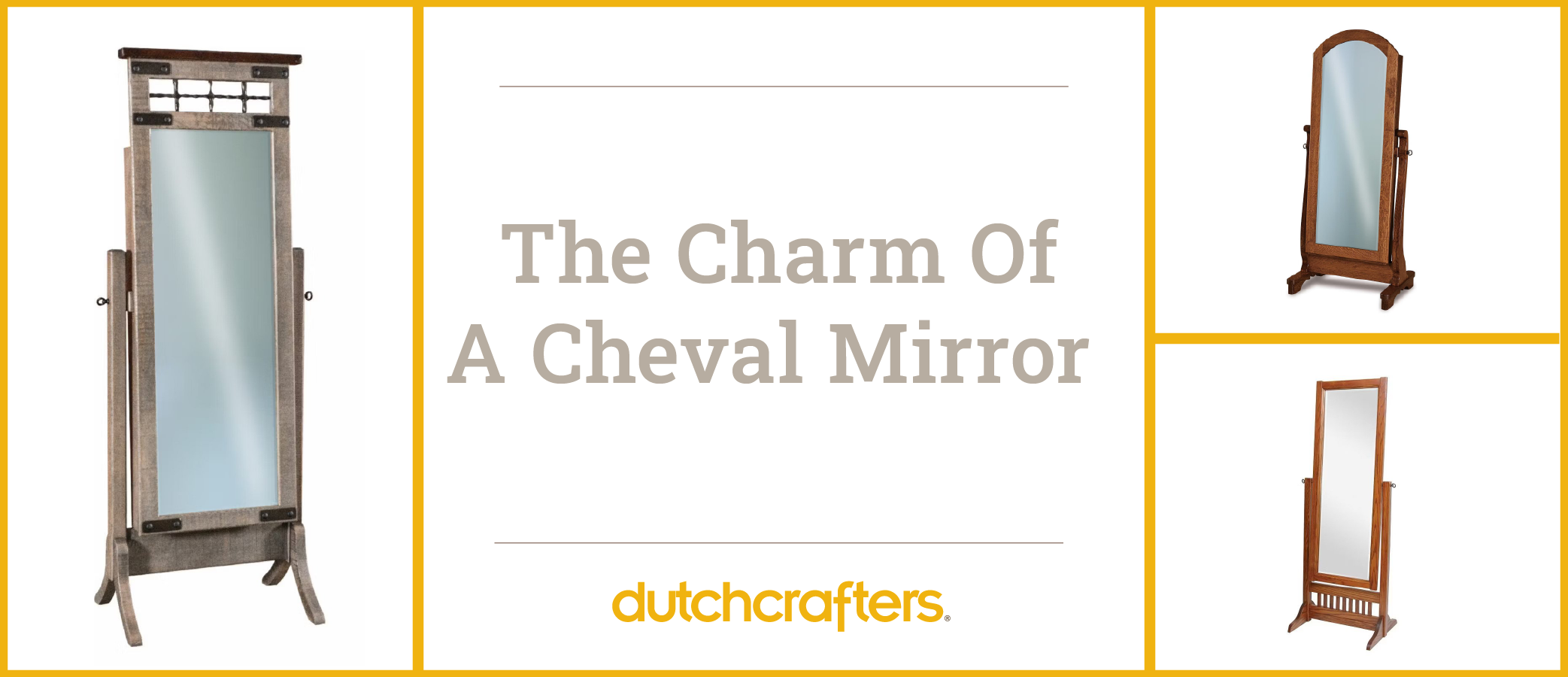 The Charm Of A Cheval Mirror
If you're someone who likes to observe your outfit from head to toe, or if you're someone who's looking to add both an elegant and functional piece of furniture to your bedroom, perhaps you should consider a full-length cheval mirror.
What is a cheval mirror?
A cheval mirror, also called a dressing mirror, is a full-length floor standing mirror that's mounted with a swivel in a frame that can be tilted and adjusted for best view.
The cheval base features two vertically standing bars that stand on top of two feet. This part is the cheval. The mirror is attached to the frame with swivel screws on either side, so you can angle the mirror as you like.
The cheval standing mirror was inspired by what was called the toilet mirror. This was a smaller version of what would become the cheval. Toilet mirrors were positioned on top of a table or chest and offer the same tilting feature. The cheval design holds a larger piece of glass offering a full-length reflection.
Benefits of a full length cheval mirror.
Luxurious look
Adjustable
Offer a full-length view
Some offer storage for accessories and jewelry
Portable and easy to move
Won't leave holes in the wall like a hanging mirror
How the cheval floor mirror got its name.
The cheval mirror was invented in France in the 1700s. The feet of the mirror resembled a horse's feet and the word horse in French is, you guessed it…cheval. Early cheval mirrors featured intricate carvings and frames. Today, there are a range of cheval style mirrors from traditional to mission to more contemporary looks.
Cheval mirror shapes.
Popular shapes for a cheval mirror are oval or rectangular. The oval shape gives a cheval mirror a more antique look, while rectangular shapes contribute to both traditional and modern styles. They're available in a variety of styles from ornate and traditional to minimal and modern.
Cheval standing mirror functions.
A cheval mirror has a lot more mirror area than others. Mirrors are known to create the illusion of more space, and with a cheval having more of it, it can make your guest room, bedroom or entryway look more spacious.
Some cheval mirrors offer built in jewelry armoires for a fantastic combination. They are called cheval jewelry mirrors, and they feature a jewelry case built into the back of the mirror. Inside the case there are hooks and compartments for storage. This combination saves you even more space by combining mirror and jewelry box in one.
Amish made cheval mirrors
Cheval mirrors made in Amish country are available in a variety of styles and they are among the finest made. They are customizable, offering a variety of wood types and stain colors to choose from to perfectly match your décor. Amish made cheval mirrors are handcrafted and will become heirlooms one day due to their durability and fine craftsmanship.
A simple way to add a luxurious look to the room, the cheval mirror has stood the test of time. They are most popularly used as dressing mirrors that offer a full-length view. They are loved for their unique design and function.