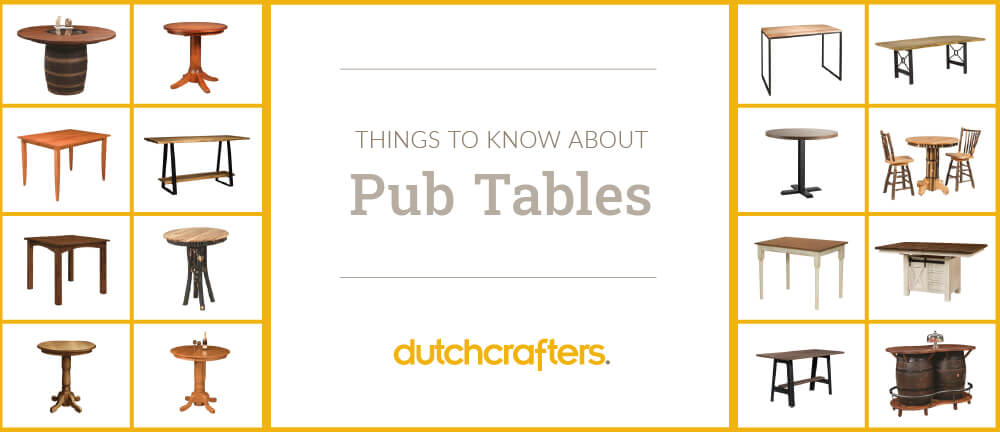 Things to Know About Pub Tables
Let's set the record straight. A pub table (also called a bar table, high table, gathering table or standing table) is not the same as a counter height table and while stylish, sturdy and fun, they're not for everyone. What areas do pub tables work best in? What's the comfort factor like? What are the benefits?
We're covering these areas and more in things to know about pub tables.
Table Heights
The heights of different tables for eating and socializing in ascending order are:
Standard dining tables measure 28"-30" high and are most popular for kitchens and dining rooms. They are available in lots of styles and can fit more people. They take up more room.
Counter tables measure 34"-36" high. They are a nice add on to the kitchen counter for eating or working.
Pub or bar tables measure 40" to 42" high. They are great space savers and create a more casual feel for dining.
The pub table is the highest and stands the tallest of table options. They come in round, square and rectangular shapes like dining tables do; they're just higher.
Why Buy a Pub Table?
A pub-style table creates a more casual dining experience. They're great for entertaining with their casual look. Bars and pubs can fit more pub tables in their spaces due to their height. The added height creates the look of a more open, spacious area. There's a light, casual air about them that lets you eat, chat, and move about at a party or gathering. A pub table creates a nice place to sit and relax with an evening drink, indoors or out.
Pub, Counter and Standard Dining Tables Compared
Standard dining tables are between 28" and 30" tall and are the most popular for kitchens and dining rooms. You can get dining tables in many different styles and they offer a more formal option for dinners and parties when you want a sit-down event. You can fit more people at a dining table, but they take up more floor space and tend to be larger and heavier to move.
Counter height tables are between 34" and 36" high and work nicely for an eat-in kitchen. They can be used as a kitchen island as well to prepare food. Don't count on settling your feet on the floor at a counter height table. They also are not available in the variety of styles standard-height dining tables are.
Pub or bar height tables are between 40" and 42" high and can fit in smaller spaces. Their added height creates the illusion of more space. They're casual and inviting and offer spaces to set down drinks, food, phones, purses and more. They're a social table. Bar height tables are comfy for taller people, offering more leg room. Both bar and counter height come with taller chairs and that means there's farther to fall should you fall out of one, making them not ideal for children or older folks. Pub tables or stools with footrests are great to give you somewhere to rest your feet. Otherwise, your feet will be dangling instead of resting on the floor due to the added height.
Why Pub Tables Aren't for Everyone
The height of pub tables means the stools will be higher, making them harder for older people to get on and off of, and they would not be options for people in wheelchairs. Higher stools also mean farther to fall for small children, making the standard dining table height with lower dining chairs a better option for these groups.
Benefits of Pub Tables
Create a casual atmosphere
Can sit or stand at them to eat and drink
Take up less room than traditional dining tables
Great for smaller spaces
Great for tall people
Cons of Pub Tables
Not available in as many styles
Not good for older persons or people in wheelchairs trying to get on and off of bar stools
Not ideal for small children due to height of table and stools if they should fall off stool
Chairs for Pub Tables
When selecting seating for pub tables, look for stools or chairs that are 28" to 33" tall. Allow for 8" to 12" between top of the seat and bottom of table skirting. Backless bar stools are easy to slide under the table. Armless stools make it easy to slide into your chair for table access.
If you're considering a pub table, assess and measure your space first. Think about how you will be using your dining space. Do you prefer casual dining or sit down dinners? Who will be using the table? Will it be used by small children or older folks who might find it challenging to navigate the seating? Do you entertain a lot? Do you mind your feet on a footrest instead of the floor?
Now that you've got the facts on pub tables, it will be easier to decide what table is right for you.