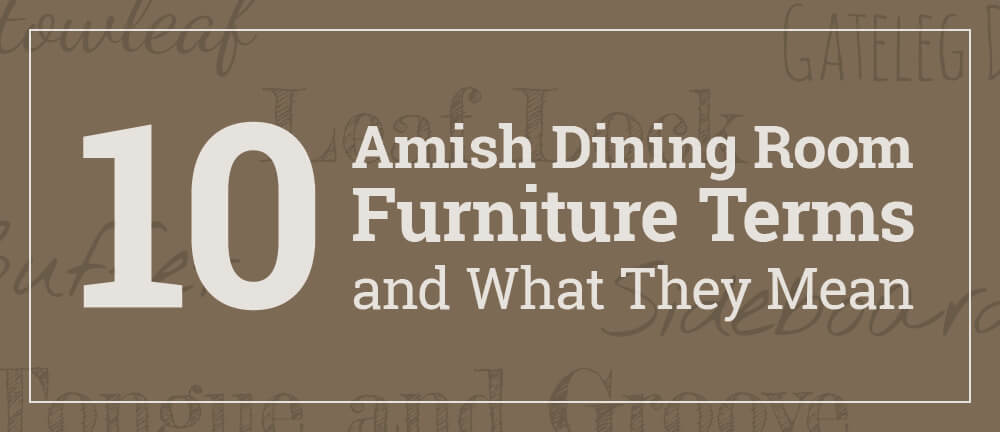 10 Amish Dining Room Furniture Terms and What They Mean
Tucked within your dining room furniture collection are little parts and big parts that make dining room furniture function at its best.
We've picked out 10 Amish dining room furniture terms to share and explain, highlighted by attractive Amish furniture of course! Test your knowledge with these Amish dining room furniture terms to see how well you know them.
Clue: I sit right below the surface of a table, adding to its beauty and concealing parts underneath. What am I?
A table apron or skirt.
Dining or kitchen table aprons are also called skirts or skirting. A table apron is the part that hangs down from your table top. Table aprons range from 1 ½" to 3". Some aprons have carvings. They add to the beauty of the table, and they cover parts of the table such as corner blocks and mechanics that are underneath.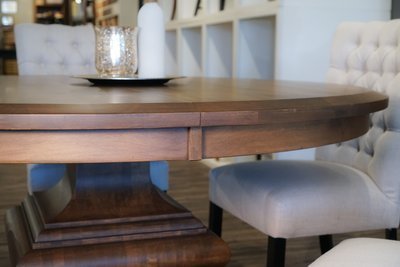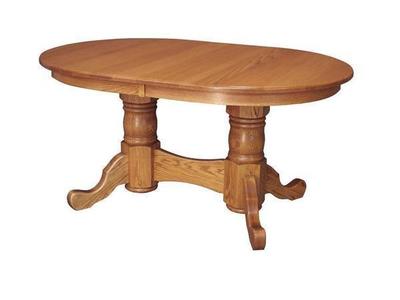 Clue: I'm a piece of wood that's added perpendicular to a larger panel. I'm often found on the ends of Amish dining tables. What am I?
A breadboard end.
Breadboard ends help contribute to the form of the dining table. The breadboard runs cross-grain to the panel it is added to. Breadboard ends are both decorative and functional. They help to maintain the stability of a large table panel as it expands and contracts.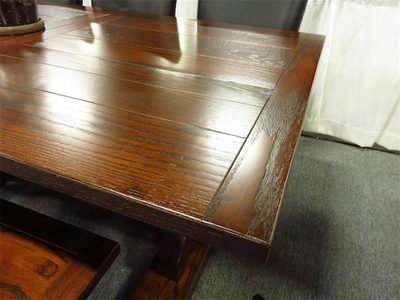 In response to changing seasons, wood will react to its environment, expanding in warm weather and shrinking in cold weather. The breadboard end allows this movement to occur in tables and acts as a stabilizer of sorts. When the wood panel of the dining table moves naturally, the breadboard end helps keep it from expanding to the point of cracking, or shrinking to where the wood starts cupping.
Clue: I can seat four for dinner and then fit in a closet. I'm ideal for small dining rooms. What am I?
A gateleg dining table.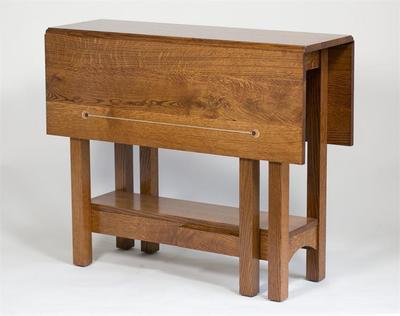 The gateleg dining table (also called a swing leg table) has table extensions that fold down and, in addition, the legs swing in to fold the table up nicely. A gateleg table is the easiest dining table to store. It has a top fixed section or panel with two hinged leaves that are supported by legs that pivot outward. It is a versatile dining table that works well for small spaces, apartments, and lofts.
Clue: I'm a design element often used on the backs of hutches. I add to rustic cottage styles simply by showcasing boards that fit together. What am I?
Tongue and groove furniture back.
Dining hutches take on rustic warmth or a cottage glow with the addition of a tongue and groove back. Tongue and groove boards include an extension that look like a tongue shape, if you will, that fits in the groove or slot of another board, locking them together. One side of the board has a tongue and one side a groove. This design feature is a lot of work for the woodworker.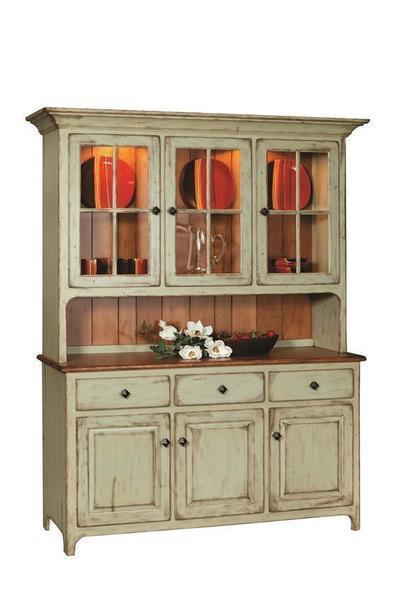 The look of tongue and groove furniture backs is similar to shiplap, but they differ in how the boards fit together. Tongue and groove boards interlock while shiplap boards rest on top of each other in an overlapping pattern.

Clue: If you decide to use me in your dining table, you'll need two pairs of me for a first leaf and one pair of me for any additional leaf added. What am I?
A leaf lock.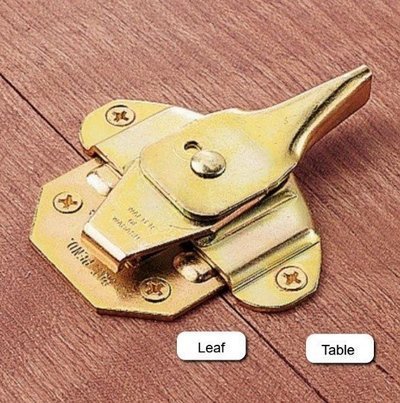 Leaf locks are often made of brass and are helpful additions to your dining table. They assist in keeping table leaves secure so they don't drift apart and create a gap in the table. Table leaf locks are most beneficial if you plan on keeping table leaves in the table all the time. Leaves with leaf locks on them cannot self store in your dining table.
Clue: I was originally used to serve pre-dinner drinks. I offer more storage space horizontally than vertically. What am I?
A buffet.
A buffet is often used for storage and display and serving food. Buffets are primarily used in the dining room, and they offer plenty of drawers and cabinet space.
Clue: I make more room at the dining table for guests. I'm a space saver that folds away right in the table. What am I?
A butterfly leaf extension.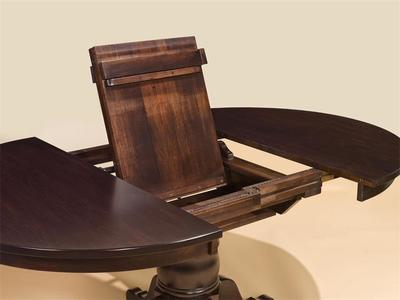 For butterfly leaves to work, the ends of the table slide apart, creating a gap in the center. This table extension folds in half and stores neatly within the table to save space.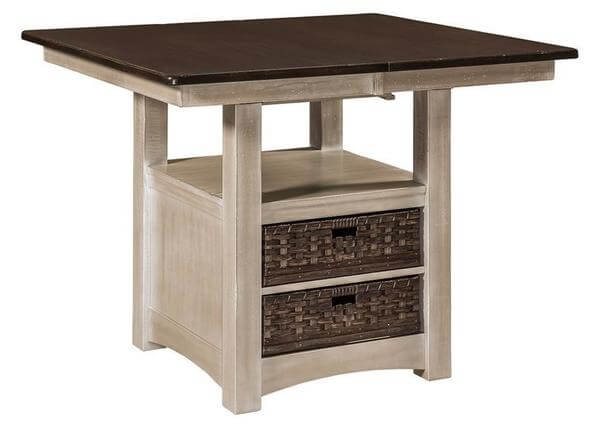 Clue: You won't need to find room to store table extensions with me, they store right underneath me. What am I?
A stowleaf dining table.
A stowleaf dining table lets you accommodate extra guests by expanding when you need it to. The extensions for a stowleaf table store right in the table and are attached at the ends. Stowleaf tables are a great way to have a larger table without having to find room to store the extensions.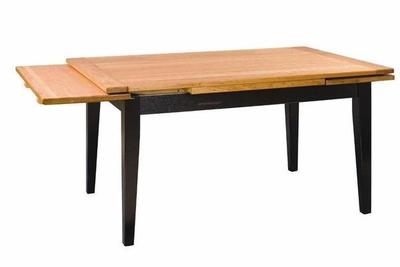 Clue: I'm used to soften the look of a dining table and I'm good at resisting wear. You'll find me more often on traditional style tables than contemporary ones. What am I?
A beveled table edge.
A small detail like the design of a table edge adds a lot to your dining table. A beveled table edge is an elegant look for dining tables. This table edge is angled and slopes downward. They're not squared. You can also find beveled edges on things like mirrors and cabinets.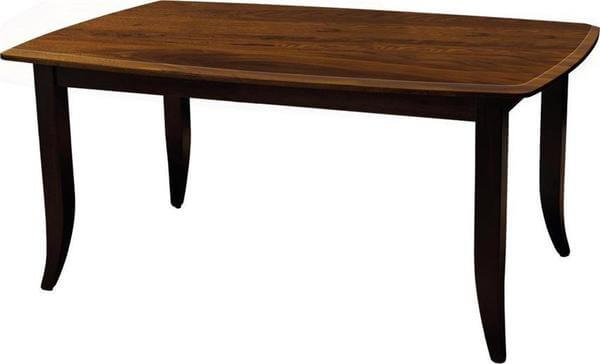 There are our 10 Amish dining room terms and what they mean. What's your favorite part of your dining room furniture?