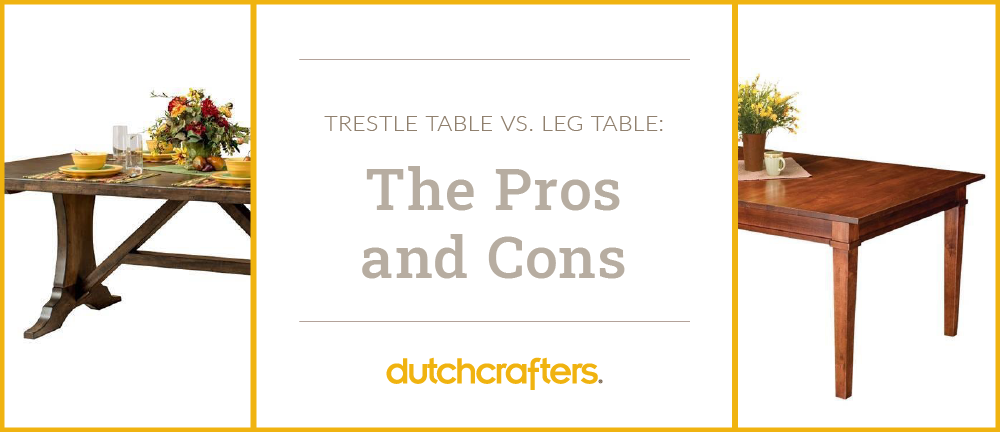 Trestle Table vs. Leg Table: The Pros and Cons
Your dining table is so much more than just a place to eat. It's a hard-working host, a gathering place, a workspace, a centerpiece, and a reflection of your personal style. Table style, shape and size are all important factors when it comes to deciding on the dining table that's just right for you. Here we put the trestle table against the leg table and compare the pros and cons of each.
Trestle Table Story
Trestle tables go way back and are considered the oldest style of American dining tables. Ages ago, this table type was constructed simply by using a long plank of wood that was placed on top of trestles, or horizontal beams. These somewhat crude early models could be taken apart easily and moved to other locations. Trestle tables combine two things nicely: making a grand statement with the design of the base and providing added comfort with the elimination of table legs at each corner.
Instead of legs, there are two or three trestle supports spaced out evenly. They are connected by a piece or beam that runs horizontally through the length of the table. The trestle base provides more leg room.
The structure of the base contributes to the trestle table winning all kinds of kudos for stability. The trestles provide a wider base of support for the tabletop, preventing them from tipping or sagging at the center. The trestle supports and the horizontal beam are one piece, adding stability to a table. You can use extensions with a trestle table, opening just the table top to add them.
Trestle dining tables put on more of a show than leg tables and the area they do this with is the base. While leg tables can showcase plain or turned legs, the trestle table base has more to work with to create a grand display. In addition, the trestle table style is the best dining table style to use with a dining bench, helping to ensure it can slide under the table easily. Today's trestle table bases range from modest to substantial, making them harder to move than models from days of old.
Today's trestle table styles have evolved from the simple supports with a wood plank on top. They come in a variety of styles, with the stretcher between the trestles taking on different forms, from small and plain to large and fancy. This makes the trestle table even more popular, with a variety of styles to choose from.
Leg Table Story
Leg tables are often taken to task for their legs and how they get in the way. They're greeted with frowns by those who are "seated on the leg" during family gatherings. While this rings true to an extent, the leg table adds to the style of the room with legs that can be straight, squared, tapered or turned. Leg tables work easily with extensions, expanding to accommodate extra guests at gatherings, or to create more workspace on the tabletop. The two halves of a leg table will open and move with the use of extensions, versus a trestle table where only the tabletop opens and closes. It's easier to clean under a leg table, without the grand trestle base to consider.
While the legs of the leg table can garner criticism, a leg at each of the corners provides stability for the table. The leg table fits a traditional style kitchen or dining room with ease, and today's leg tables are available in a variety of styles in addition to traditional. The leg table is versatile and moveable, more easily moved from place to place than the trestle table.
Benefits of Trestle Tables
Legs do not get in the way, adding comfort
Able to fit a few more at the table
Maximum stability and durability
Available in a variety of styles
Ideal to use with dining benches
Cons of Trestle Tables
End seats may not be so comfy for taller people depending on size and shape of stretcher
More work to clean
Heavy and not easy to move
Usually cost more than leg tables
Benefits of Leg Tables
Versatile
Available in numerous styles and shapes
Easy to clean around and underneath
Easy to use with table extensions
Usually less expensive than pedestal or trestle tables
Cons of Leg Tables
Have to contend with legs when seated
Doesn't look as grand and impressive as other table styles
Amish Trestle Table Gallery
Amish Leg Table Gallery
When considering one of these dining tables for your home, the first thing to start with is measuring the space you have available. Then you can dive in to your preferences, style, size and shape. Tell us, are you more a fan of the trestle table or the leg table?