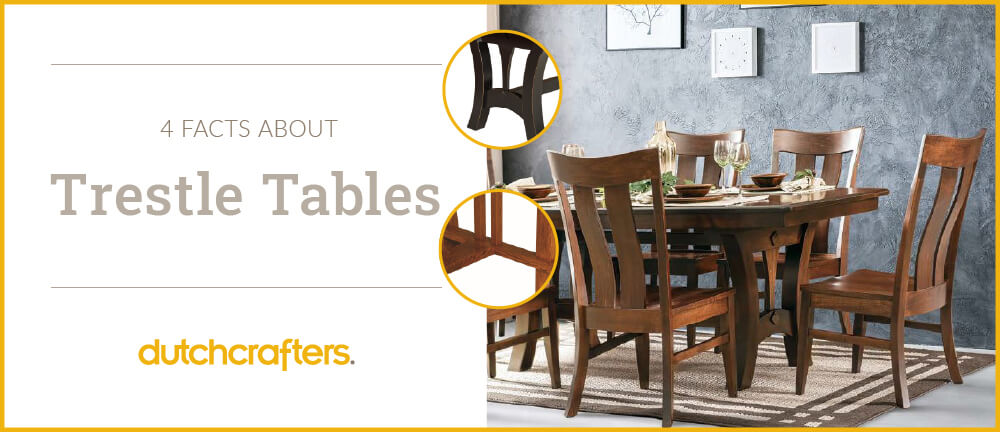 4 Facts About Trestle Tables
Perhaps the oldest style of dining table, the trestle table serves up style and benefits. We're sharing four facts about trestle tables to help you determine if this is the table type for you.
What is a trestle table?
It's the base that makes the trestle table something to talk about. The body of a trestle table consists of usually two (but sometimes three) trestle supports spaced evenly that are often connected by a stretcher or beam that runs horizontally along the length of the table. The trestle and stretcher are one piece. A tabletop is placed on top of the base and then you have a trestle table. Dating back to the Middle ages and even beyond, many crude trestle tables were first fashioned with just a board placed on top of trestle legs or supports.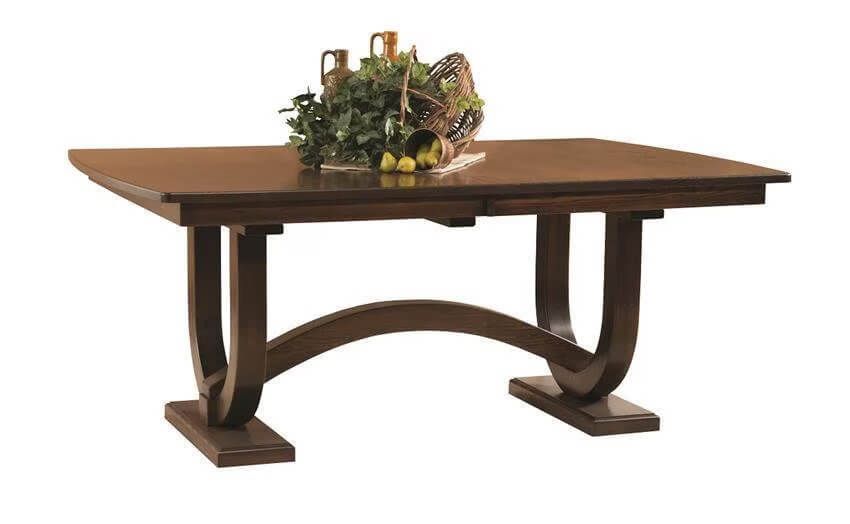 4 Facts About Trestle Tables
They're loved because they're legless.
We've all experienced a crack to the knee from a table leg or two, haven't we? Or needing to shift our legs to move around the table leg as we dine? Trestle tables are popular due to their legless nature. No one has to deal with table legs while dining, instead there's more leg room to stretch a bit and be comfortable. The trestle table is the best table style to use with dining benches. Since there are no table legs to contend with, the dining benches will slide in and out from under the table easily. Dining benches will let you seat a few more at the table.
They're incredibly stable.
The weight of a trestle tabletop is supported by a wider area in the base, making it less likely to tip, instead making it a table revered for its stability.
A trestle base makes it easier to add extensions to the table. The base stays intact and doesn't move, so just the table top opening on ball bearing or metal-geared slides makes for a smooth opening and closing of the table. Trestle tops offer excellent support and will not sag over time when extensions are left inside.
They are spacious.
Trestle tables are spacious tables that fit one more person on each side than leg tables, making them ideal for hosting parties and large family gatherings. Their design is one that works better for accommodating wheelchairs as well. There's plenty of room for trestle tables to serve as craft tables, gift tables or buffet tables.
They're built in different styles.
Trestle tables offer a timeless look, and often match best in traditional and rustic style settings. Trestle design is a popular choice that looks gorgeous in mission and Arts and Crafts style.
But new trestle table designs are on the scene, fitting nicely with more contemporary style rooms.
Trestle dining tables range in form from simple to ornate. Craftsmen make the stretcher between the trestle supports in a variety of ways from small and simple to large and decorative. The designs of the stretcher and trestles help to define the look of the table.
Amish country is an excellent source for handcrafted wood trestle tables that will last for generations.
Trestle Table Benefits
No table legs to contend with, more leg room
Can fit more people around the table
Stable table not likely to tip
Spacious
Practical and versatile
Highly durable
Available in different styles
Ideal to use with dining benches
Trestle Table Cons
Heavy (particularly those made of wood)
Not easy to move around
Taller people might find their feet against the stretcher
The base makes for a bit more to dust underneath the table
There you have it, four facts about trestle tables. Is a trestle table the right choice for you?