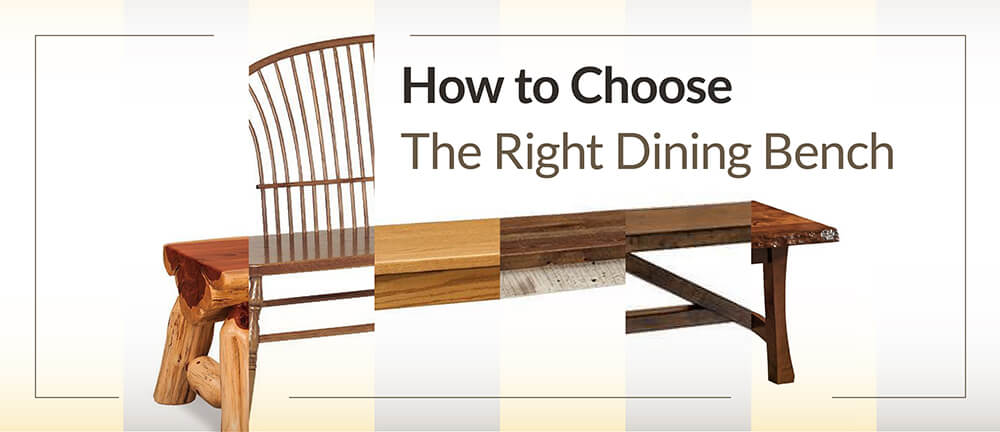 How to Choose the Right Dining Bench
Exactly what's involved in choosing the perfect dining bench? Measurements, bench requirements and design preferences are all involved in choosing just the right bench for your dining room or kitchen.
Key Measurements for Dining Benches
Dining bench length should be equal to the length of your dining table or slightly shorter. In order to allow enough room for your legs to rest between the bench and the tabletop, the height of the seat is important too.
First up, is gathering the right measurements. What exactly should you measure?
Dining Space
It's important to know how much space you have to work with. Bench depth includes the back of the bench, the seating area, and any cushioning. Bench depths vary from 12″ deep (narrow) to 23″ deep (with storage). Most fall between 14″ to 17″ deep.
You'll also want to account for the space needed to pull the bench out from the table comfortably to sit down. We recommend at least 48″.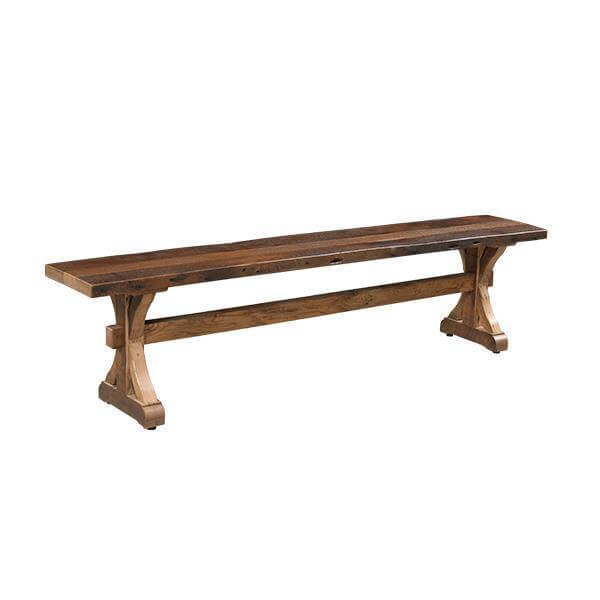 Height
Most dining benches are between 18″ to 20″ from floor to seat. The bench seat should be 12" lower than the tabletop to provide enough leg room between the bench and table.
Back Height
If you're looking for a dining bench with a back to go against a wall, measure the backrest height to be sure it won't interfere with any windows or paneling.
Length
To decide on the length for your dining bench, you'll need to consider the length of your dining table, how many people you'd like to seat, and if you want the bench to tuck underneath the table.
Deciding on Length
The length of the bench should be either equal to the table length or a little shorter.
Most benches range in length from 42" to 60". A dining bench that measures 42" to 52" will seat two adults or three kids nicely. Benches 53" to 83" can seat three adults.
The space between table legs is also an important measurement, especially if you want to tuck your dining bench neatly under the table. For tables with legs, you'll want to allow 2 inches between the edge of the bench and table legs.
How can I be sure I can tuck in my dining bench?
To be sure your dining bench will tuck under the table out of the way and save you space, you must measure. What exactly? The inside leg length. To get the inside leg length of a dining table, measure the space between the table legs. You'll want your dining bench to be a little shorter than this measurement so that it will fit under the table. This measurement will vary depending on the thickness of the table legs.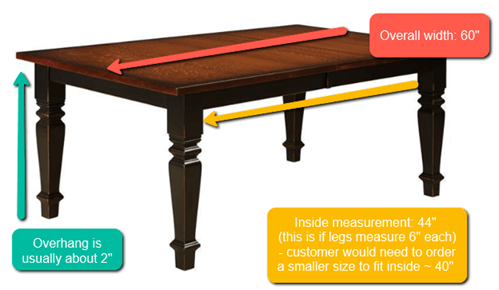 Example: If ordering a 60" table, you will need to account for overhang and leg thickness. This example would require a 40" bench with a 60" tabletop for a proper fit.
Some people prefer to tuck the bench neatly and others don't mind it sticking out a bit. Just be sure to decide before ordering your new bench so you get the look and fit that you're going for.
Remember our Amish furniture specialists can help make sure you measure properly for your new Amish-made bench to ensure it will tuck neatly under your table if that's the look you want.
Bench Requirements
When we talk about bench requirements, we're talking about what type of bench fits your needs best. Are you looking to save space? To add comfort factor? To add storage? There are dining benches for each case.
Types of Dining Benches
Backless Dining Bench
Backless dining benches open up a space, will save you space, and can be tucked under the table. They're also lighter and easier to move.
Dining Bench with Back
The dining bench with back offers more support and comfort than a backless one. Another benefit of a bench with back is it adds more visual appeal to your dining room or kitchen scene.
Corner Dining Benches
Corner dining benches offer a cozy, inviting look. They're a nice match for a pedestal table and a good fit for trestle tables too.
Full Length Dining Benches
Full length dining benches (benches that are the same length as your dining table) work great with pedestal tables. They can be tucked under the table, helping to save space. They work with leg tables too — just keep in mind the legs could get in the way when people are sitting on the bench.
Dining Bench with Storage
Benches with storage offer style, a place to sit and added storage — a plus for any kitchen or dining room.
Extendable Dining Benches
Extendable benches can seat even more people for special occasions. You can remove and store the extensions when they are not needed. Many Amish extendable dining benches come with storage cases for leaves.
Dining Bench Materials
A solid wood dining bench offers durability you can count on. It's also a versatile material choice for your new bench as wood makes a good match for different materials and designs. If you're adding upholstery to your dining bench, choose a material that's durable and easy to clean.
Benefits of a Dining Bench
Save money because you don't have to purchase individual dining chairs.
You can fit a few more people on a dining bench.
They're versatile and can fit different dining room and kitchen scenes.
You can pair them with dining chairs for a nice mix.
They're space savers.
They're available in a variety of styles/designs.
They're a great way to provide seating for large families.
They're easier to move when cleaning.
Drawbacks of a Dining Bench
Backless benches lose some comfort factor.
They may not be as easy to get up from as dining chairs.
Remember to take into consideration what you need your bench to do (fit under table, fit in corner, how many you want it to seat), measure, and have fun choosing the dining bench style you like best!