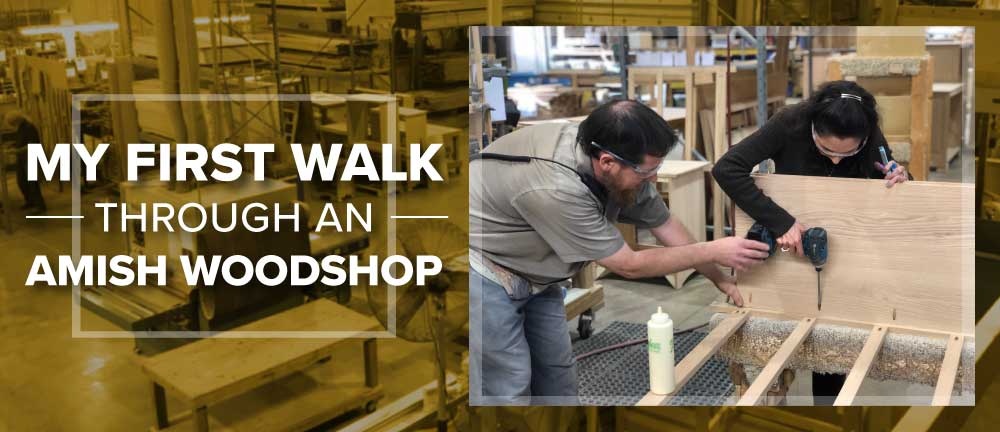 My First Walk Through an Amish Woodshop
In early January, I flew to Ohio with a team from DutchCrafters to take my first walk through an Amish woodshop. Why? Because to convey the quality and features that make DutchCrafters Amish Furniture stand out from all the other furniture out there requires a first-hand account.
Amish woodworkers visit both our corporate offices and the DutchCrafters store regularly to share their new solid wood furniture designs, school us on their features and answer questions. But visiting an Amish woodshop would take me right to the main event where the work that goes into crafting solid wood furniture that will last for generations is done.
The Sights and Sounds
My first walk was through the MillCraft woodshop in Millersburg, Ohio. We were greeted by our guide Alan who gave us protective glasses to wear for the tour. The smell of fresh wood and a fine mist of sawdust were in the air as I entered the shop with my team.


The MillCraft Woodshop in Millersburg, Ohio
Raw lumber that comes from mature trees ready for harvest is stacked high and stored in the shop, ready to be transformed. Alan pulled out a board of rustic cherry wood to show us. It was fresh wood full of character, with mineral streaks and a natural reddish hue. The holes had been filled with epoxy to even out the cherry wood board. Natural solid wood is heavy, strong, rich material that particle board and other imitation materials cannot compare to.

Raw lumber stacked in the woodshop.

Alan shows us a piece of rustic cherry wood.
Amish woodworkers, both men and women, take to their tasks with vigor and purpose. They welcomed us with shy smiles as they continued to work. There are generations in the shop as sons are brought in to learn the craft.
The hum of machines that cut, glue, sand, and finish is steady throughout the shop. The machines improve the precision of each cut and aid in keeping the process as timely as possible. But make no mistake, every piece is run through the machine by hand, retrieved, inspected, and refined by the woodworkers.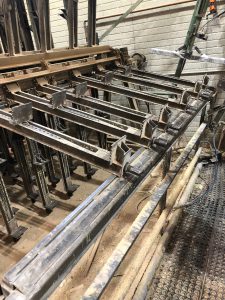 Clamps used to hold boards when glue is drying.

The woodworkers run their hands over every piece they create.
There are designated areas for cutting, assembly, sanding, and finishing. One section of the MillCraft shop was just for the building of drawer boxes. Several steps are involved to make the strongest drawer possible. I got to watch the cutting and refinement of dovetail joints that go into each drawer. Another area is just for working on solid wood beds; another for dressers. All scrap wood is collected and used for firewood or pet bedding. The work areas are kept tidy with tools hung and labeled for easy retrieval.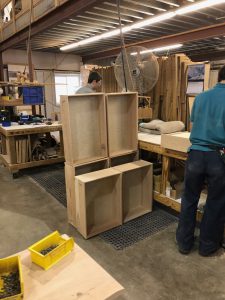 Building drawers.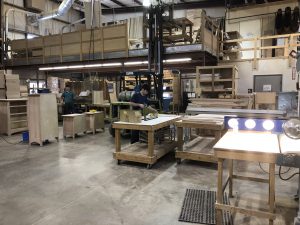 An assembly area.
The Tasks and Techniques
Skill and experience are at work in an Amish woodshop.
In the assembly area for bedroom dressers, we met Norman who has 13 years of experience with woodworking. His movements were smooth and certain as he put a dresser together, and after we watched him for a while, he let us all take a turn with the screw gun. When my turn came, I received the screw gun clumsily, managing to drop the loaded screw out onto the floor. Norman retrieved it and set me up again, explaining "It's all in the angle,"as he adjusted my hold for a better attempt.

Norman works on a bedroom dresser, adding glue and letting me try the screw gun.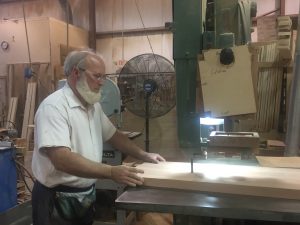 Every piece of wood is run through the machine by hand.
Every piece of wood is handled by a woodworker in an Amish woodshop. I got to see how the wood is cut, glued, and dried. There's a great deal of inspection and the woodworkers run their hands over the wood many times as a piece is being built.
Finishing is an art in itself. I watched the finish be applied, saw the drying area, and viewed the process of inspecting each piece after the finish dried.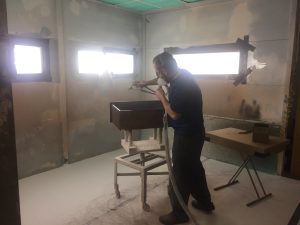 The finishing area at Millcraft.
The Basketball Hoop
The Amish start work early, with some arriving and already hard at work before 6 am. It wasn't in use during our visit, but I loved seeing the basketball hoop in the center of the shop for some fun when there's a little down time.
Ready for fun during break time.
The Excitement
Is Amish furniture exciting? Yes! Walking through the woodshop and watching the time, skill, and care that goes into every drawer, dresser, and bed and knowing this furniture will always be beautiful and strong is very exciting.
So much goes into building Amish furniture that it's clear to see why it's better than the rest. The quality of the materials combined with the knowledge of the woodworkers and their attention to detail are a recipe for success. Amish made furniture is an authentic product crafted by capable hands.
I had to ask Alan what some of his favorite pieces of Amish furniture were. One of his selections was the Versailles Collection: solid wood formal style bedroom furniture. Amish furniture is so beautiful, I don't think I would ever be able to pick a favorite. Here are some pieces from the Versailles Collection.
Is it really Amish made in America? Yes. Take a quick walk through yourself in this MillCraft video and see the inside of an Amish woodshop hard at work.