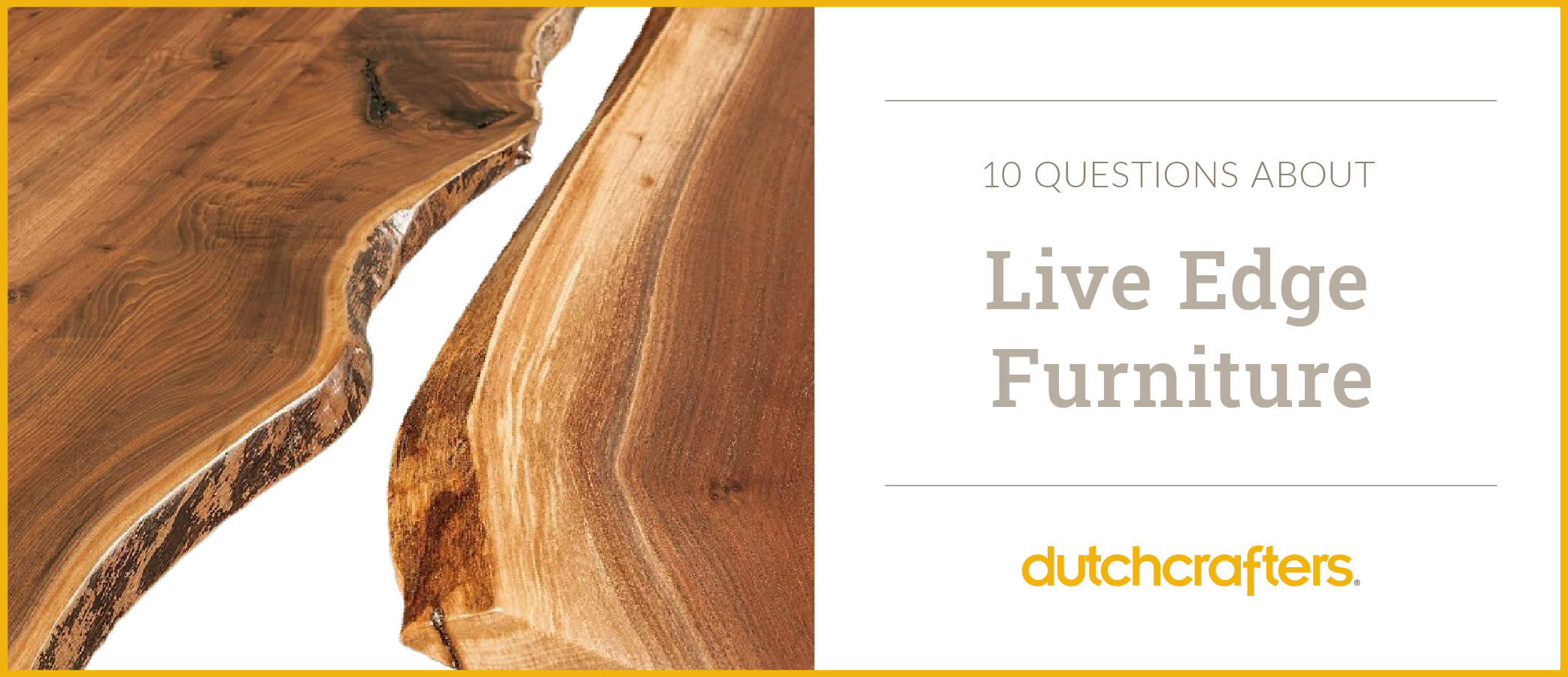 10 Questions About Live Edge Furniture
Live edge furniture offers a unique look that fits both rustic and contemporary settings with ease and brings elements of the outdoors inside. Curious about live edge furniture? Read on for some of our most popular live edge questions.
What is live edge furniture?
Live edge furniture displays a live edge, that is, the natural edge of wood that's found just beneath the bark of the tree. When lumber is cut into slabs, the edges of the wood have the natural edge that's right below the bark. This edge is usually cut off in a straight line. Live edge furniture keeps this edge and lets its character shine. In live edge furniture pieces, the live edge is usually left on one side of a piece. Instead of the clean lines that are normally expected, live edge wood is allowed to keep its shape, showcasing the natural beauty of the tree it came from. Knots and cracks often remain, enhancing the live edge look. Every piece of live edge furniture is one of a kind, and many are considered works of art.
How did live edge furniture become popular?
The Arts and Crafts Movement of the early 1900s valued traditional craftmanship and natural beauty. Use of the live edge grew from this movement. George Nakashima, an architect and designer, is credited with being the first to start using live edge designs in furniture during the 1940s. He embraced the natural live edge and let it shine in his pieces, appreciating its raw look. He gathered so much attention for the live edge look that interest in live edge furniture increased.
How do craftsmen incorporate a live edge into furniture?
Instead of the wood being cut in a straight line, Amish craftsmen remove the bark of the edge very carefully, maintaining the natural look of the live edge beneath. Live edges are used in tables, chairs, storage pieces, beds, bookcases, desks and more, each featuring its own unique live edge shape. Different wood types can be used in live edge furniture.
Can the bark be left on a live edge?
Yes. While bark is usually removed, it can also be left on live edge furniture. Leaving the bark on contributes to an even stronger rustic look. It often depends on the preference of the woodworker, piece the live edge is being used for, and the type of wood being used.
How is live edge wood cut?
Live edge slabs are cut lengthwise from the tree and usually have a live edge on both sides. Live edge slices, or "tree rounds," are cut horizontally from the tree and will have a live edge all the way around, beautifully displaying the growth rings.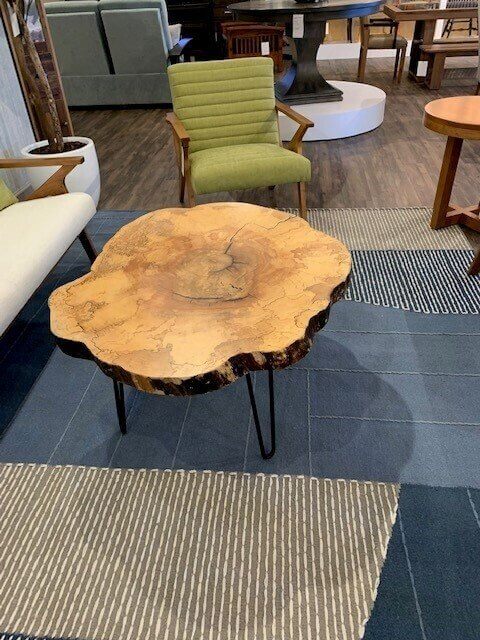 What are some examples of live edge furniture?
Craftsmen have found many ways to use live edge wood. There are live edge dining tables, coffee tables, end tables, side tables, beds, vanities, benches, and desks. Each piece of live edge furniture is one of a kind and a live edge wood table or other piece often becomes a conversation piece as their beauty and natural look are eye catching and original.
Some live edge pieces will feature burls or bowties. A burl results from a deformity in the tree that creates a rounded growth that's unique and natural and adds to a breathtaking design with unique grain patterns. Bowties, or butterflies, are inlaid pieces of wood that are used across cracks to help prevent the crack from widening, while still incorporating its unique look.
What are ways to use a live edge slab?
Live edge slabs are used as unique pieces of artwork that can help fill a wall space or other space. Some slabs are used in benches or table tops.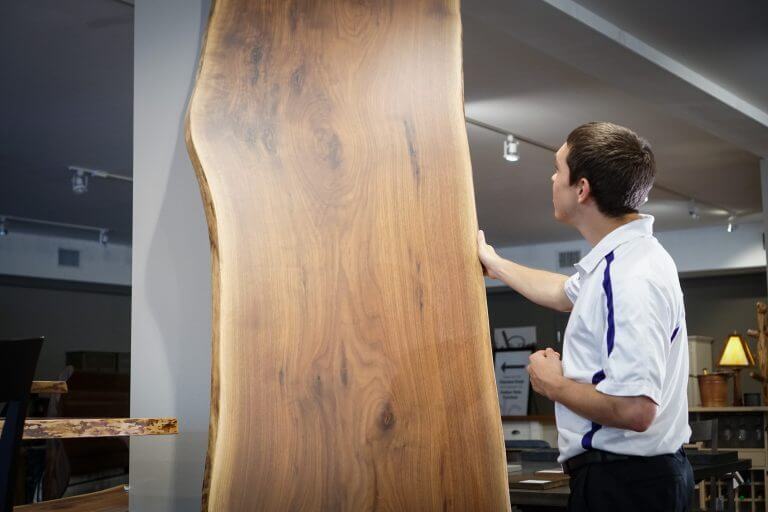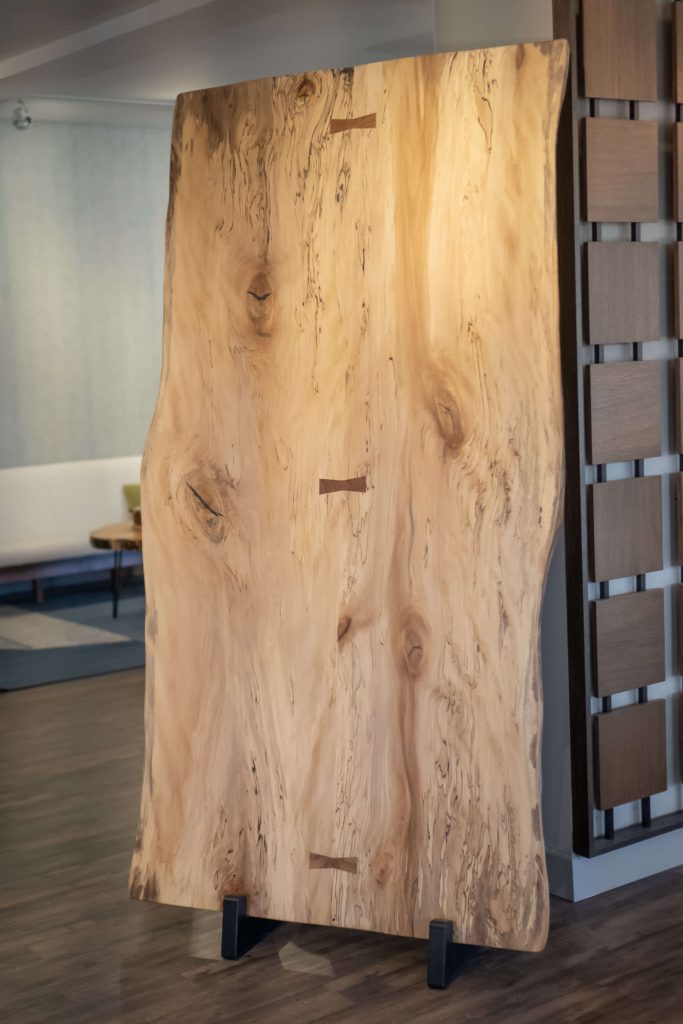 What's the appeal of live edge furniture?
Live edge furniture offers a custom look and each piece is an original, with no two live edges exactly alike. Live edge furniture is celebrated for bringing the beautiful elements of the outdoors inside, exposing the beauty of the wood in a different way. Live edge wood uses more of the tree in its design, producing less waste. Live edge furniture is raw, organic and unique.
Is live edge furniture durable?
Yes. Live edge furniture from Amish country is made with premium quality wood types like walnut, cherry and brown maple that are solid and strong.
What styles does live edge furniture fit with?
While many think of rustic style upon viewing live edge furniture, it's not limited to just that style. Live edges work with modern and minimalist styles as well, with their warm look and unique shapes.
Live edge furniture features durability and a unique, one-of-a-kind look that endures.
What do you think of live edge furniture?