6 Ways to Use a Glider Chair After it Outgrows the Nursery
Our glider chair didn't exactly outgrow a nursery. In essence, it got kicked out of my daughter's room.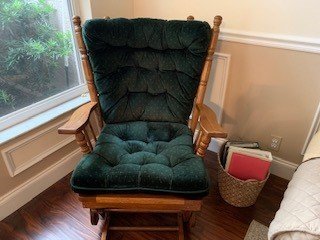 Yes, when I was expecting my first child, my mother-in-law treated us to a convertible crib and a dresser with a changing table. My husband and I added the glider chair, and it was wonderful. It was the go-to spot in the middle of the night for feeding and then rocking our daughter back to sleep. (The trick, of course, was transferring her from rocking in my arms to the crib without her waking up and starting all over again, but I digress.) There were nights I fell asleep in that chair.
My daughter started crawling and toddling around, and the glider became a great place to sit and rock as we read her bedtime stories or when she was not feeling well or when she was trying to give up her afternoon nap and still needed some quiet time. It was also great when her sister came along and the three of us enjoyed many storytimes tucked into that glider.
But then pre-school started and somehow she was in Kindergarten, and the chair wasn't needed as much and started getting in the way.
So where can a glider chair go once it leaves the nursery?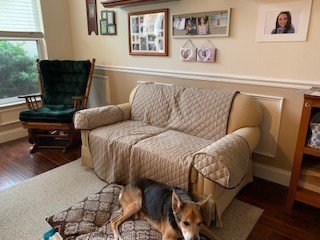 Ours floated into the TV room, the formal living room and currently our glider is in our old dining room! Having lived in our house for twenty-one years and realizing how little we used our dining room, we took out the dining room table and converted the room to a sitting area/den/office.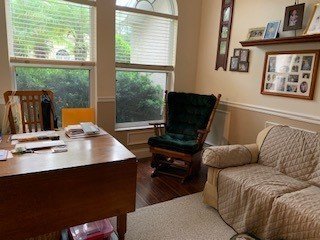 The glider sits in the corner and is where my husband often comes to sit and chat with me while I'm at the desk going through mail or when we go through paperwork together. It's right by the window, and I like to sit there and read whenever I'm able to grab some quiet time for myself.
WHAT'S THE DIFFERENCE BETWEEN A ROCKING CHAIR AND A GLIDER CHAIR?
It's all in the way they move. Rocking chairs offer movement in a curving arc motion that rocks a baby up and down that is very soothing for them. Glider chairs move backward and forward on a fixed track, providing smooth movement, and they won't pinch toes like a rocker can. Glider chairs require very little effort, even less than the motion required for a rocker.
Swivel gliders up the ante offering forward and backward motion as well as turning side to side and rotating. They're great when reaching for things nearby.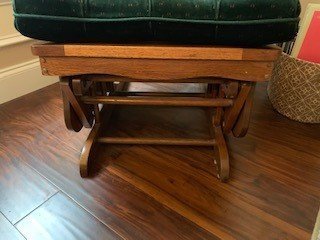 Gliders are heavy and can be harder to move than rockers. If you want to change the position of your glider chair often, think about whether you want to add a swivel so it will move in more directions.
6 WAYS TO USE A GLIDER CHAIR AFTER IT OUTGROWS THE NURSERY
ADD IT TO THE LIVING ROOM
If you have room, your glider is a great addition to the living room. It can blend in easily with your sofa and loveseat to provide a coveted seat in the living room area and offer a great place to read, nap or relax.
PUT IT IN THE GUEST ROOM
If you have a guest room, visitors that come are sure to enjoy the coziness of a glider chair when they're looking to unwind.
USE IT IN FRONT OF THE FIREPLACE
There's a good chance the combination of warmth, gliding and rocking (depending on the model you have) may bring on a long nap.

PLACE IT IN THE FAMILY ROOM/TV ROOM
Enjoy TV time with a cozy chair to use while you watch.
MOVE IT TO YOUR BEDROOM
Even if your glider chair has outgrown the nursery, that doesn't mean you have to stop loving it! Move it to your bedroom to use while reading, watching TV, talking on the phone, etc.
PUT IT NEAR A WINDOW VIEW YOU ENJOY
If you have a lovely window view, how about moving your glider chair there? Sink into relax mode as you glide while enjoying a scenic view.
WHAT TO LOOK FOR IN A GLIDER CHAIR FOR NURSERY AND BEYOND
A sturdy seat with cushions that offer support so the glider chair is comfortable to sit in for long time periods.
Cushioned arms are a plus, particularly for feeding or holding a baby for long periods.
A high back that you can lean your head against. Feet should touch the floor while sitting.
A seat wide enough to hold you and baby comfortably for nursing and reading.
No sharp edges.
Made with sound construction. A frame made with solid wood will perform better and last longer.
Upholstery that's durable and easy to clean. Look for colors that won't show stains easily.
A swivel feature in addition to a glider function. Great feature if you wish to rotate the chair fully.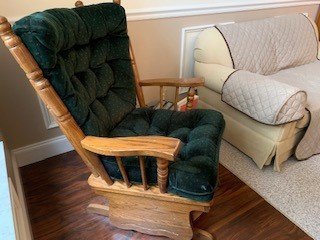 Remember you will need room to operate your glider chair. It cannot be placed right up against the wall.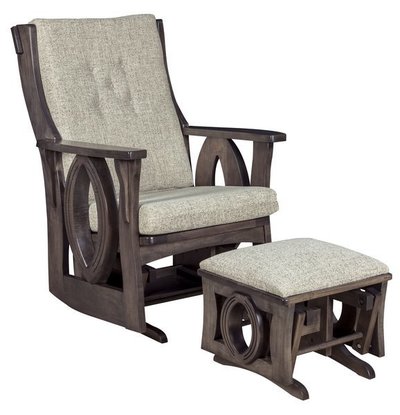 WHERE SHOULD YOU GO TO PURCHASE REPLACEMENT GLIDER CHAIR CUSHIONS?
We receive inquiries quite often from customers who have older rocking or glider chairs who are looking for replacement cushions. While we don't sell them on our site, here are some suggestions.
Finding replacement cushions will depend on what kind of chair you have.
Visit your local upholstery shop.
Go on Pinterest and type in replacement cushions for the type of chair you have.
Check sites that sell custom cushions like this one on Etsy that comes in lots of different colors.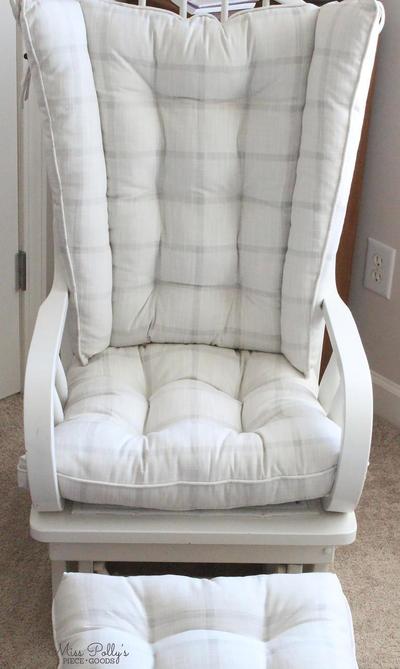 Have you moved your glider chair out of the nursery? Where do you use it now?