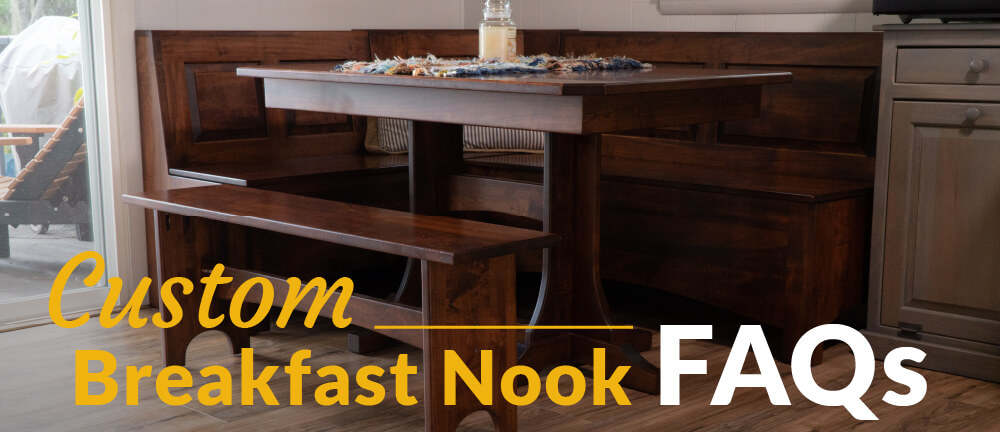 Custom Breakfast Nook FAQs
Gatherings for family meals come in all shapes and sizes, and so do Amish custom breakfast nooks. There are a number of questions that arise regarding a custom breakfast nook, which are built with solid wood and interchangeable features. We've taken those questions and answered them here to help you on your path to finding the perfect custom nook.
Can an upholstered seat or back be added to my breakfast nook?
Yes. Amish breakfast nooks often come with a wood seat and back, or there are a number of models that you can add an upholstered seat and back to. For some Amish made nooks, you can choose from a variety of fabric or leather options.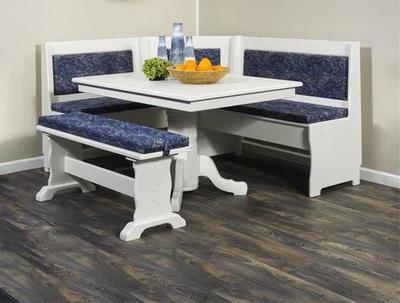 You can also add loose pillows or cushions and customize them with fabric.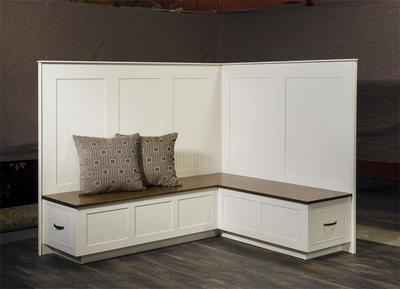 What do the backs look like? Are they exposed?
Custom breakfast nooks are available in different configurations. Depending on your set up, there's a good chance some of the back will be exposed. Some backs are unfinished. This means they are stained with no additional features. Finished backs are stained and varnished and feature a decorative element, like raised panels. Unfinished backs are best set against a wall, whereas a finished back can be exposed and placed where you want it. The option to finish the back with panels is available for custom nooks.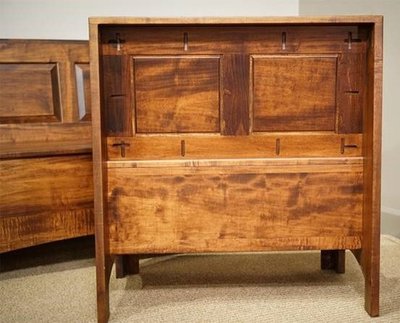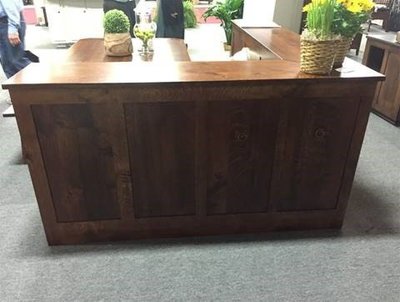 What if I want to change the configuration of my breakfast nook in the future? Can I do that?
You can change the configuration if a cleat is used to connect the corner piece. Connecting with a cleat means if you have, say, a long side of the nook to the left and a short side to the right, you can flip them to rearrange the nook pieces as you want.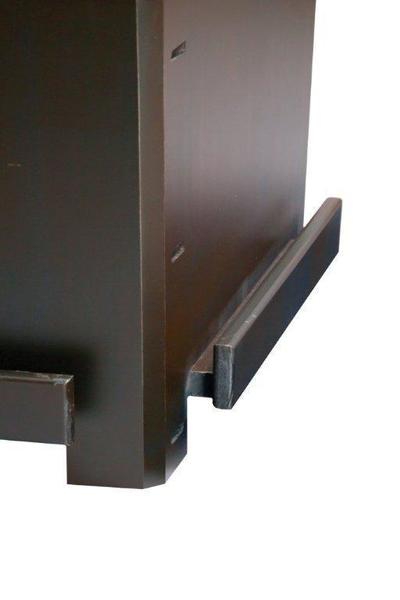 If your nook is connected with bolts, you will not be able to flip the sides. When connected with bolts, you must indicate which side of the nook you want to the left of the corner and which side goes to the right of the corner in order to drill holes for the bolts. If the configuration is changed, the holes would be exposed. A nook connected with bolts is not as flexible as one connected with cleats.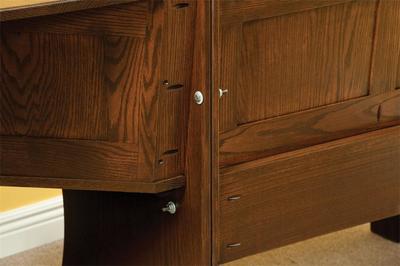 This is important to know if you like to change things up and think you might want to move parts of the nook around in the future. If you know you will keep it the same, the bolt connection is fine to go with. Often the style of the nook can help determine what should be used.
Can I add storage inside the seats?
Yes, you can. Breakfast nook storage is a popular feature and you can easily add storage benches to your custom nook in various sizes depending on how much storage you need. Shorter benches will not add as much storage.
Can storage be added to the corner piece?
No. Storage cannot be added to the corner piece because of its narrow shape.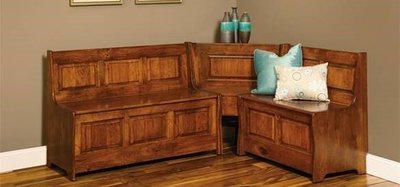 Can I sit in the nook corner?
You can, but it might not be as comfortable as the bench in some nook models. Some bench edges have ridges that are not as comfortable to sit against. Perhaps consider a clipped corner versus a squared sharp one for added comfort. The corner seat can be a good spot for a child to sit.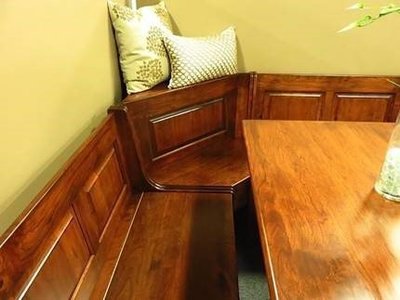 What are popular customizations for custom breakfast nooks?
Kitchen spaces come in all shapes and sizes, so different customizations are better for different kitchens. Two of our most popular requests for customizing Amish made nooks involve custom dimensions and back paneling. Custom size benches can be made to fit against your kitchen wall. Back panels can be added for nook bench backs that will be exposed. Storage can be added to nook benches if you wish.
How can benches be customized?
Benches can be built to custom lengths with or without storage. Some models offer interchangeable benches if you decide to switch the configuration of your nook.
Any tips on measuring?
When measuring for your custom nook, be sure to measure the exact wall space minus any doors or openings.
Do customizations add to the price of my nook?
Yes, they will. Any customizations mean changes in design and more work for the woodworker. Adding length or width means adding more wood and materials, therefore increasing the cost. Adding more benches or leather upholstery are items that will increase cost. Keep in mind as you add options, you are adding to the price.
Can I purchase individual pieces I need without buying the corner piece?
Yes, you can purchase benches separately in custom sizes.
Custom breakfast nooks offer a lot more than standard nooks. You can have them built to the measurements you need, add storage, change the bench configuration (in some models), add raised panel backing, and select wood and stain you like best. What will your custom breakfast nook look like?