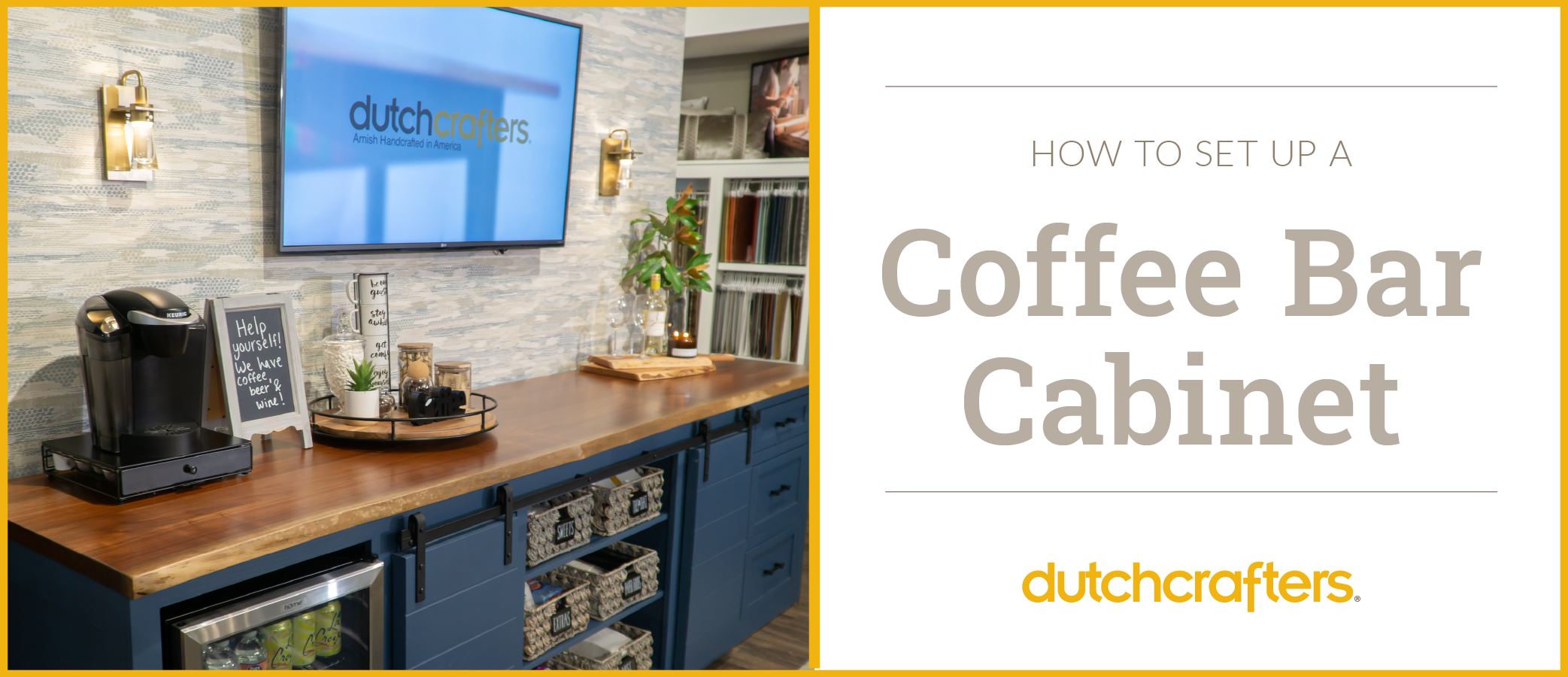 How To Set Up A Coffee Bar Cabinet
The smell, the frothiness, the taste. It's become a favorite morning ritual. Brewing up a pot of coffee, fixing it and enjoying it goes on in households across the country. While many pick up their coffee on the run, there's no doubt about it that coffee bar cabinets are becoming popular stations within the home.
The lure of the coffee bar cabinet.
If you enjoy coffee and all that goes with it, setting up your own coffee bar is an enticing idea. Coffee bars made popular, like Central Perk on the hit TV show "Friends," have helped to capture the comfort and fun of enjoying a cup of coffee. The set up? An area stocked with the things you need to create everything from a basic cup of coffee to a mug full of liquid that's a work of art.
Setting up your own coffee bar cabinet pays homage to the family's love of coffee. From the teens who love their Starbucks and Dunkin runs, to the matriarchs of the family that enjoy morning or evening coffee or tea, this designates a special place stocked with all the items needed to create the perfect soothing, warm drink right in the comfort of your own home.
Coffee bars not only include the coffee maker, but all the fun mugs, espresso cups, frothing tools, toppings, creamers and stirrers. Having a special spot to fix coffee makes the ritual all the more enjoyable.
Benefits of a coffee bar cabinet.
Do coffee bar cabinets offer more benefits aside from just having fun making coffee or tea? You bet they do. Benefits of a coffee bar cabinet include:
Saves money in both coffee expense and gas expenses
Offers convenience and saves wait times in long lines
Creates a special spot to experiment with coffee drinks you'd like to try including coffees, lattes, cappuccinos, and macchiatos
More relaxing than a busy coffee shop with comfy chairs of your own to sit in
Fun to share coffee time with family and friends at home
Types of Coffee Bar Cabinets
Do you need a large space to set up a coffee bar in your home? No, you don't. There's a variety of coffee bar cabinet ideas available. Here are some of the most popular.
How to Set Up A Coffee Bar Cabinet
Your coffee station can be as simple or as elaborate as you want. Here are the simple steps to setting up your own coffee bar cabinet.
You don't need a lot of room to set up your coffee bar area. Don't forget a spot in the office is a good idea too. Try to pick a spot that's easily accessible, has access to an electrical outlet and offers some counter space.
The Kitchen: The kitchen is an obvious and sensible choice. It offers easy access and counter space, as well as access to water and an electrical source. You can create your coffee bar on an area of countertop, on a table or even use a cart.
The Dining Room: Family and guests can get in on making after dinner coffee. Adding a coffee bar cabinet in the dining room adds to the décor.

Home Office/Office: A popular part of the workday is the mug of coffee that helps keep you going. Adding a coffee bar cabinet in the office comes in handy.
All the fun elements used for your coffee bar need some storage. You'll want to keep this station neat and tidy. Consider little jars and containers, shelves, drawers and cabinets to organize your items. The coffee station should be designated for coffee making only, that's what makes it special. So be sure to declutter this area and fill it just with things that make your coffee the best.
In addition to stocking it with the coffee items you like best, you can personalize your coffee bar cabinet to reflect your personality. Make it cozy and charming with décor you love. Add some greenery with plants. Hang signs with pro-coffee verbiage or artwork you like.
Things to include at your coffee bar:
Coffee maker
Espresso machine
Coffee beans
Coffee filters
Coffee grinder
Coffee cups/mugs
Mug tree
Tea tins (if you're not a coffee drinker)
Milk
Milk frother
Sweeteners
Spoons
Creamer
Syrups
Toppings
Storage for items
Ready for your own coffee bar cabinet that you can personalize any way you'd like? Consider adding that area dedicated to making an enjoying coffee every day.