Beyond the Cabin: Log Furniture For Any Space
This time of year has us dreaming of a cozy cabin getaway where we can reconnect with nature. Furnished with genuine rustic log furniture to create unmatched warmth, this space allows us to bring the outdoors in.
While a log lodge is nice to picture, it may not be practical. This doesn't mean that log furniture must stay confined to your imagination. Add it easily into your space by incorporating a few pieces with your modern style.
Start Small
Experimenting with a log end table is a great way to get your feet wet when it comes to rustic design. Log furniture acts as a neutral and can be paired with most color palettes, making for an easy transition in your space.
Our Rustic Aspen End Table will complement your living room set flawlessly, bringing the beauty of Colorado to your home without the cold!
A Touch of Timber
If you're feeling a bit bolder, a log coffee table provides the perfect pop of nature for your family's gathering space. Log coffee tables command attention without being overwhelming. Placing it among furniture you already have creates a balance of textures that we love.
The Amish Pine Log Coffee Table provides the look of lodge living that your family will enjoy gathering around.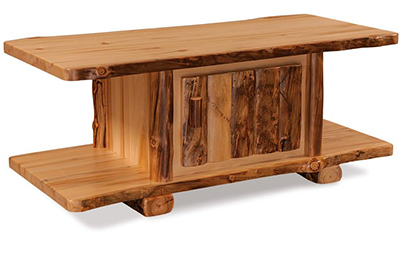 Organic Dining
Log furniture gives organic dining a whole new meaning! Be sure to choose a simple design that allows for texture to do the talking. A light color softens any space with its natural look.
The brightness of our Amish Red Cedar Round Dining Table captures sunlight in the daytime and glows at night in the midst of candlelight. Pair it with your current set of chairs for an interesting mix.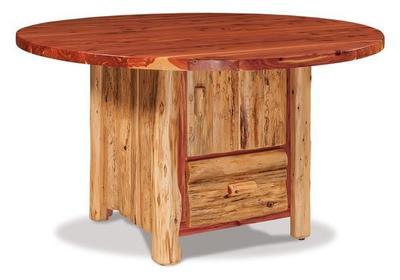 For a more adventurous look, our Amish Rustic Hickory Spindle Back Side Chair provides a nice color contrast when placed with a rustic pine dining table.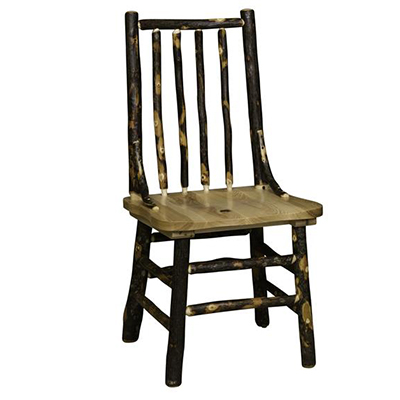 "Live" Entertainment
A log bar is a great way to bring rustic flair to your home without overdoing it. You and your guests will love enjoying a few drinks complemented by the beauty of nature.
The Amish Rustic Cedar Log Furniture Bar brings rowdy and rustic to your memorable nights.
Ready to Rock
A subtle but impactful way to incorporate log furniture in your home is with the help of a rocking chair. What better way to harness those lodge vibes that you long for without having to go out into the wilderness?
Pull our Amish Hickory Glider Rocker up to the fireplace for an enchanting escape every time.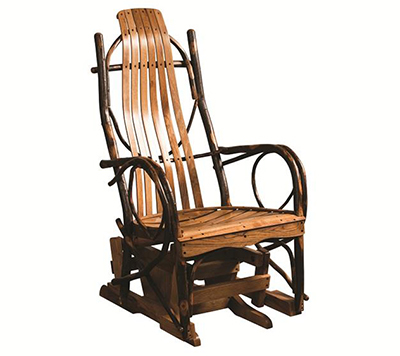 Add some log furniture to your space for a lodge look and rustic appeal that is all your own. How would you introduce log furniture into your décor?