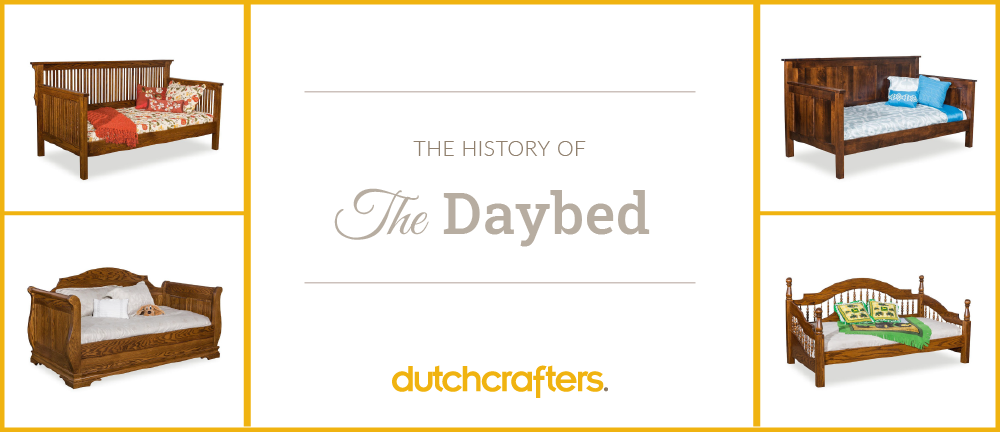 The History of the Daybed
While the exact origins of the daybed are not clear, the history of the daybed can be traced throughout ancient cultures. The ancient Egyptians and Romans liked to lounge lazily while socializing and eating. The Egyptians made daybeds from palm sticks bound together to build a unit they both sat on and slept on. Other materials used for early daybeds included stone, marble and cloth. Early daybed styles in ancient Rome featured piles of plush pillows, and they too, liked to use their version of the daybed while eating, reading, writing and socializing. Suffice it to say, ancient cultures had their own version of the daybed to use for various activities.
The daybed reemerged in the late 1600s in the form of a long chair that had multiple legs and an angled back. Early models featured a head piece at one end with multiple pairs of legs connected by stretchers for support.
Daybeds adapted as time went on, and during the 1700s the French developed the chaise lounge, which is basically a long chair. The chaise lounge measured up to six feet in length, allowing the user to stretch out their legs. Daybeds are sometimes referred to as chaise lounges, and were often identified by a long seat, somewhat like a chaise lounge.
The mid-1800s saw the fainting couch increase in popularity. These long couches gained their title because of women wearing corsets! The corsets of the time were often too tight, and after wearing them a while, women would sit on the long couch to catch their breath, with some perhaps fainting in the process.
For centuries different modifications were made to earlier daybed models, but they continued as the piece that could be relied upon for rest and relaxation. There's something about a long seat you can sit on and sleep on that continues to stay relevant.
Daybed Designs
The modern daybed is basically a single or twin bed with three sides. There are a few different daybed designs, but usually there is one long side (often viewed as the "back" that you can place against a wall) with a higher railing or paneling, and two short sides that feature low railings, paneling or armrests—like a mini sofa. Some are open on both the long sides and have arms or panels on the short sides, and some have low railings or panels on three sides. Some versions can have an open bed top, but the ones with sides are more popular for their cozy look. Daybed frames are often made with wood, metal, or a combination of the two. Daybeds can be placed up against a wall or stand alone.
The Appeal of the Daybed
The daybed's appeal lies in its ability to serve multiple functions. Its design allows sitting, lounging, sleeping and socializing—it's the perfect combination of bed and sofa. The daybed is also small enough for apartments, condos, studio lofts and home offices that double as office and guest room. It's a solution to providing multifunctional furniture in a small space. Keep in mind to invest in a good mattress if you're going to use a daybed to sleep on each night.
Daybeds are popular for guest rooms, but they can also set up shop in living room or office. They're great for hosting guests and for kids who are hosting sleepovers. They're cozy and welcoming.
The daybed is versatile. While it's not a loveseat or bench, it can serve as either. Half bed, half sofa (perhaps a bofa?). Daybeds do require a mattress, whereas couches do not. Daybeds are dressier than futons and let you lounge during the day, whether that's just watching TV or catching a nap.
Is a daybed a trundle bed?
No, a daybed is not a trundle bed. Trundle beds are beds with wheels on them that are low to the floor and that you can store underneath another bed, and they often pull out on wheels to provide sleeping quarters for guests. Some daybed models do have trundle beds underneath.
Daybeds and Storage
Some daybed designs will allow storage underneath, either in the form of just open space under the bed, or some models can be customized with underbed storage drawers. The added storage feature for daybeds can make them good candidates for kids rooms too.
Whether you see the daybed as a couch that's used as a bed, or a bed you can keep in other rooms, or simply a guest bed, its appeal remains strong.