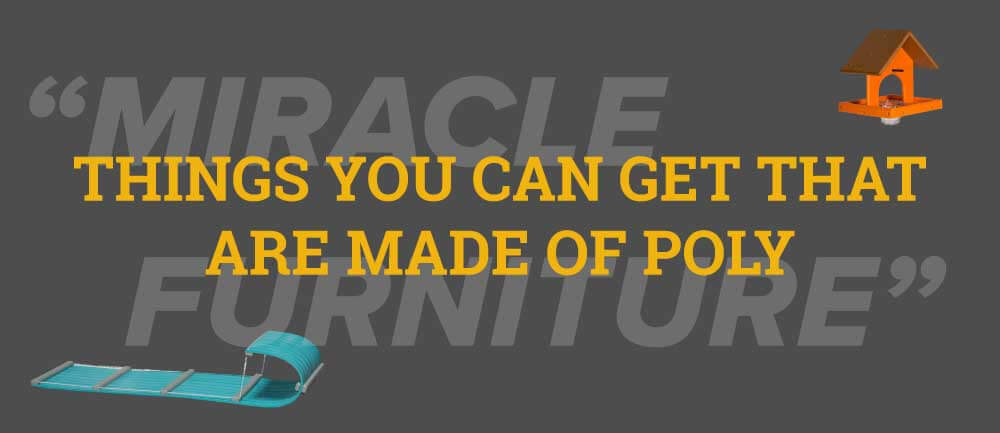 Things You Can Get that are Made of Poly
As the use of eco-friendly furniture spreads, poly outdoor furniture is taking to yards, pools, patios and more in a big way. It's a great feeling knowing you're contributing to a healthier environment by investing in a product made with poly lumber. Known as a type of "miracle furniture," poly outdoor furniture offers maximum durability, requires very little maintenance, and comes in a variety of styles.
What is poly?
Poly is also known as poly lumber or recycled plastic furniture.
It's made from recycled High-Density Poly Ethylene, or HDPE.
Poly requires very little maintenance; just an occasional cleaning with soap and water will do.
It's weather resistant, withstanding heat and humidity or frosty cold temps.
Poly will not fade, warp, splinter, crack or mold and will never draw termites.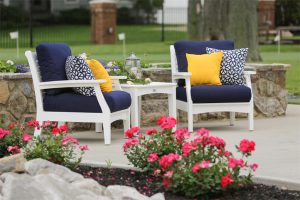 How is poly lumber made?
Poly is made from recycled plastics; think milk jugs and laundry detergent bottles.
The plastic is recycled, shredded and cleaned, melted into pellets and combined with dye and UV protectant.
Then it's formed into solid colored lumber and cut and built into furniture.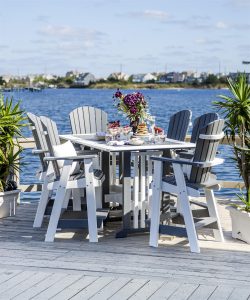 How Does Using Poly Help the Environment? How does it help Me?
It takes roughly 1,000 plastic milk jugs to produce 100 pounds of poly lumber—that's a lot of recycled plastic that's kept out of landfills.
The use of poly replaces outdoor furniture that breaks down and gets thrown out more frequently, preventing more trash from being added to landfills.
Using poly furniture saves you money as it is ultra-durable and will not have to be replaced often.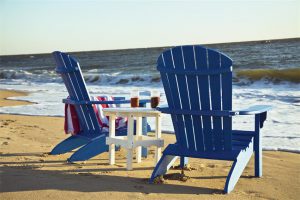 When you think outdoor furniture, tables and chairs are most likely the first things that come to mind. But poly lumber is branching out and becoming such popular material it has been fashioned into some items you may not expect. Here are a few of them.
Swings N Things
Captures rustic style in its curves and back
Available in natural colors that look similar to wood
Option to add a seat cushion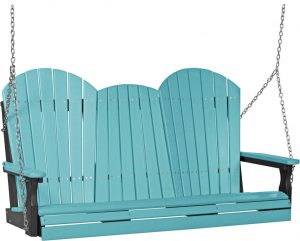 Adirondack style is brought to the popular porch swing
Features high back for added support and comfort
For Playing in the Snow
Here poly offers a favorite for winter fun
Available in fourteen fun colors (shown in County Creek Aruba and Yellow)
Pretty for the Porch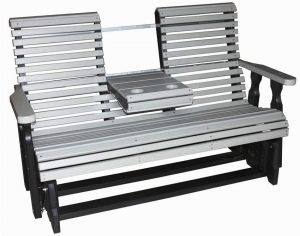 Durable full glider available in 14 colors
Complete with cupholder shelf
Seat measures 60" wide, 20" deep and 18" high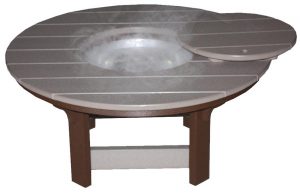 Option to add ice bowl in center for chilling drinks
Cover ice bowl when not in use and use as a full table
Outdoor Bar Time
Cheers to an outdoor bar that won't warp, fade or splinter!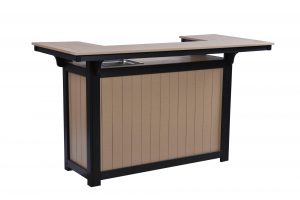 Combines outdoor bar and kitchen island
Includes prep area and removeable ice chest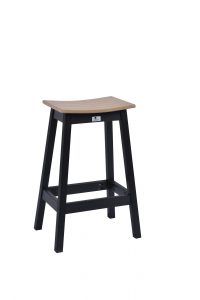 Versatile style perfect for use with an outdoor poly bar
An Eco Friendly Fire Pit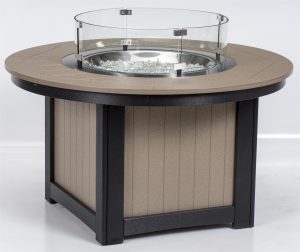 Starts up in seconds
Wind guard keeps flame in place
Choice of fire gems in Diamond, Amber or Aquamarine
Stainless steel heat burner
Propane tank slides in and out easily for changing
Bins, Receptacles and Planters
Available in a rainbow of colors
Sturdy and strong and won't break down like other plastic trash bins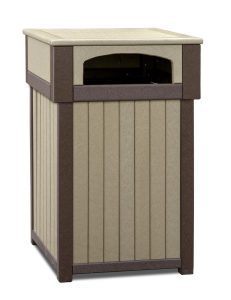 Can add up to four holes to put trash through
Perfect for home or business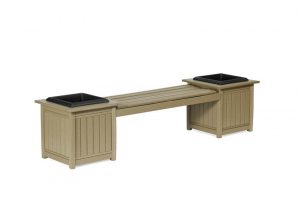 Combines bench seat and planters that will not rot or break down
Sofas and Sectionals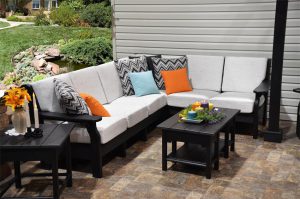 Choice of configuration with options including a right or left love seat or sofa sectional with a corner section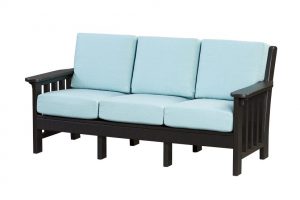 Simple Mission style
Available in a variety of solid or two-tone colors
With a look similar to wood and maximum strength to endure the elements, eco friendly poly furniture is coming up with new ways to enhance outdoor living.