What does an interior designer do when their client has specific requests? When it happened to Meegan Jowdy, she turned to DutchCrafters, the largest Amish furniture store online, for durable, solid wood furniture that's made to order. Here is her story, as told in her own words. 
Meegan's DutchCrafters Story
My name is Meegan Jowdy and my company is Meegan Jowdy Interior Design, based in Wichita, Kansas. I've been a designer for 25 years and I've had my own company for ten. My background is in residential interiors and now my business is about half commercial and half residential. I do full service interior design from new construction to renovations to paint selections and decorating.
Design for McDonald Tinker, P.A.
We are in a partner's office at McDonald Tinker, P.A. in Wichita, Kansas. I was asked to come in and update this office. 
The client did not want the traditional U-shaped desk area with a credenza and upper bookcases. 
He was very specific in the type of furniture and design that he wanted: Craftsman style furniture, made in the USA was a bonus, and custom finishes, which led me to DutchCrafters.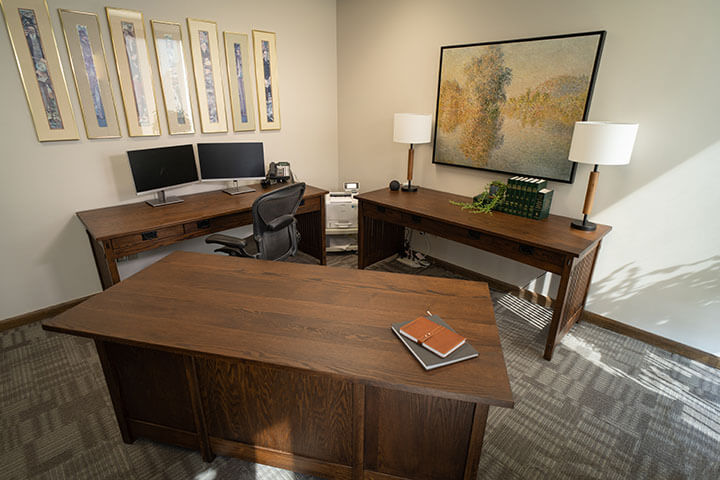 Shopping at DutchCrafters
We came across an executive desk and then workspace desks so that he could have a desktop where he could make notes but also have computer space and extra area to spread out files.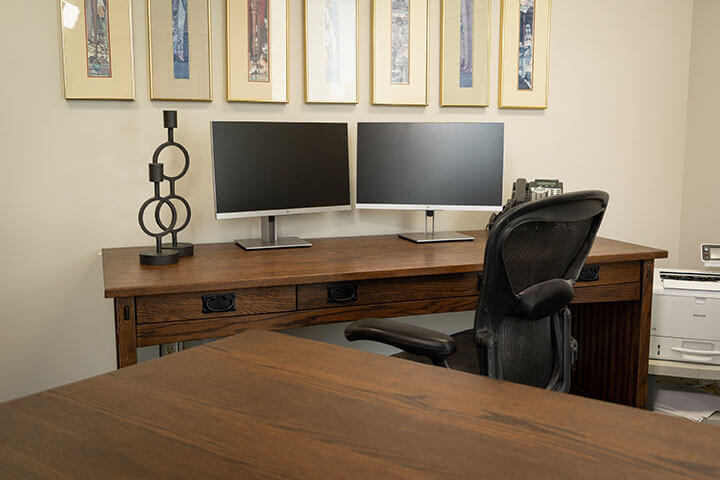 My goal for all of my clients is to create a space that is unique and specific to their needs and tastes. So, no two spaces are the same.
I would absolutely recommend DutchCrafters. 
Their variety is quite impressive. The customer service was great and the fact that it's custom-made for each client is a bonus.
Custom Options for Desks
So one of the options we chose was a dropdown keyboard tray so the keyboard can be hidden under the desk.
We could select hardware that matched on all of the pieces.
I ordered several samples of finishes, so I was able to view them, brought them into the client to show him.
And once we finalize the stain choice and the furniture pieces, the order was simple and easy to place online. 
Desk Delivery
I was updated throughout the whole process and when the items were complete and ready to ship, the delivery team contacted me and we set up a time and they were very accommodating and came in before business hours. 
I've not had an experience where the furniture has been that well cared for.
They were all blanket wrapped, they unwrapped everything, they helped set it up and put it exactly where it was going in the space.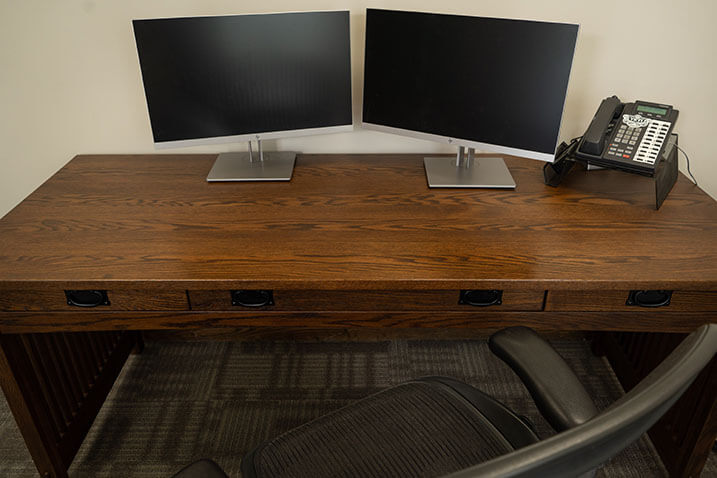 Reflecting on the DutchCrafters Shopping Experience
My first experience with DutchCrafters was amazing. It was a great seamless process and I would recommend and use them again if I have the opportunity. 
I believe that these will be heirloom pieces and they will last for many, many years to come.