Amish Solid Wood Swivel Gliders for the Nursery or Family Room
Durable. Beautiful. With custom upholstered fabric…or leather! 
That's just the start of the custom options available on these gliders at DutchCrafters. As we compare these 4 beautiful swivel glider designs, you'll see just how much control you have over your design when you shop at DutchCrafters. Shop all Amish Gliders and Rocking Chairs here!
Ball-bearing Glides
Smooth ball bearing glides provide exceptional comfort as you rock, swivel, or just find the perfect position to relax. This luxurious experience is much smoother than traditional rocking chairs.
Try All 4 in our Sarasota Showroom
Visitors rave about these gliders after sitting in them in our showroom, where they're among the most viewed and enjoyed products on display! All 4 chairs can be found in our Amish Furniture Showroom in Sarasota, Florida! Stop by to try them out and chat with a furniture specialist about all your furniture needs. 
Nursery Glider
Glider chairs are a perfect addition to a nursery. Rock your baby effortlessly and soundlessly from the comfort of a swivel glider! This modern upgrade on the rocking chairs of old will amaze you. You won't even want to leave the nursery even after the baby's asleep! 
Gliders for the Living Room or Family Room
Don't worry. You don't need a newborn to invest in these exquisitely comfortable chairs! Many shoppers find our gliders more comfortable seats for long periods than even recliners or sofas!
They make a great addition to a living room, family room, or reading nook. So, settle into your swivel glider and turn on the TV, crack open a book, or cozy up by the fire. 
Which glider is right for your home? 
Amish Monson Swivel Glider
 Settle into the curves of the Monson Swivel Glider with an ergonomic, T-shaped backrest and accented, solid wood side panels! 
Features of the Monson Swivel Glider
Contemporary Style Design
T-shaped back rest
2 horizontal seams in the back padding
Octagonal base
Angular side panels with wavy wooden accents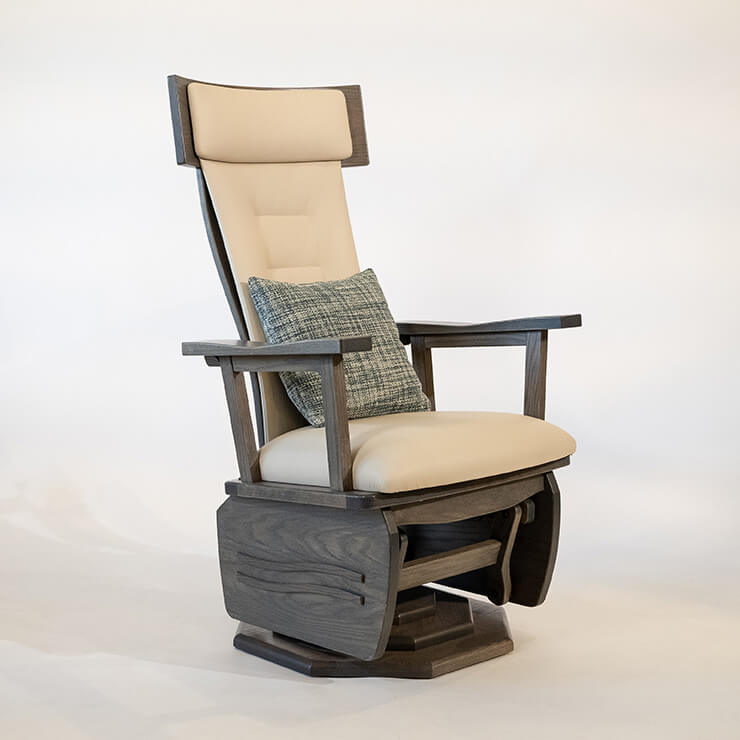 Amish Taymouth High Back Swivel Glider
Sink into the cozy Amish Taymouth Swivel Glider with upholstered armrests and side panels and a round, solid wood base. 
Features of the Taymouth Swivel Glider
Thick cushioned backrest
Upholstered armrests
Fabric covered side panels
Circular base
Curvy, subtly reclining backrest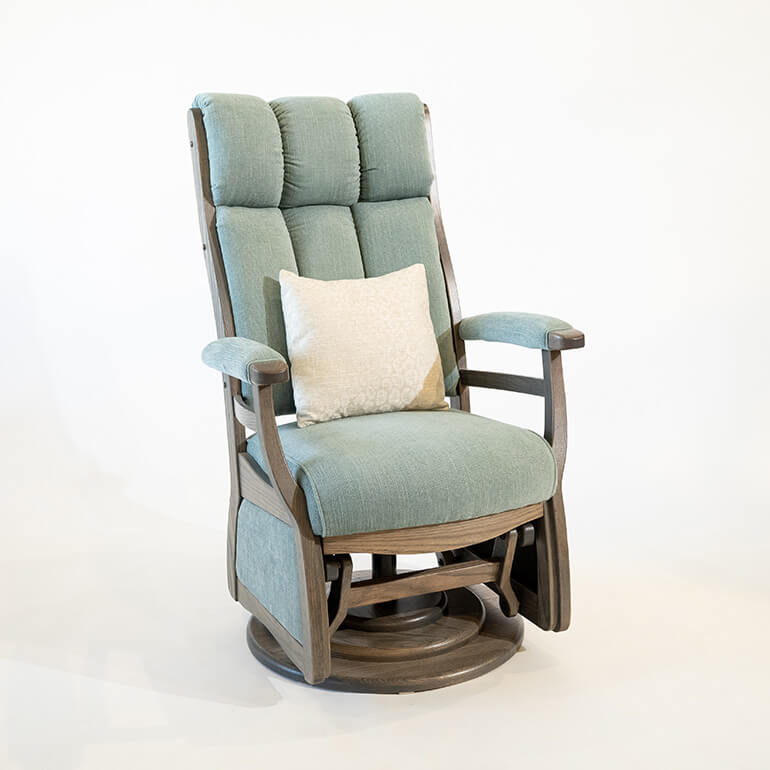 Amish Keswick Swivel Glider with Platform Base
Discover the gorgeous Amish Keswick Swivel Glider with mission style slats in the side panels and an octagonal solid wood base.
Features of the Keswick Swivel Glider
Mission Style Design
Three straight vertical seams in back padding
Tight row of decorative upholstery tacks
Straight, square armrests with subtle scoops for comfort
Vertical slats and straight lines in side panels
Octagonal base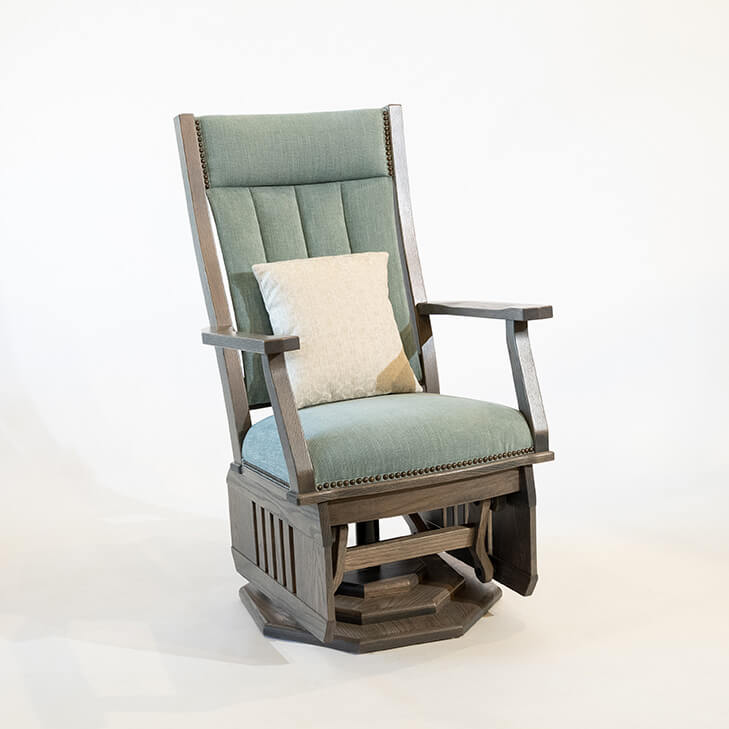 Cosette Swivel Glider
Enjoy the elegance of the Cosette Swivel Glider with decorative, curled armrests and curvy grounded design features. 
Features of the Cosette Swivel Glider
Two curved, vertical seams in back padding
Decorative upholstery tacks with gaps between them
Elegantly curved armrests
Rounded side panels
Octagonal base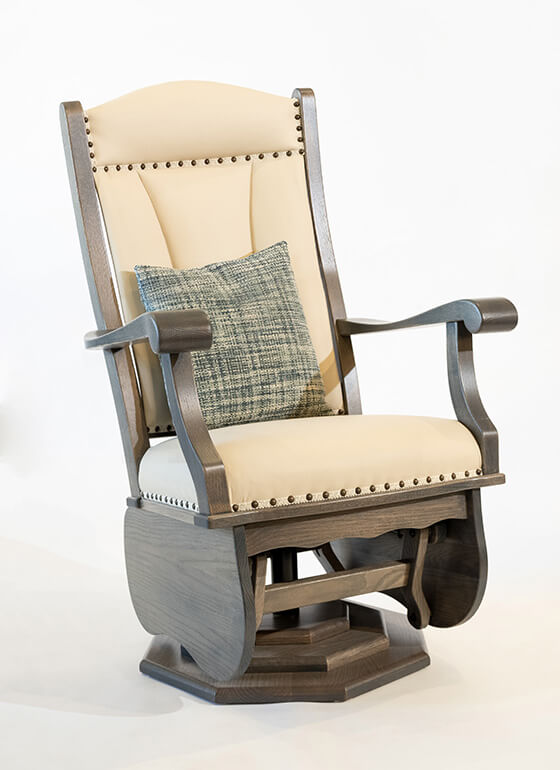 How to Customize a Swivel Glider Design at DutchCrafters
The benefit of shopping at DutchCrafters is that you have countless options to choose from! Between the product offerings, wood, stain, hardware, and upholstery options, you may be able to create a product never ordered before!
Large Selection of Products
We're happy to offer the largest selection of Amish furniture products online, with over 15,000 products from more than 150 wood shops. In this video alone, you can compare 4 swivel glider designs ranging from Mission style to Contemporary style. 
Countless Custom Options
Then, you're presented with custom options for each product, including the wood type, stain color, varnish sheen, hardware style, and upholstery material and color. These 4 separate glider designs in totally different styles were made to match with the same wood type and stain color in each. Two were garbed in an off-white leather and the other two donned a light blue-gray fabric. 
Where to Start
Let your imagination run wild. We can't wait to see what design and custom options you come up with! Start shopping our entire selection of Rocking Chairs and Gliders or any other furniture you need right here at DutchCrafters.