Pete and Tracie's small Kansas farmhouse had a big need: new dining chairs for an heirloom table! So, they turned to DutchCrafters to find the perfect Windsor Dining Chair for their home. Here is their DutchCrafters Customer Story. 
The Home
Back in the early 2010s, Pete and Tracie wanted to move out of town to a house in the country. 
They found a house they wanted to tour, so they drove out and pulled in the driveway to find the front door standing open and tall grass grown up all around the house. 
On the back porch, they found water damage from a roof leak. They faced dangling wires and electrical issues. But they faced these problems head-on.
After making the kitchen, bedrooms, and bathroom liveable, they moved in with their two kids. And thus began 8+ years of continual improvements, including replacing most of the flooring, adding a wood stove, improving the HVAC system, and adding big windows.
The family even built a new room on the South side of the house to allow them to host family gatherings. And, in 2022, they added solar panels to their roof to provide them with all the clean electricity they need. 
Renovating the Dining Room
The dining room has undergone significant work since they moved in. They added a large, East-facing window and a window seat. A wood stove was added to provide most of the heat for the house. The floors were refinished. And they built a DIY reclaimed pallet wall as an accent wall. 
With these renovations complete, they turned their sights to the dining set.
The Table
With kids now grown and a grandson added to the family, family gatherings around the table have become even more of a priority for their family.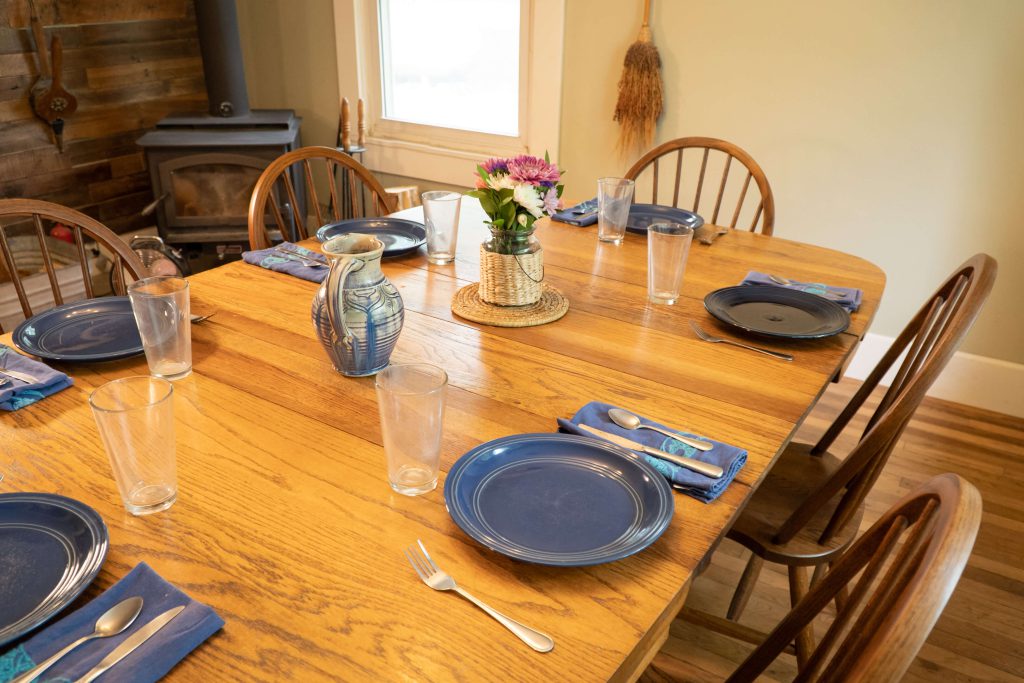 Fortunately, they recently received an heirloom table from Pete's parents. This solid oak wood table, which is probably almost 100 years old now, has some history in the family and they wanted to keep it. But it also had some signs of wear, so Pete took it upon himself to take it all apart. He replaced some ball bearings, tightened joints, and reassembled the table. Today, it's nearly as sturdy as the day it was made. Pete tells this story in the video. 
We have this dining room table that has been in at least two other households. My parents had it at their home, so the table has a lot of history. For many years, we've been getting used chairs and patching together chairs, and we realized that we needed to upgrade the chairs. 
The New Chairs
After sitting on his brother's chairs from DutchCrafters, Pete decided to go ahead and place his own order for DutchCrafters chairs. Here's what he said about what they were looking for. 
We wanted something that would fit in this space. We didn't want anything too grand. And there's just something about wood grain and the natural and natural element to the house that feels a little bit grounding.

So to have something you can sit on in a really sturdy but they're elegant and very functional. I mean, all of those things are things that I couldn't create myself, but I really appreciate people who can do that kind of work.
I think we can all relate to his admiration for the beautiful, natural wood grain and the incredible craftsmanship that it takes to turn that solid wood into a beautiful, durable chair. 
Spindle Bow Back Windsor Chairs
After considering all their options, they placed an order for 6 Amish Spindle Bow Back Windsor Chairs in Red Oak wood with a Vintage Antique stain. This traditional style Windsor chair is a perfect fit for the Oak table in their dining room and the farmhouse style they've embraced in their home.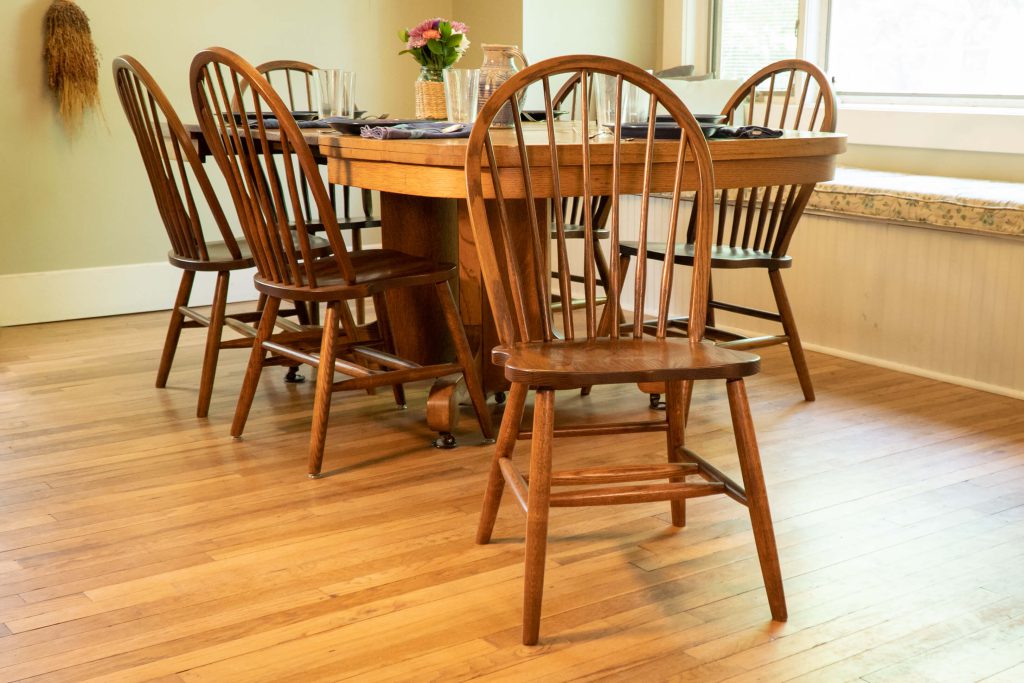 A Home Ready for Visitors
After nearly a decade of home improvement projects, renovations, and furniture upgrades, this is a special moment in their home. Pete told me he feels that this chair purchase is a kind of culmination of all the work on the house. With new chairs, a renovated dining room, and a beautiful home, they are ready to invite over their family and friends and really enjoy it.  
So having something like that for our house to enjoy is important. The table may be 100 years old or almost, and the chairs aren't that old, although the wood may be that old, I don't know. But they fit together really well. We're really excited to have some quality furniture that will last us probably the rest of our lives.