Colonial American style is back! With its decorative accents and solid wood frame, the Abilene Ladderback Chair exemplifies this classic design aesthetic. If you're drawn to its formal style. customize a set of Abilene Ladderback Dining Chairs for your home! 
Characteristics of the Abilene Dining Chair
At its core, the Abilene Dining Chair is a basic design. It features straight, round legs, extending into a back frame in back. The seat is gently scooped for comfort and crafted in the same wood type as the frame. A laddered back and laddered leg stretchers hold it all together. However, three distinct accents take this design to the next level and make it a statement piece.  
Rippled Ladder Back
The laddered back features four horizontal back slats. Each is arched in the middle and with pointed accents to create a rippling, wave-like appearance. This design choice is integral to the formal aesthetic of the chair.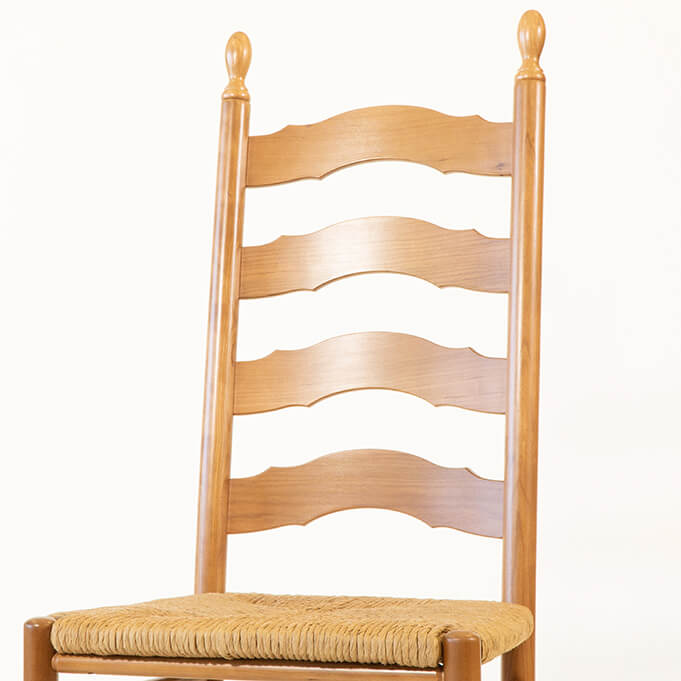 Chairback Finials
Long, oval finials sit atop the vertical back frame side pieces. The smooth, round, turned accents are another key to its formal style. If you prefer to dress the chair down instead, the chair can be ordered with short, smooth button finials instead. Without the tall finials, the Abilene becomes more of a Shaker style.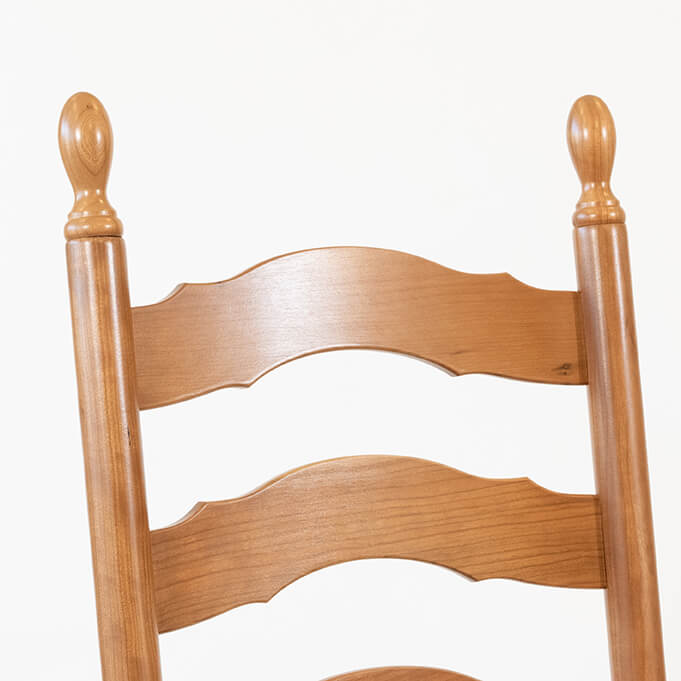 Turned Stretchers
The turned stretchers in the base are all simple. straight dowels except for the two front stretchers. These feature smooth curves highlighted by little rounded accent designs in the middle. Together, these design accents push this simple design to a new level of formality.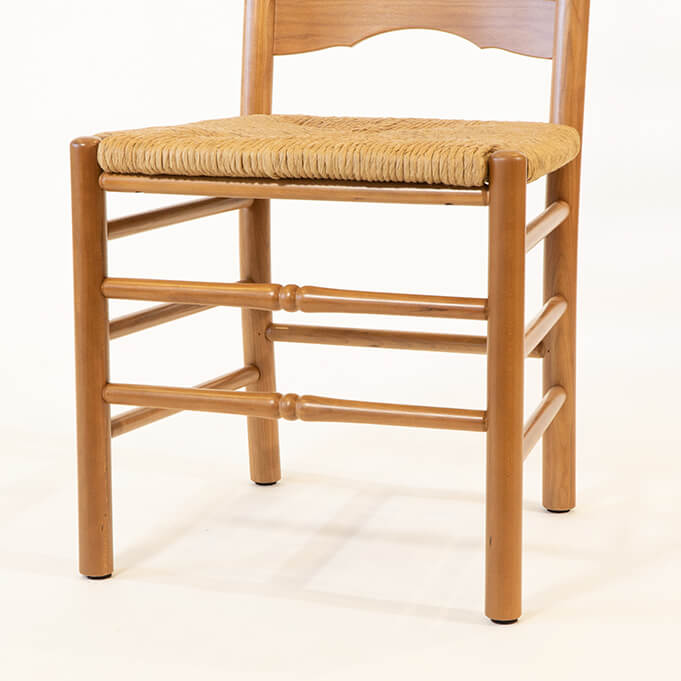 Customizing the Abilene Ladderback Chair
The Abilene Ladderback Chair is made to order to your specifications. Available options can be found here. 
Start by deciding whether or not to add arms. The traditional approach is to have arms on your chairs at the ends of the table but not the side chairs. But it's your set! Add arms to as many as you want. 
The long finials that form the striking silhouette atop this chair are optional. Opt for button finials instead if that better suits your style. 
For your seat, you can choose either a scooped wooden seat or a fiber seat depending on the look and comfort you prefer.
This chair comes in your choice of wood type: oak, brown maple, or cherry. Oak offers a traditional look with thick, visible woodgrain. Brown maple offers unpredictable, thin woodgrain and some color variation. Cherry wood creates the most formal appearance, with thin lines and smooth woodgrain on a wood that will darken with time. 
Finally, select your wood's stain color. Don't worry. We'll be happy to send you finish samples to view in your home before you lock in your selection! 
Order the Abilene Chair
Finally, your furniture will be built to your specifications by our talented woodworkers and delivered to your home. So what are you waiting for? Order your Abilene Ladderback Dining Chairs today right here at dutchcrafters.com.