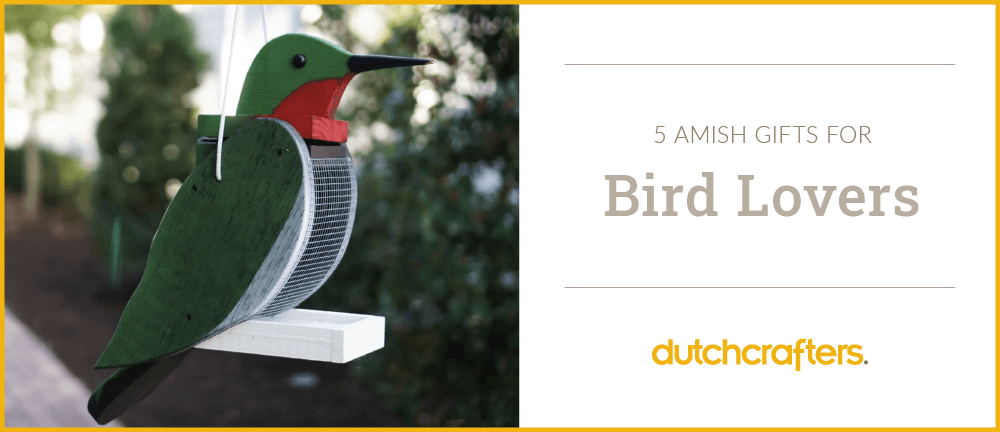 5 Amish Gifts for Bird Lovers
They stop mid-sentence to look up. They always bring you to the porch or backyard to point out a sighting. They wear bird t-shirts and usually have binoculars close by. We're talking about those who love to bird watch and never tire of the colors, sounds and actions birds bring. If you've wondered what to get someone who is fond of birds, you've come to the right place.
Here are five Amish gifts for bird lovers, handcrafted in Amish country, and offering maximum durability and function.
A Bird-Shaped Hanging Feeder
Bird feeders help bring colorful feathered friends to visit a backyard or garden. This one is especially delightful as it comes in different bird species. If you or your bird-watching friend has a favorite bird type, chances are one of the 11 bird species offered could match up with a favorite. These bird feeders have a hinged top that makes it easy to refill with seed and to clean out. It's built with cedar wood and ships assembled.
Amish hanging bird feeders also come in ultra-durable, environmentally friendly poly lumber, and you can play with colors to perfectly match your outdoor scene. Poly lumber won't splinter, rot or crack. It can stand up to extreme temperatures.
A Tray Feeder
Tray feeders are a great gift choice for the avid bird watcher. They attract birds in all shapes and sizes and can hold just about any kind of food treat you want to offer, making the meal appealing to more bird species.
A Jelly Jar Feeder
For fans of birds that prefer a liquified meal like fruit juice, jelly or nectar, there's the jelly jar feeder. Jelly jar feeders come with varying numbers of jelly jars. Simply fill with jelly (like grape for orioles) or fruit, and let the birds come and enjoy sweet liquid drinks.
Another type of birdfeeder is a suet feeder. Suet is a tasty mix for birds like wrens, bluebirds, chickadees and smaller species. It is a mixture of seeds, nuts, grains and fruits mixed with some fat that helps it all stick together. Suet cage feeders can be used to house the suet mix.
A Bird House
Bird lovers often like to provide shelter for flying visitors, and a bird house offers room for nesting. They come in a variety of cute designs to add a lovely accent to a yard or garden.
A Bird Box
What does a bird box do? A bird box, or nest box, provides shelter from the elements for our little bird friends to nest and seek warmth.
Available in many shapes, sizes, and colors as well as other features, these five Amish gifts for bird lovers are sure to bring some smiles and even more likely to bring birds on the scene so loved ones can enjoy them.