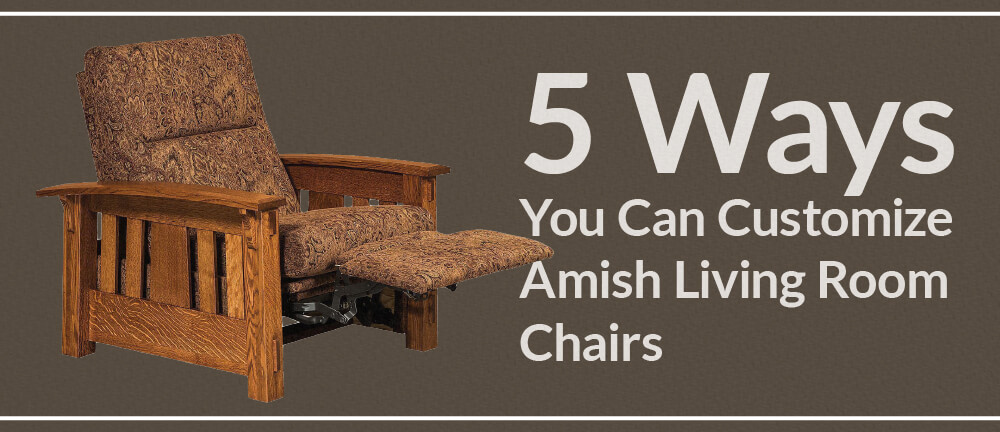 5 Ways You Can Customize Amish Living Room Chairs
Amish living room chairs bring a whole new meaning to the word comfort. Not only can you rely on premium quality materials supported by fine craftsmanship, but you are offered the opportunity to customize. Customizing means you can pick out options for the entire build of your new living room chairs, making sure the look, feel and function are sure to fit your vision for your living room furniture. Spotting an Amish living room chair online or in Amish country is a sight to see, and knowing that custom options allow you to select just the look and features you want makes it even more appealing. Just what can you do to customize?
Here are 5 ways to customize Amish living room chairs.
5 Ways to Customize Amish Living Room Chairs
Choose the Wood
The frame of your living room chair is oh so important. The foundation, added support and a big dose of style are put into the frame. With Amish living room chairs, you can always count on a solid wood foundation and a long list of wood types to choose from. Perhaps you enjoy oak wood's prominent grain pattern or the dark tones of walnut wood. There's the appealing texture of brown maple wood that's easy to stain or paint, as well as rustic wood options that feature more knots and markings to capture that natural, rugged appeal.
How do you choose the wood?
Order samples. Seeing wood and stain combinations up close is the best way to determine which wood you like best.
Watch a video: Our video library is full of wood type videos that give you a quick background on what each wood type is like, as well as colorful clips of each kind.
Choose the Stain
Stain has a huge impact on the final look of wood furniture. The choice of stain brings out the beauty of the wood's grain pattern, creating a gorgeous look for wood furniture. Don't be intimidated by wood and stain choices. Once you've made a wood selection, consider the color tone you'd like it to take. Then, select from the stain options that fit your color tone of choice. Working with samples at home along with advice from a furniture specialist is the best way to make your selections.
Pick the Upholstery
Adding the plush to Amish living room chairs is part of the fun. There are so many options to choose from, like fabric, suede, Crypton fabric that's stain resistant and easy to clean, faux leather, ultra leather (a high-grade faux leather), and genuine leather. Custom upholstery options don't stop there. If you have a fabric of your own that you'd like to use, you can speak with a furniture specialist to see if the woodworker will use your fabric.
Add A Motorized Reclining Mechanism
A number of Amish living room recliners come with the option to add a motorized reclining mechanism. This feature lets you go from sitting upright to a comfy recline at the push of a button.
Add Throw Pillows for Extra Plush
A number of Amish living room chairs offer the option to add matching throw pillows that are always comfy to snuggle with when you're watching a movie or reclining for a cat nap.
Bonus Amish Living Room Chair Customizations
Customizations open up a new world of possibilities for Amish living room chairs and all Amish-made furniture. Here are some bonus customizations to consider.
Adding Arm Pads
Solid wood is strong and beautiful, and the arms of living room rockers and recliners will offer plenty of support. But who says you can't add some plush arm pads for added comfort?
Nailhead Trim
The option to add nailhead trim is available on a number of Amish living room chairs. Not only does it help keep upholstery in place, but this timeless design detail enhances a number of different styles from modern to traditional.
Embossed Backs
A number of Amish living room rockers offer the option to add an embossed back. Similar to a pressback, these designs can include things like acorns or flowers and richly accentuate the beauty of the solid wood you selected.
Adding Additional Width
There are chairs built with extra width, such as the Precedent Ethan Chair & Half but if you have found a chair you love and want it a little wider, there's the custom option for added width on a number of Amish living room rockers.
Amish furniture prides itself on offering custom furniture that let's you in on the options to build your dream furniture. DutchCrafters is home to custom furniture and we always promote the idea, "if you don't see it on our website, please ask us," because just about anything is possible with custom furniture for living room and throughout the house.