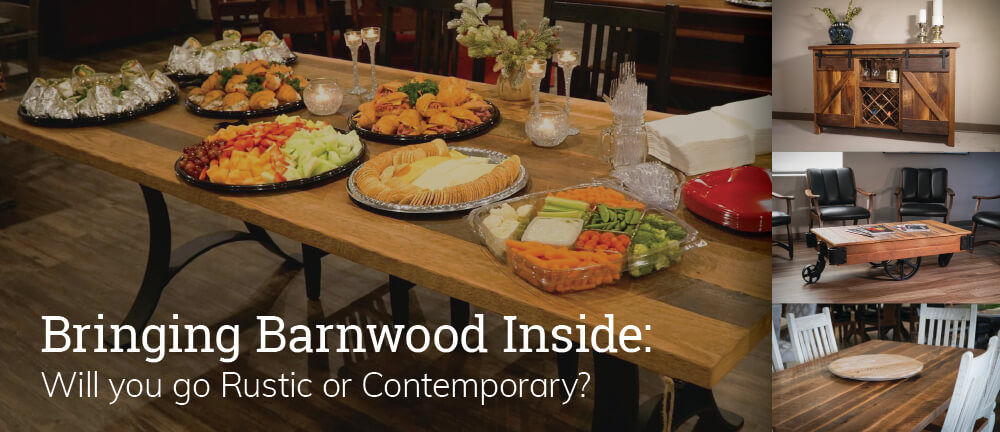 Bringing Barnwood Inside: Will You Go Rustic Or Contemporary?
What is the appeal of something old and worn? Is it the wisdom it possesses? Is it the stories it has to tell?
A display from Urban Barnwood sits right inside the DutchCrafters Showroom in Sarasota, Florida. It features samples of real barnwood in different stains. The legs are thick and strong, the colors are warm, and the knots are real. It shows the possibilities we offer for custom-made barnwood furniture that brings with it something special.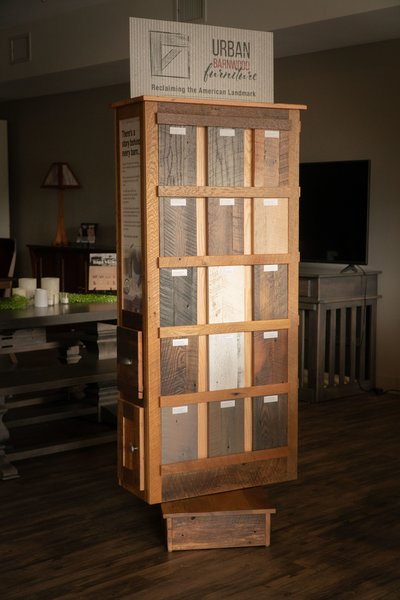 Barnwood is coming inside homes all over the country. After standing outside for decades, it has earned its colors, its ruggedness, and its story. Time actually reinforces its strength, and it's warm all over.
If you've dismissed barnwood furniture with the idea that it only fits with rustic style décor, we're here to debunk that myth. While barnwood captures the feel-good nature of rustic, it's right at home with contemporary style too. Here's what's special enough about it that it works for both styles.
About Barnwood
Barnwood or reclaimed wood, is loved for its unique story, its rugged look and its sustainable nature.
Barnwood is repurposed. It's taken from old barns, sheds and warehouses that have stood for decades, some for one hundred years. The barns and buildings are disassembled and the wood is then cleaned and dried, and the nails are removed. Then the wood is kiln dried to 7% moisture.
Decades spent out in the elements create something unique that only the passing of time can create. Every piece of barnwood has a unique story, told through its texture, sun spots, knots and holes. It's stamped with history and wears the test of time proudly. It's strength and resilience shine.
Barn wood is used to make furniture, flooring and mantels and is popular for accent walls to create contrast in a room.
Love of barnwood stems from its unique features that include the following:
Rich history and character.
Environmentally friendly nature.
Durable and strong.
Each piece is one of a kind; there are no duplicates.
Age only enhances it.
It's unpredictable and will not look like mass-produced furniture.
Owning reclaimed barnwood furniture can inspire a story, a conversation and questions.
It's original, one of a kind, and it won't look like everyone else's.
Its versatile nature makes it easy to match with various colors.
The Old Growth Factor
Lots of barnwood comes from what's called "old growth" trees that grew for a much longer time than newer trees that grow today. Some old growth trees grew for several decades, even centuries.
The wood of old-growth trees, especially trees that grew before the 20th century, was exposed to less air pollution. It offers added stability having been exposed to the elements for so long.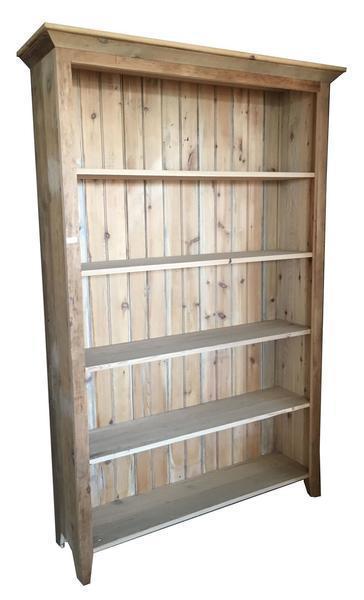 Rustic Barnwood Style
Rustic style is natural, imperfect and rough around the edges. It's casual, comfy and warm. Rustic is not just a country style but can also be found in lodge, log and cottage designs. Rustic celebrates the natural and organic nature and loves the history that barnwood brings with it. Rustic style creates a feeling of connection, and barnwood has that. It's simple, easy to connect to and gives off a warm feeling. It puts a huge emphasis on the natural, something that is shared by contemporary style.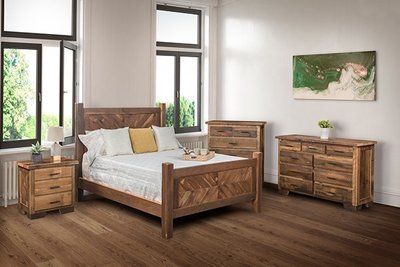 Contemporary Barnwood Style (aka Contemporary Rustic)
This is a combination of the rugged, natural look of barnwood combined with clean lines and cool contemporary. The two create a contrast that complements each other, with the simple and laid back nature of the contemporary enhancing the rough outlines and age of the rustic.
Barnwood Beams
Entire barnwood beams are used in various ways throughout the home where the beam is exposed in all its organic beauty. Barnwood beams are used in barnwood furniture, and they are being worked into ceilings, creating an incredible look. Barnwood beams are at home in both rustic and contemporary rooms.
How Does Barnwood Work for Both Rustic and Contemporary?
Barnwood furniture works for both rustic and contemporary style for the following reasons:
It complements both styles.
Barnwood brings weight and darker colors to a rustic room, adding to its cozy effect. In a contemporary room, barnwood balances the light, fresh look of contemporary clean lines, creating a unique balance. For both styles, barnwood provides added warmth in the room.
It can wear different colors.
In a rustic themed room, the brown and gold shades of natural barnwood shine and add to the rustic nature. In a contemporary room, these same colors create contrast. Barnwood can also be finished in shades of gray that take on a contemporary room with zest.
In both instances, it avoids the formal.
Barnwood in either a rustic or contemporary room is going to offer a relaxed look and feel. There's an element to its weathered character that is relaxing and peaceful, and strips away the demands of a formal style room.
It adds a natural element.
For both rustic and contemporary styles, natural elements are embraced. Rustic doesn't have to be perfect and loves furniture made with organic material. Contemporary likes to feature natural elements, focuses on comfort and adapts easily to new design elements.
Reclaimed barnwood furniture has a versatility that shines. Its unique nature and warm look can add to rustic or contemporary rooms.