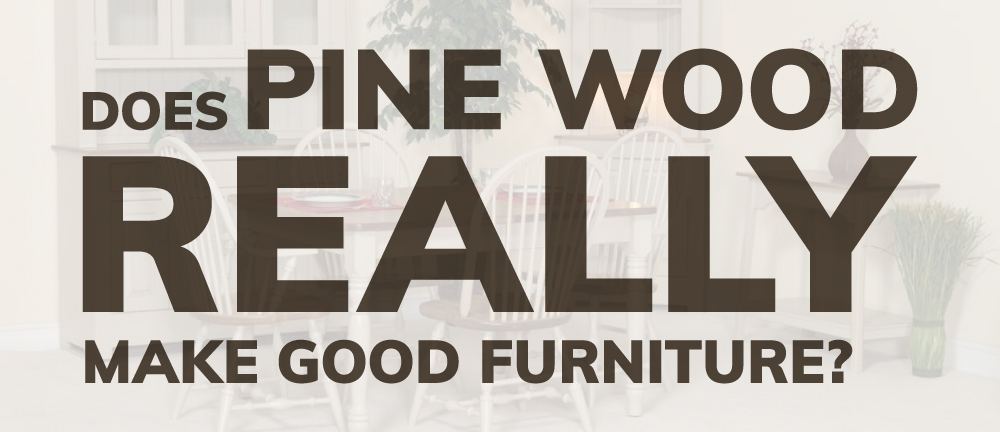 Does Pine Wood Really Make Good Furniture?
Pine furniture. What is it about pine that differs from the big players like cherry, maple and oak wood? Why does it cost less? Even at a lower cost, are you getting your money's worth for furniture made with pine wood? Will pine furniture last? Is it versatile?
The direct answer: Yes, pine wood does make good furniture. Pine is durable, there's room to get creative with it, and its versatile nature makes it friendly to existing wood furniture. Now let's tackle some of these questions about what you're getting with pine.
Characteristics of Pine Wood
A common softwood
Durable
Easy to work with
Light in color offering various shades of cream, yellow and white
Knots are present, adding to a rustic look
Easy to stain or paint
Looks attractive unfinished or with a natural varnish
Less expensive than hardwoods
Popular for country and rustic style furniture
Pine is a common softwood, but don't let that fool you. Pine wood offers plenty of strength, making it a softwood that is used worldwide. Might pine furniture sustain nicks or dents more easily than other harder woods?
The answer is yes, but that does not take it out of the running for serving your home furniture collection well. When it's built well, pine furniture can last for decades just like hardwoods.
What's different about pine furniture compared to other wood furniture?
It's lighter.
When you compare pine wood furniture to the heaviness of oak, pine is much lighter. This makes it easy to move when you decide it's time to rearrange furniture.
It's easy to stain or paint.
Pine wood has a straight grain with a fine, uniform texture. This combined with its light color makes it easy to stain or paint. Not all woods are candidates for a painted finish due to their wood grain. But pine makes it easy, opening up a whole new world of color for wood furniture.
Pine can go colorful or can look simply stunning in its natural state too. It can wear just a natural stain or a coat of varnish and look beautiful.
It's Versatile
The different colors pine wood furniture can wear make it very versatile. Light or dark, stained, painted or unfinished give you lots to work with when matching a pine furniture piece with existing furniture.
*Important to note is the development of a yellowish resin on pine wood. It's a natural trait that contributes to pine's unique character, but it may show through lighter finishes.
Pine wood furniture is excellent at blending in with other décor. It's a good match for lots of different styles. While pine wood furniture has been more commonly used for country, rustic, colonial and cottage styles, it has since branched out to include contemporary.
It Loves Distressing
Pine wood furniture leans toward a rustic look, since pine wood features knots that give it a natural, rugged look. Distressing techniques create signs of age and wear, which the knots contribute to. Paired with the straight and fine wood grain, pine wood is a surface that's easy to work with, including adding distressing techniques like eased edges, indentations, a rubbed paint finish or pin holes.
Why Does Pine Furniture Cost Less?
Pine wood furniture costs less because pine trees grow rapidly and are readily available around the world.
There are dozens of pine species, but the ones used the most for pine wood furniture are classified as white pine and yellow pine. White pine trees grow in eastern North America. They grow to be quite large and are a major source of high-quality wood. Eastern white pine trees can grow to over 200 feet tall, producing long, straight boards with fewer knots.
Since pine trees grow so fast, any that are cut down are quickly replaced with new growth, making pine wood admirable for its contribution to the environment.
Is pine furniture durable enough to last?
Yes. While pine wood is softer than hardwood varieties, it offers a good deal of stiffness, strength and shock resistance.
Pine wood is also more resistant to shrinking and swelling. All solid wood will move in response to humidity, either expanding when its humid or contracting when it's dry. Pine has minimal shrinking and swelling, maintaining its shape over the years quite well.
With all its positive characteristics, it's important to note that pine could require more maintenance than other woods since it can scratch or dent more easily. By maintenance, I mean some possible refinishing over the years. (Unless you've chosen a distressed finish which hides things like scratches and dents since it's part of the charm of an aged look).
The style, strength and durability make pine wood furniture a contender among furniture wood options. The fact that it comes with a lower price tag is an added bonus.