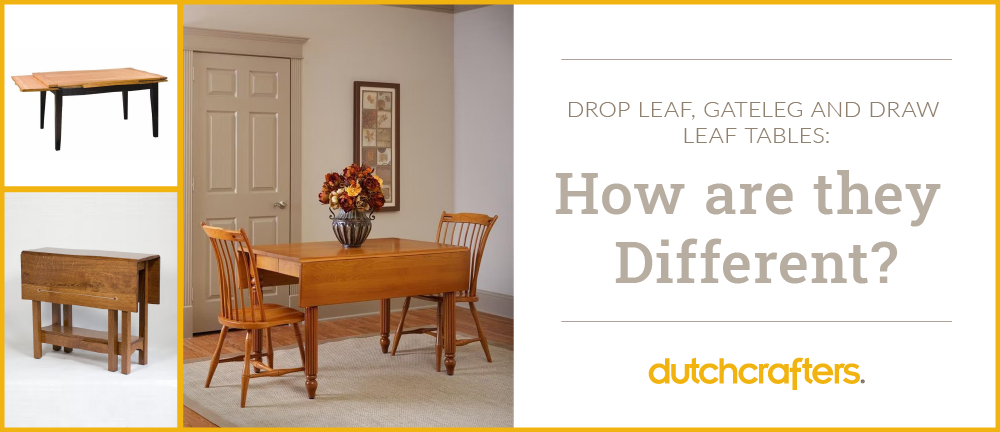 Drop Leaf, Gateleg and Draw Leaf Tables: How are they Different?
Dealing with a small space but still want to be able to host a dinner party? Let's chat about three table solutions that can help. They are the drop leaf, gateleg and draw leaf dining tables. Drop leaf, gateleg and draw leaf dining tables help you save space and still host a dinner party.
Drop leaf and gateleg tables date back as far as the late sixteenth century in England. They were used during the Colonial period of the 17th century as well, to help save space in small houses.
What's appealing about these tables is how they tuck away table extensions. Each one does this a little differently. Let's take a look at what they are and how they work.
What is a drop leaf table?
A drop leaf table has a fixed section in the center, with hinged sections or leaves on either side that fold down. The leaves can be folded to hang down vertically on the sides when the table is not in use. They can be lifted up and secured by brackets to extend the table and expand its surface space. They usually have a square or rectangular shape. Drop leaf tables are practical and easy to use, with no concern for extra parts to add and no heavy pulling or lifting involved.
It's a popular practice to fold down just one side of a drop leaf and push it up against the wall to create a smaller table for fewer people to dine, or to create a desk or workspace.
What is a gateleg table?
A gateleg table is similar to a drop leaf, but the leaves are supported by table legs that swing out from the center to support the hinged surfaces. A gateleg table will offer less surface area when leaves are folded down than a drop leaf table. The legs of a gateleg table are attached at the top and bottom by stretchers. This structure creates a gate-like look in the table, thus the name, gateleg table. Sometimes, gateleg tables are referred to as swing tables because of the pivoting action of the legs.
A gateleg is easier to store away than a drop leaf table since the extensions fold down and the legs swing in to fold up the table. They are great to bring out if you only need a table to entertain with a few times a year.
A gateleg table is considered another form of a drop leaf, or a sibling to the drop leaf, that folds and expands with ease.
What is a draw leaf table?
A draw leaf table is an extension table with leaves that store in the table and attach at each end of a rectangular center section. They store in the table underneath the top center section. To expand the table, the leaves slide or are drawn out and attach at the ends as the center section drops down to align with the extensions.
Draw leaf tables were used during Elizabethan times and gained traction in the early 20th century.
Reasons to Use a Drop Leaf, Gateleg or Draw Leaf Table
The main reason to use a drop leaf, gateleg or draw leaf table is to save space of course. But they are also appealing even if you have extra space and just prefer not to have a full-size dining table eating it up, especially if you don't use it on a daily basis.
These extension tables aren't just for hosting dinner. They can be used to set up a work table, desk area or crafting space too. These extension tables are ideal for small homes, condos, lofts and apartments and small kitchens. Keep them folded until you need them to maximize your space.
Easy expansion and folding makes drop leaf, gateleg, and drawleaf tables perfect for setting up a dining area, workspace or desk space. Tuck away when you're done and voila, you reclaim your space.
Come in different sizes and styles
You can best fit your style and space with the variety of sizes and styles offered.
Save yourself some space with a new drop leaf, gateleg or draw leaf table that's versatile, expandable and easy to use.