How to Mix and Match Dining Furniture
An eclectic dining room design is both adventurous and creative. With so many different and appealing furniture styles, it can be hard to choose just one. Here we've laid out some suggestions and guidelines for how to mix and match dining room furniture. The possibilities are endless with an exciting mixture of colors, styles, and textures adding to your dining scene.
Accents at the Ends
Create a blended look. Use the same style chairs along the sides of the table, and accent chairs at either end of the table.
Line the sides of the contemporary Amish Christy Extension Dining Table with the Amish Christy Dining Chair. Add the Amish Livingston Dining Chair at the ends.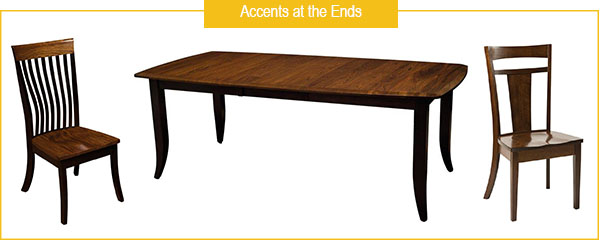 Collected Color
Get creative by surrounding your dining table with different chairs that are the same color. The color will give them a uniform look while the variety of styles creates excitement.
The Amish Lexington Table takes on a whole new look surrounded by the Amish French Country Chair, the Ruff Sawn Sparrow Dining Chair, and the Ruff Sawn Meta Dining Chair.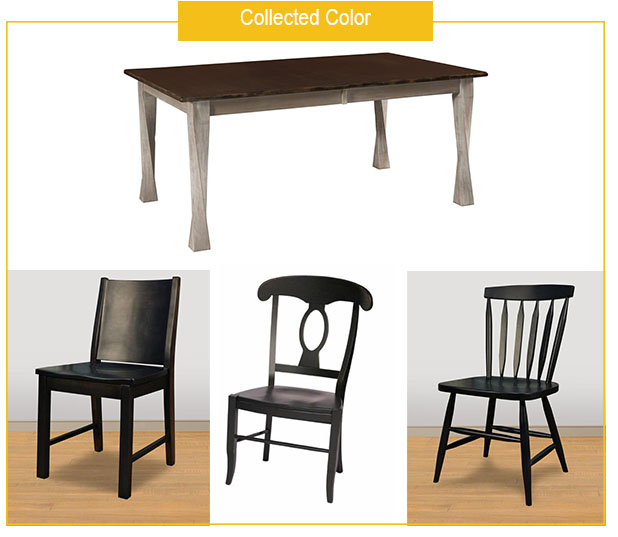 French Country Chair
|

Ruff Sawn Sparrow Dining Chair

|

Ruff Sawn Meta Dining Chair
New Look with Neutrals
You can still create an eclectic scene by sticking with neutrals. Neutral-colored woods and metals combine for an exciting design.
Start with the Reclaimed Wood Golden Gate Dining Table. Then surround it with the Ruff Sawn Turnbuckle Dining Chair, the Amish Shaker Ladder Back Dining Chair, and the Ruff Sawn Farmhouse Dining Chair.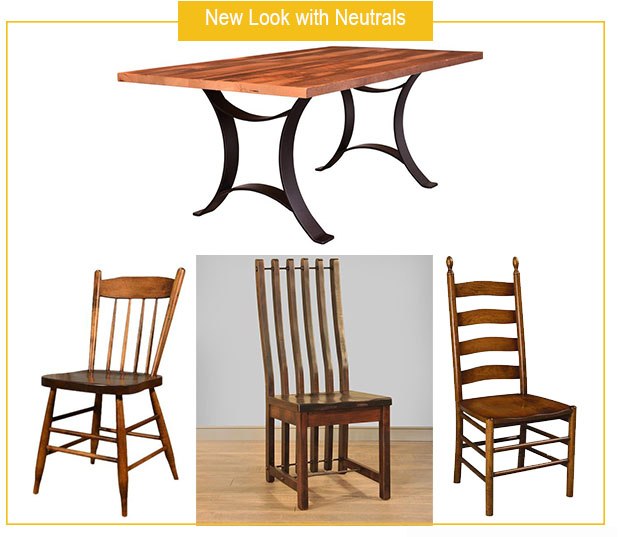 Contemporary and Traditional
Pair contemporary dining chairs with traditional-style chairs for a match made in eclectic heaven.
Start with the Amish Heritage Dining Room Table and add Amish La Belle Queen Anne Dining Room Chairs on the sides. Complete the look with the ultra-modern Amish Handcrafted Modern Dining Chair at the ends of the table.
La Belle Queen Anne Dining Room Chair
|

Heritage Dining Table

|

Modern Dining Chair
Chair Mixing Rules
Achieve a more relaxed look in your dining room by mixing chairs. The use of 2-3 chair types creates warmth and welcome.
Select one feature such as shape, style, or color that unifies the different chairs.
Take measurements first. Make sure all seat bottoms are the same height. Also measure the dining table and room to ensure different chair dimensions will fit.
Have fun and start small with these slight variations that won't overwhelm.
Place wingback or parsons chairs like the Amish Bradshaw Dining Arm Chair at the ends of the table for a balanced yet dramatic look.
Bring in a bench to mix things up. With a bench on one side of the table and dining chairs that match on the other, the Amish Tifton Bench with Live Edge with the Amish Kalispel Upholstered Dining Chairs makes mixing-and-matching easy.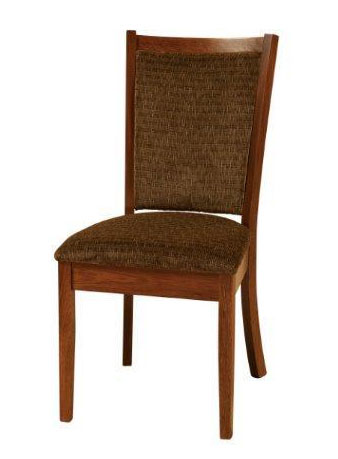 Our selection of customizable Amish-made furniture makes it simple to mix and match dining furniture to make a room that's all your own.