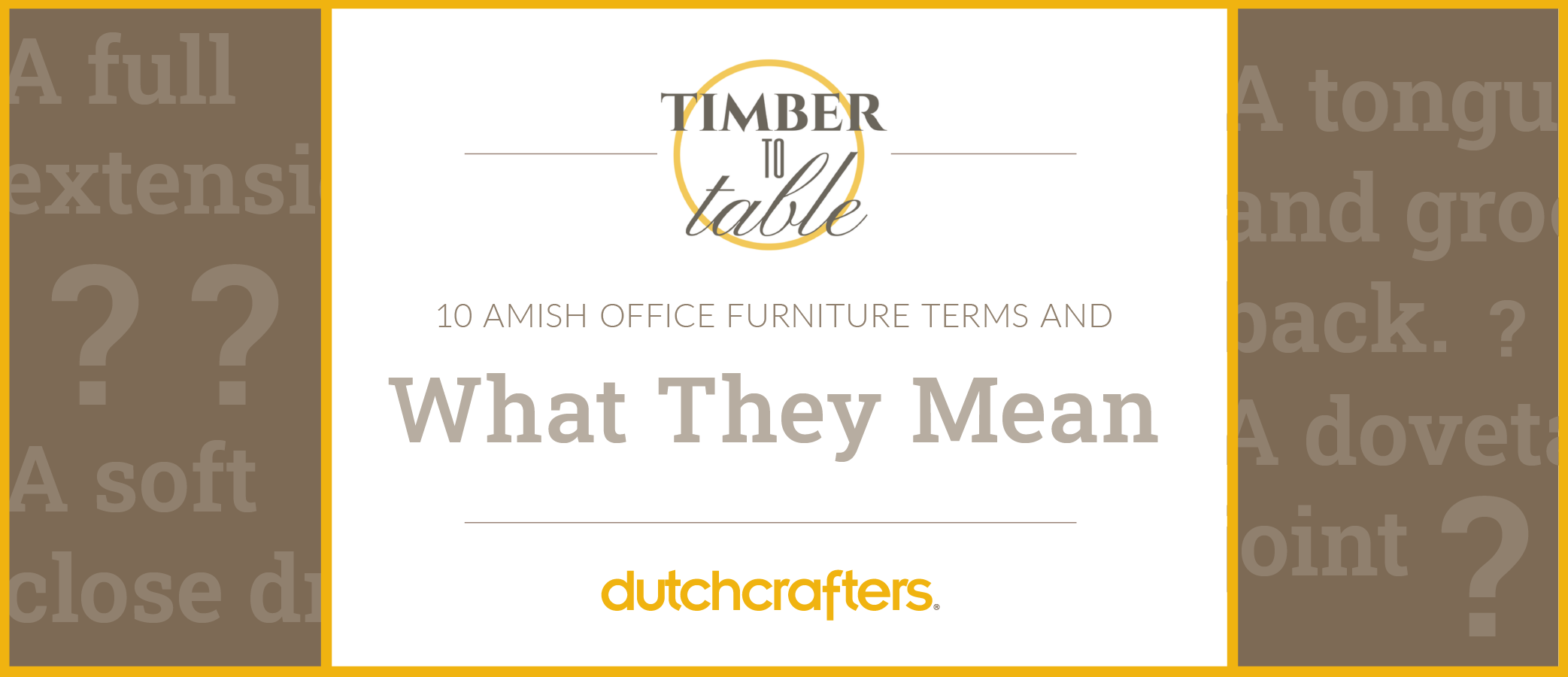 10 Amish Office Furniture Terms and What They Mean
Amish made office furniture is not like the rest. Rich with solid wood, the desks, bookcases and storage pieces are built to last for generations. You'll find unique features and parts built into a variety of designs. Here we've put together a fun list of clues to share some significant office furniture terms that stand for quality features that will keep your office furniture going for generations.
Clue: I'm a cover that seals and smooths the edge of a hole in a desk to make it a smooth path for anything passing through, such as cords and plugs. What am I?
A desk grommet.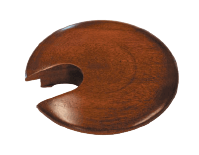 Desk grommets help to organize cords for electronics. They cover sharp edges on wood, metal or other materials. They can be added to a desk to create a smooth path for cords to pass through. They prevent snags and pulls on cords and help prevent them from getting all tangled together. Desk grommets contribute to keeping your desk area neater.
Clue: I enhance a drawer and help it to open fully. What am I?
A full extension drawer slide.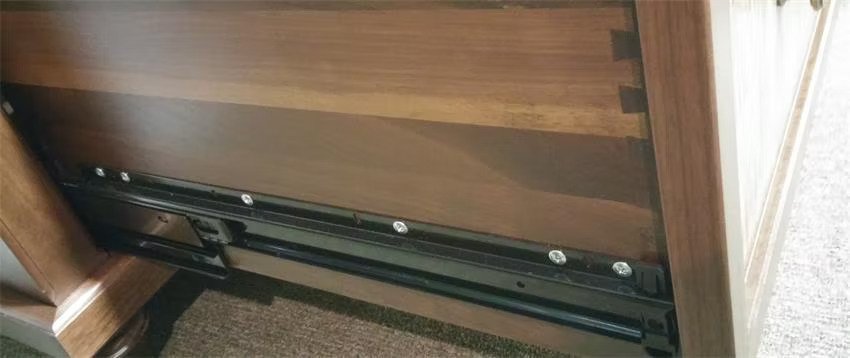 Opening a drawer is one of those things we don't give much thought to. But have you ever opened one and had to shove your hand into a cramped space to reach items in the very back? Full extension drawer slides make the simple act of using a drawer more satisfying. They allow the drawer to extend the entire length of the desk or cabinet they are used in, making it easy to use and gain access to the most space in each drawer.
Clue: I'm a drawer upgrade that's gentle and eliminates any slamming sounds. What am I?
A soft close drawer slide.
Soft close drawer slides spell luxury. The use of a hydraulic cylinder or mechanism helps soft close drawers engage as they close. They pull the drawer gently, and it closes quietly. This is a popular upgrade offered on Amish office furniture.
Clue: I'm a grand space to work, but I don't fit in every office. What am I?
An L Desk.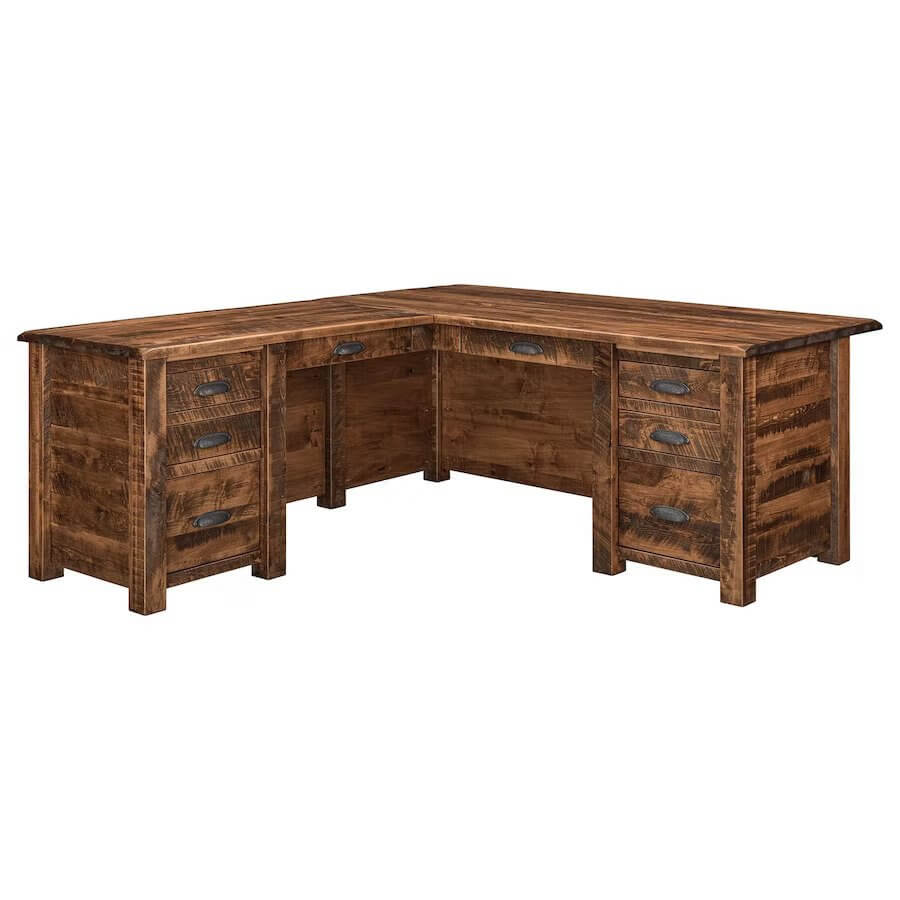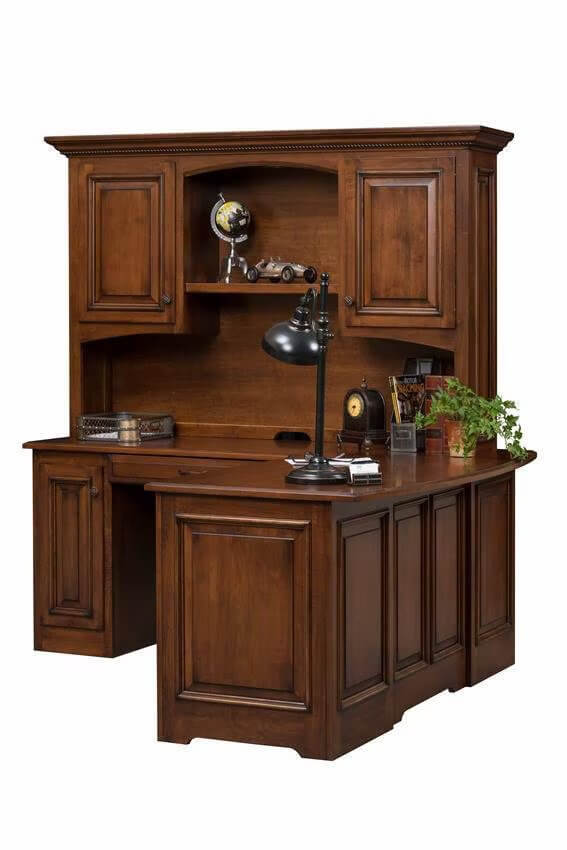 The L shaped desk offers lots of space to work, but its size doesn't allow it to fit in all spaces. It fits a corner well and features a desk, bridge and return. L desks are grand and often offer options to add hutches for even more storage and display space.
Clue: I share properties of a popular bedroom storage item, but I'm used in offices to house computer equipment and close it all up nicely. What am I?
An armoire desk.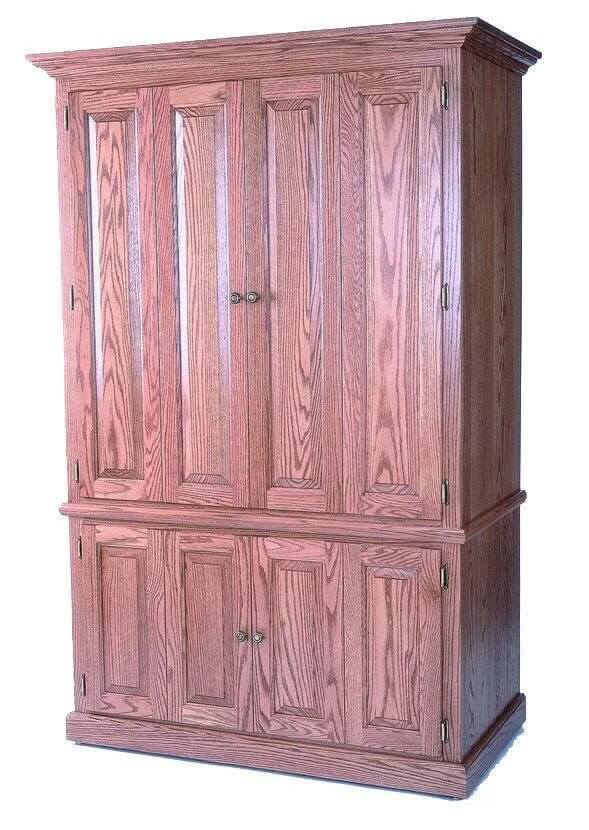 An armoire desk combines a writing table or desk area with a large cabinet. The cabinet offers lots of storage to tuck away office essentials. It can be closed to keep a nice, neat appearance.
Clue: I'm made of wood and my purpose is mainly decorative. I fit in a pocket cut in the wood to create contrast on a piece of furniture. What am I?
A desk inlay (wood inlay).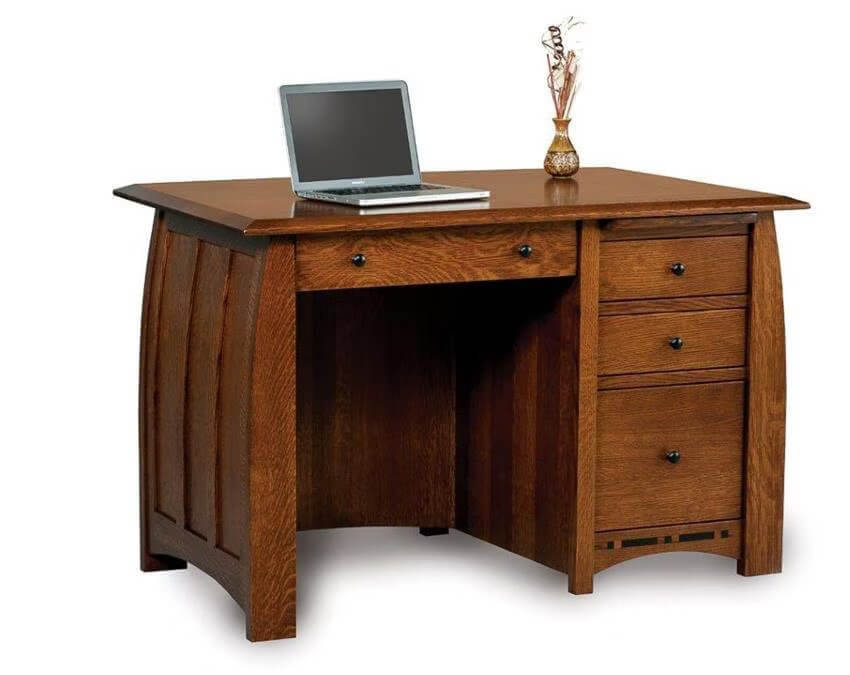 A wood inlay can be added to a desk or other piece of wood furniture. The inlay shape is traced on the wood and a pocket is cut out in that shape. Then the inlay is cut to fit the shape. Some inlays are simple and can be cut with hand tools while some need to be cut with power tools. Wood furniture inlays require a fine saw blade. While most are used to add a decorative feature, some can help secure a natural crack in a wood surface.
Clue: I help keep files and paper documents organized. I'm built into the desk for easy retrieval. What am I?
A file drawer.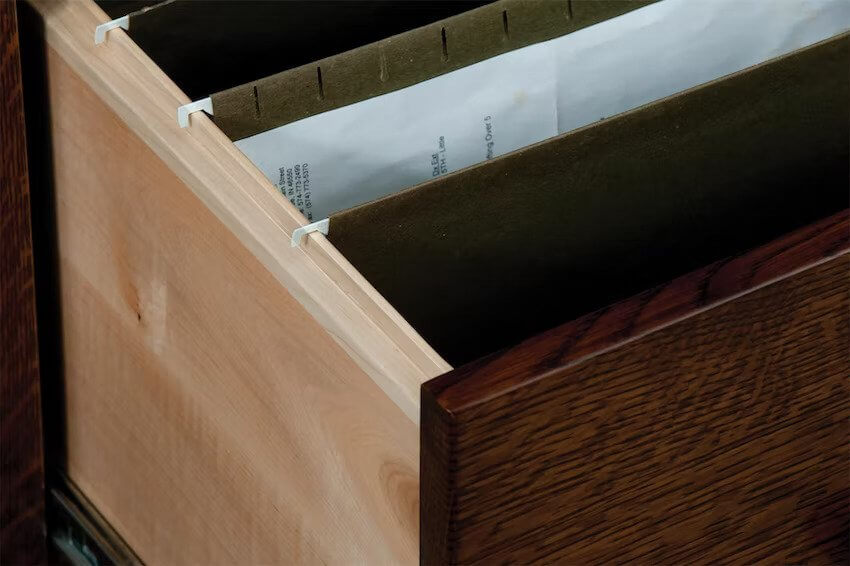 File drawers provide a space to organize and get rid of paper piles on your desk. Inside a file drawer you'll find hardware for hanging files to be neatly organized so you don't have to go searching to find needed documents.
Clue: I'm a convenient option for desks to house keyboards and tuck them away or pull them out. What am I?
A pull out keyboard tray.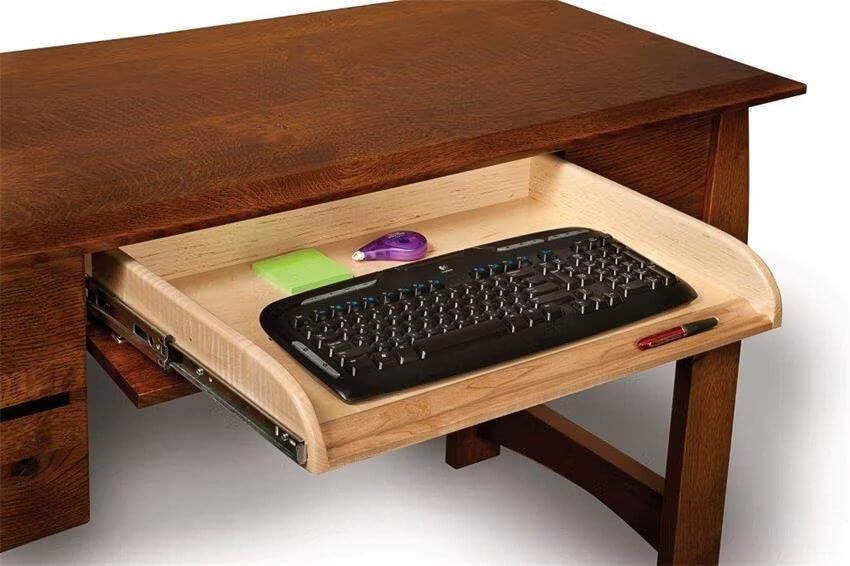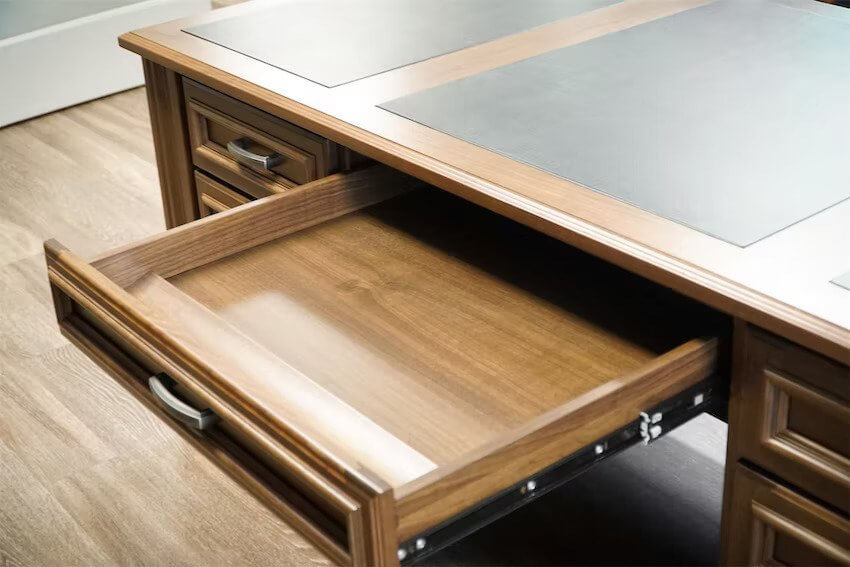 You know that handy, slender, center drawer of the desk? The one you can keep pencils and pens in? It's called the pencil drawer. An option on many Amish wood desks is to substitute the pencil drawer with a pull out keyboard tray. You can rest your computer keyboard on it and slide it in and out. This offers protection for the keyboard and keeps your desk top extra neat.
Clue: I'm the strongest connection for joints, and a hallmark of fine craftsmanship. What am I?
A dovetail joint.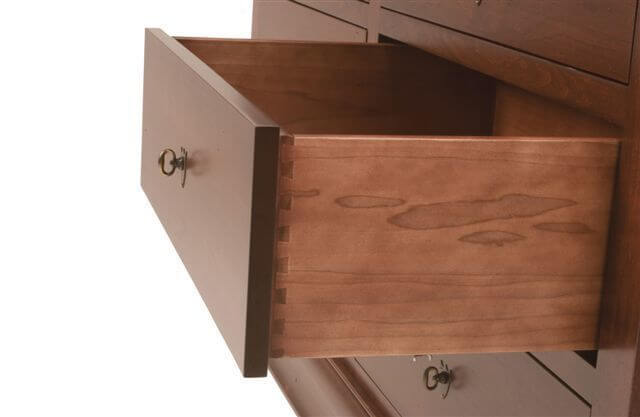 Dovetail joints or dovetail joinery is a technique used by craftsmen to join the front, side and back of a drawer. It's a strong and secure connection that won't come apart easily. Dovetail joints are made by cutting wood boards so they interlock with one another. The boards are glued together to create the joint.
Clue: You can find me in some bookcases or desk hutch tops. I create added depth in their backs. What am I?
A tongue and groove back.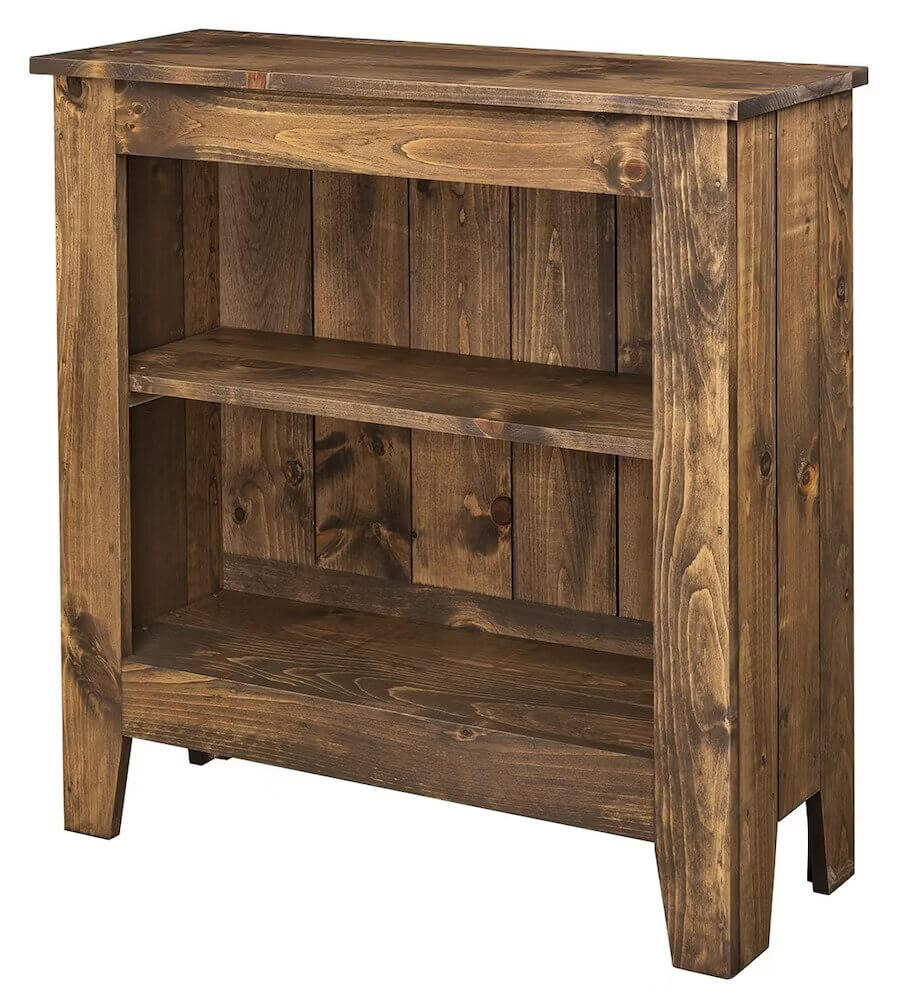 You can find tongue and groove furniture backs in hutches and bookcases. They add a warm, sometimes rustic look to furniture. Tongue and groove backs are named for the way boards are fit together. One board has an extended piece like a tongue, and the receiving board is the groove or open slot it locks into.
We hope you've enjoyed these Amish office furniture terms.