Finding furniture that suits your style should be adventurous and fun. Whether you're looking for delicate curves with vintage warmth, a simple form with a focus on function, or a blending of styles with some room to bend the rules, there are Amish-made pieces that will fit your needs.
Don't know exactly what your style is? Or, know what you like but aren't sure the name of the style? We're here to help!  We've taken ten furniture styles and defined them with a sample of Amish furniture that exemplifies each one.
Arts & Crafts:  Solid Wood Beauty
Arts & Crafts style furniture embraces simple forms and focuses on function. The natural beauty of the wood and the craftsmanship of each piece are values this furniture style holds dear. Oak, pine, and maple are popular wood choices for this style.
Our Amish Arts & Crafts Hutch showcases the style's minimal aesthetic and will add functionality to your dining room.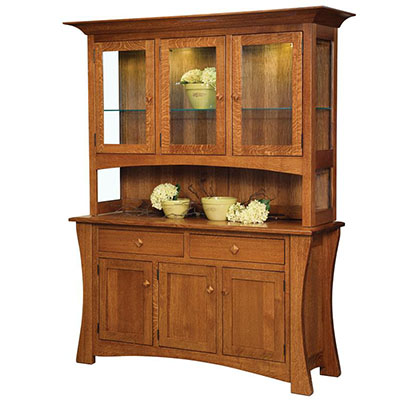 Contemporary:  Strong and Smooth
Strong lines, smooth forms, and minimal accessories define contemporary style furniture. With clean outlines and strong profiles, contemporary furniture stands out in open spaces. This style is not limited, and is constantly changing to reflect current trends.
The Amish Alsace Coffee Table displays the power of a smooth line with its gorgeous outward curving legs.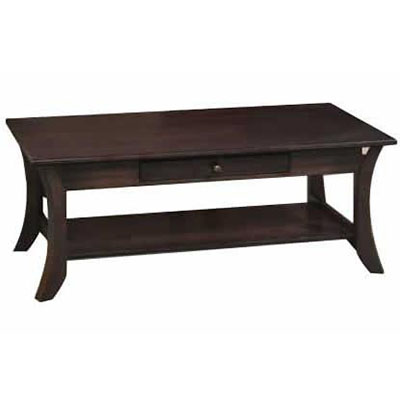 French Country: Relaxed Elegance
French Country style furniture is influenced by the natural beauty of southern France. Combining rustic elements with elegant details brings the French Country style to life. An old world welcome lives in these furniture pieces, with delicate curves and the presence of age reflected in distressed or worn elements. French Country style is relaxed and exudes warmth, as pieces do not have to be paired or matched.
The gentle curves of the Amish Vintage French Country Dining Room Table offer a warm welcome.
Mid-Century Modern:  Simply Natural
Combining simple forms, natural materials, and contemporary patterns brings the Mid-Century Modern style to life. There is a focus on function with no fussy distractions. Embracing bold geometric shapes that make it stand out, it is best displayed in rooms with minimal decoration and natural elements.
Our Amish Marilyn Mid Century Modern End Table shows off some of the bold shapes that define Mid-Century Modern.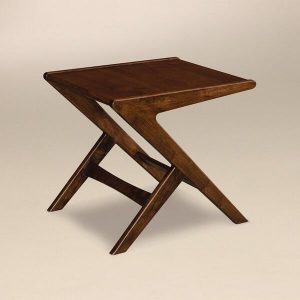 Mission:  Made for Every Day
Mission furniture keeps it simple with little decoration. Construction incorporates the use of straight lines and flat panels that accentuate the grain of the wood. Mission style furniture showcases the craftsmanship of each piece with straight angles, stable legs, and clean lines. Decorative slats are often included in the design. Functionality and durability are coupled with style exhibiting strength and beauty in each piece.
The beautiful slats on the sides of the American Mission Hall Console Table exhibit true mission style.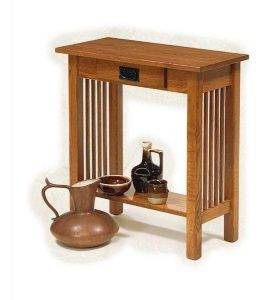 Rustic:  Rugged Warmth
Rustic style furniture was originally made from whatever materials were available. Refreshing in its simplicity, rustic style furniture shares a connection with nature. Textured, rough surfaces and distressed wood fit into this style category well. Rustic rooms are warm and modestly decorated with rugged, natural details. This is furniture that supplies an irresistible connection to simpler times. Reclaimed wood is a popular choice in this category.
The Ruff Sawn Timber Dining Table exhibits all the rustic style you could wish for.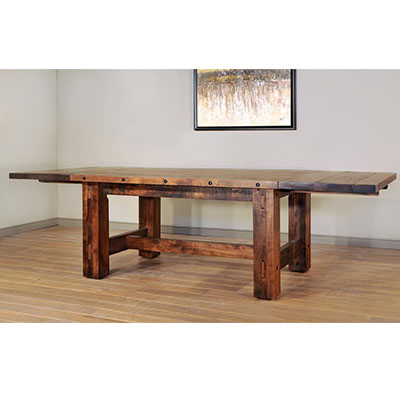 Shabby Chic:  Vintage Cottage
Romantic and elegant, shabby chic style furniture combines cottage style décor with vintage elements to create a soft, casual feel. Shabby Chic furniture is often distressed to promote an antique appearance. The overall feel of rooms decorated in this style is bright and light.
The Honey Brook Deacon's Bench exudes a casual warmth you'll love.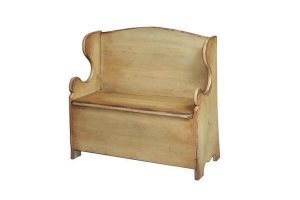 Traditional:  Comfortable Elegance
Traditional style furniture is classic, unfussy, and focuses on comfort. A traditional room is balanced and orderly, with furnishings grouped together. Traditional style furniture should not be considered outdated or old, but rather a combination of comfort and reliability. Traditional furniture often features dark wood with curved features, and has a talent for adapting to changing styles.
The Amish Americana 9-Drawer Dresser with Optional Mirror offers traditional comfort for any bedroom.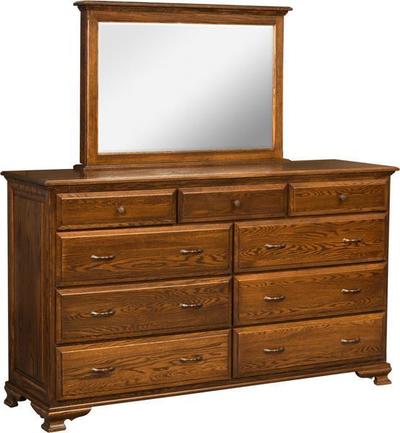 Transitional:  The Best Blend
Transitional style furniture is a blend of traditional and contemporary styles. Transitional combines the ornate details of traditional with the basic elements of contemporary, resulting in the classic, timeless, straight lines that define the style. A transitional room incorporates neutral colors and understated patterns. The best feature of this furniture style is that it will never go out of style.
The traditional style and smooth lines of the Amish Keeseville Stationary Bar Stool showcases the timeless qualities of transitional.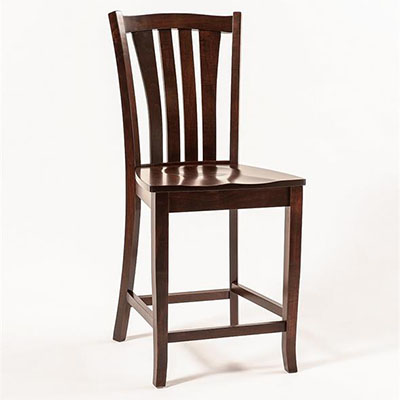 Shaker:  Modest Beauty
Shaker style furniture was developed during the 18th century by followers of the Shaker religion. Applying the Shaker principles of simplicity, honesty, and service resulted in the simple, functional design the style is known for. Furniture in the Shaker style was designed to be durable and functional as it would be used in the home every day. Shaker furniture has no frills or embellishments. Quality characteristics of this style are superior mortise and tenon joinery, dovetail drawers, round wooden knobs, tapered legs, and gentle curves.
The Amish Ohio Four Step Shaker Ladderback Chair exhibits the gentle curves and functional form of Shaker furniture.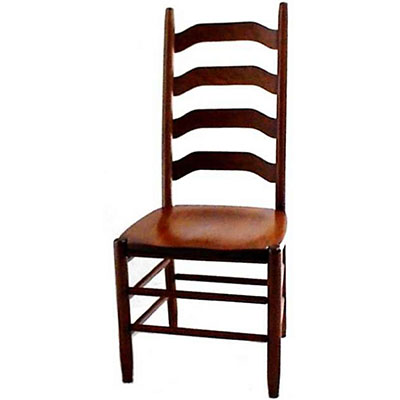 Amish furniture embraces these styles, and brings out the best in each one. What is your favorite style? Which of our Amish-made pieces would you choose to bring your home to life?