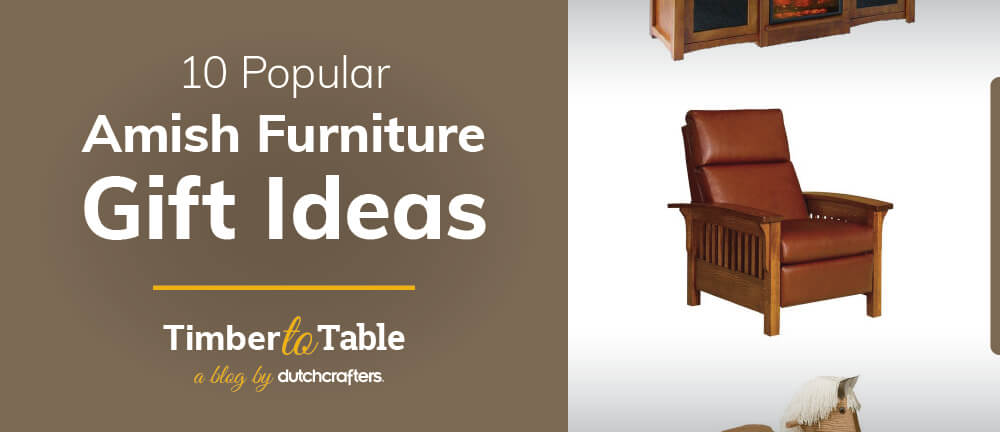 10 Popular Amish Furniture Gift Ideas
Surprising, stunning and something they'll be able to keep forever, Amish furniture gifts are sure to thrill family and friends. Here's something new and unique, that's useful and thoughtful, and it can be customized to reflect the recipient's personal style. Here are 10 popular Amish furniture gift ideas to make your holiday shopping a little easier and that are sure to rate with loved ones for any special occasion. Let's take a look at what makes them so special.
Wood Fireplace
Sharing a feeling of warmth and coziness is quite a gift to give! Amish made fireplaces bring warmth and beauty to the room. Adding storage and attractive solid wood, these electric fireplaces are big on warmth and low on clean up and maintenance.
How Can I Customize this gift?
Pick from 60", 72" and 84" width
Choose wood, stain and hardware
All of our Amish electric fireplaces come with a remote control so a recipient of this fine Amish furniture gift could stay under their cozy throw blanket as they're watching a movie and adjust the heat and flame brightness from the sofa.
This is a gift that also adds storage, with sturdy shelves and compartments for media collections and a variety of items. Our Amish electric fireplaces are portable and just need to be plugged in. They utilize halogen bulbs for flame and light.
Rocking Horse
This is a classic gift to thrill the kids or parents-to-be. Just right for the playroom, child's bedroom or living room, an Amish-made rocking horse provides hours of play. Little ones can wave their hat and swing their lasso as they enjoy the ride. Being Amish made, it's also one that will last until your child has children, and then it can become an heirloom to pass on.
How can I customize this gift?
Choice of small or medium size
Choice of black or white mane
Quilt Rack/Quilting Hoop
Those who practice the craft of quilting will love this Amish furniture gift. The Amish Hardwood Quilting Hoop is easier on the back and holds the quilt in place as a section is tied or stitched. This attractive wood stand adds a lovely look to the room décor along with the quilt in progress that it's holding. It has a swivel feature and showcases the quilt beautifully.
How can I customize this gift?
If you have a loved one who's looking for another option to display their quilt instead of using it on a bed, a quilt rack or case is a great Amish furniture gift idea.
Quilt racks keep quilts from wrinkling while they display them. A quilt case keeps the quilt enclosed in glass, another lovely display option that offers added protection from dust and humidity.
Grandfather Clock
They're grand, luxurious, and an American furniture icon. We're talking about the grandfather clock, a beautiful Amish furniture gift. Amish made grandfather clocks are custom made in choice of solid wood, with a variety of weight, pendulum and dial options. For the foyer or entryway, hallway or library, this is an unforgettable Amish furniture gift. Most Amish clocks feature German made hermle movement and night silencers so their chimes will not disturb you as you sleep.
How can I customize this gift?
Choice of wood and stain
Choice of pendulum style
Choice of weights
Hope Chest
The hope chest–also known as a blanket chest, glory box or trousseau–is a popular gift choice, adding heirloom-quality storage to a home. Whether it's for a bride-to-be or a new homeowner, whether it is collecting special items over the years or just to add storage for blankets and linens, the hope chest is a classic gift choice.
Hope chests stand graceful and charming at the foot of the bed, or in a hallway or cozy living room. Our collection of wood hope chests are built to be heirlooms, to be passed on for generations. The fresh scent of cedar wood freshens the room and reminds the user that their hope chest is made with authentic, solid wood. Cedar naturally repels insects, protecting contents of the chest.
How can I customize this gift?
Option to add a brass plaque with an engraved message
Option to add a cedar sliding tray
Choice of chest front design
Recliner
A luxury gift that's sure to surprise and thrill, and Amish made recliner is much more than just a seat. Defined by fine craftsmanship and quality materials, a recliner made in Amish country is one to marvel at, fall asleep in and have forever.
There are recliners that recline, rock, and swivel, all the while looking stunning and inviting in their solid wood frame and custom upholstery. Let the arms offer support as you sink into the seat and put your feet up. If you're building a custom recliner as a gift, it might get difficult to remember you are giving it to someone else and not keeping it for yourself! Wall hugger recliners offer the same luxury in a smaller space. Many of our Amish recliners come with a motorized reclining mechanism with remote control that offers a smooth recline with the touch of a button.
How can I customize this gift?
Choice of wood and finish
Choice of upholstery
Option to add powered reclining mechanism
Option to add throw pillow
Bird Feeder
Go outside to get some fresh air and watch the birds land and feed with a beautiful bird feeder. A variety of wood and poly bird feeders are available in lots of colors and always with Amish made durability and beauty.
Consider a tray feeder which is a good choice for all kinds of birds from large to small. Suet feeders are specially made for hosting suet for visiting birds. Suet is a mixture of seeds, nuts, grains and fruits that are held together by fat. This mixture offers lots of nutrients for birds. Suet bird feeders are designed to hold this mix in place.
Peanut feeders are perfect for shelled and unshelled peanuts to challenge birds and keep them engaged as you get to watch them from your spot outside.
Some favorite songbirds prefer liquid diets and are drawn to nectar, jelly and fruit—jelly jar feeders are just the solution for hosting this meal to attract birds.
How can I customize this gift?
Pick from a variety of poly colors
Option to add removable tray
Wheelbarrow
Wheelbarrows add rustic charm to any outdoor display. For a friend or family member who loves to garden and enhance their outdoor décor, an Amish made wheelbarrow offers a unique and special gift. Wheelbarrows enhance seasonal displays, providing the foundation for colorful flowers, shrubs and décor. Think spring flowers, fall pumpkins and decorative holiday lights.
How can I customize this gift?
Choice of finish—stain or paint
Option to add handpainted design—lighthouse, tulips, covered bridge, apples in a basket
Option to add a star
Option to add a liner
3 wheel styles to pick from
Bread Box
The charm, beauty and function of an old fashioned bread box make it a lovely gift for the baker in your family who spends lots of time in the kitchen. The look of a bread box takes us back to a simpler time and the comforting idea of fresh bread baking in the kitchen.
For friends who love to frequent the farmer's market and bring home fresh bread, a custom made bread box is a thoughtful gift idea. Depending on the size, you can fit one to two loaves in most breadboxes.
How can I customize this gift?
Jewelry Chest
Here's an Amish made gift that offers a wide range of styles and options. Our solid wood jewelry chests range from small to modest to large, with both dresser top versions and armoire styles that stand 5 feet tall. Full of intricate detail from the design to the features, Amish jewelry boxes offer a gift to store keepsakes and valuables safely. Different designs and sizes offer many drawers, dividers, hooks, and flip up mirrors.
How can I customize this gift?
Choice of wood, stain and hardware
Pick from 5 colors for velvet lining
Outdoor Glider
What a delightful surprise an outdoor glider gift will make! An Amish made glider provides a long-lasting place to sit and relax outside under the morning sun or evening stars. Each Amish made glider is smooth and strong. Made in pine, cedar or poly, a wood glider contributes a more weathered and natural look, while poly brings its ever enduring strength and low maintenance requirement.
How can I customize this gift?
Choose from 4', 5' or 6' size
Option to add sealer
Option to add cupholders
When you select Amish furniture as a gift, you receive the satisfaction of knowing you gave a gift that's built in America, that is highly durable and functional, and will be a unique surprise for the recipient. Every Amish furniture gift that is given is an heirloom your family and friends will have forever.