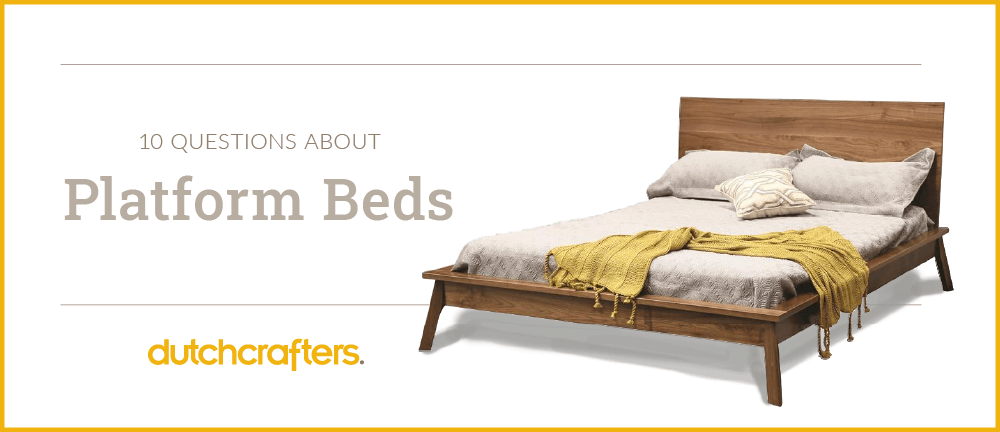 10 Questions About Platform Beds
Platform beds: Those attractive beds that are making a splash in bedrooms everywhere and don't require a box spring to provide you with a good night's sleep. What are they exactly, how supportive are they, and how can they save you money? We're getting into 10 questions about platform beds right here, so rest easy.
1. What's a platform bed frame like?
A platform bed frame consists of a solid flat surface, with or without a series of slats underneath, that a mattress sits on top of. The best positioning for slats is two to three inches apart so that there's no mattress sinking or wrinkling, and to let the air circulate nicely so your mattress can breathe.
Platform bed frames come in three styles: full platform, Bunkie board, and a platform with drawers.
The full platform is the simplest. It's cut to size and supports your mattress.
A bunkie board is a solid platform that's covered in fabric and sits on top of slats.
A platform with drawers consists of a solid platform placed on top of storage drawers. The under bed storage platforms are storage drawers that connect together to form a solid platform.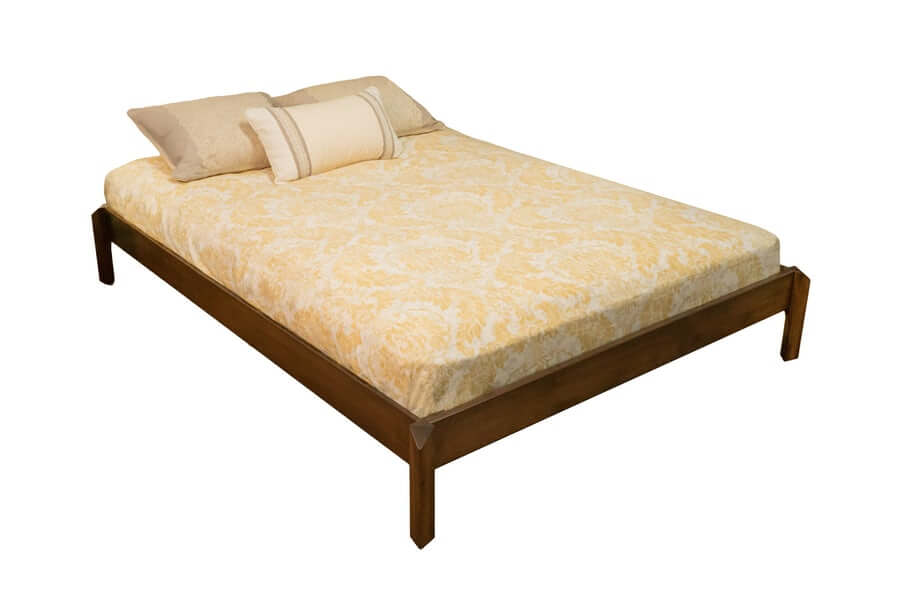 2. Are platform beds good for back pain?
The flat surface a platform bed provides offers enough support that you don't have to use a box spring. This flat surface works exceptionally well with memory foam mattresses and a solid platform is best to use with a latex mattress. While a platform bed offers good support, the bed itself will not have an effect on back pain. That job goes to the mattress. The platform bed, with its smooth flat surface, however, offers excellent support for the mattress, and will help it to last a long time.
3. Is a platform bed a better choice for side sleepers?
While the platform bed offers maximum support, it's the mattress that offers the added comfort for side sleepers.
4. How does a platform bed save you money?
While you'll still lay out funds for a platform bed, you save money not needing to purchase a box spring.
5. Do platform beds come in a variety of designs?
Indeed there are a variety of designs to choose from, including rustic looks to minimal contemporary designs. Platform beds lean a little more toward a contemporary look since there's no box spring that usually offers a more traditional look.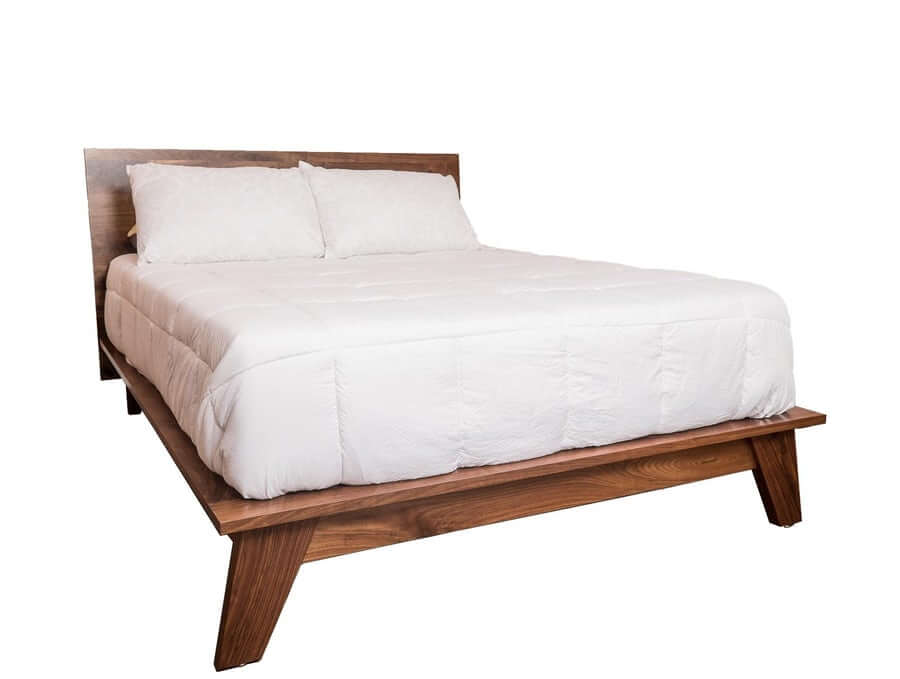 6. How are platform beds good for heavier people?
The platform bed frame with its solid surface offers strength and support for additional weight. A good mattress choice will also be important– with a firmer mattress recommended to handle extra weight. In addition, many platform beds sit lower to the ground, making them a little easier to get out of. (It's important to note, however, that the lower height can be harder for older folks to get in and out of.)
7. Can I add storage to a platform bed?
Yes you can. A platform storage bed offers built-in storage beneath the bed. The absence of a box spring provides more room under the bed to work with.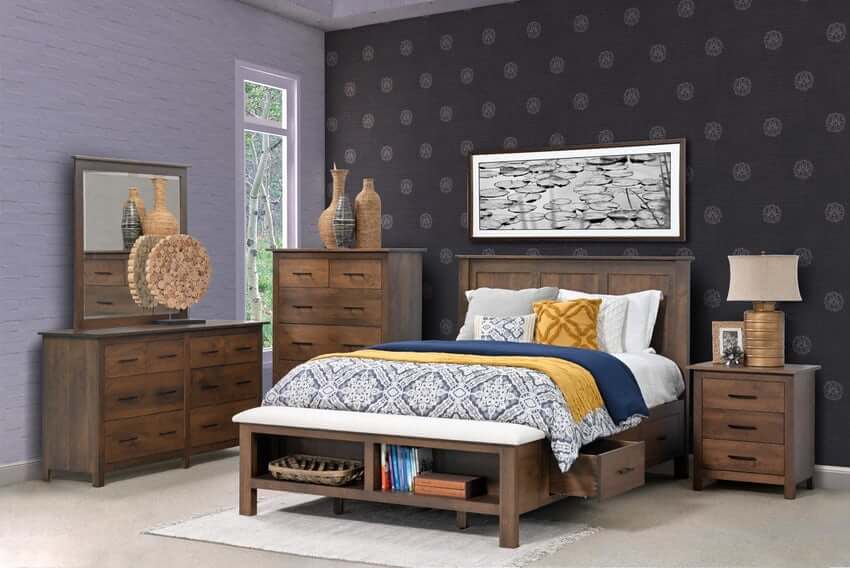 8. Are there any drawbacks to having a platform bed?
Some sit lower to the floor, and this can make them harder to get in and out of. They are not easy to move around, and are not readily available in many traditional styles.
9. Can you use an adjustable mattress with a platform bed?
In order for a platform bed to accommodate an adjustable mattress, some adjustments would need to be made to the bed frame. This is because the slats normally sit on cleats for reinforcement, and the cleats would be in the way of the adjustable mattress. The bed would likely require some custom work to re-work the frame, reinforce it, and secure the slats.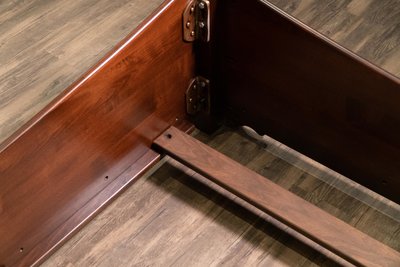 10. What are the benefits of wooden platform beds?
Good air circulation and support for mattress
Room for additional storage under bed
Cost less since there's no need for box spring
Available in contemporary styles
Lower height adds to stability
Bonus: 7 Questions About Amish Made Platform Beds
If I order a platform bed, how far down does the mattress sit in the bed? The bed usually sits down 1 ½" to 2" below the top of the siderail.
Can any bed be converted to a platform bed? Many of our beds are available in both standard and platform. However, not all beds can be converted to a platform bed. We recommend checking to see if the option is offered and speaking with a furniture specialist.
Are there drawers on both sides of the bed? That depends on the size of the bed. For example, twin-size beds will only have drawers on one side because of the smaller width.
How many slats are under the platform? On average, around 10 slats, depending on the builder.
Can I access the space in the middle of the bed between the drawers? Yes, you can sometimes have a "kitty" door added, or you can lift off the mattress to access it.
Is the height of the platform bed the same height as a non-platform bed? The siderails are the same height, but the mattress will likely sit in a different place.
Is the platform stained to match the rest of the bed? If the bed comes with storage rails, the platform will be stained. If it is a platform on top of slats, it will not be stained.
How thick is the platform? On average it can be ½" to ¾" thick, depending on the builder.
A stylish, money saving, supportive choice, the platform bed works well for rooms with low ceilings. They're great for smaller bedrooms, kid's rooms, and even college dorms. With either a slatted or solid flat surface, a platform bed frame allows additional storage and takes center stage with attractive styles
If you have more questions about platform beds, please leave them for us in the comments below.